A single red balloon has appeared in the window of Stephen King's home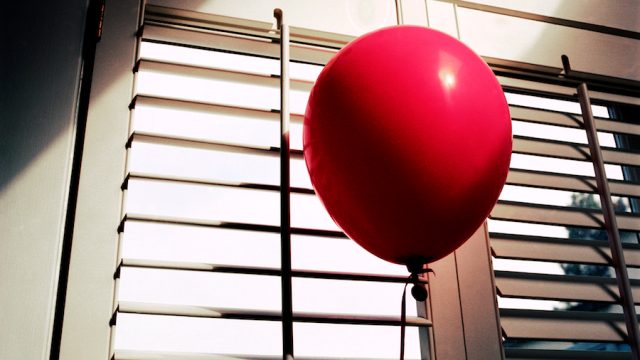 The King of Horror is taking his title seriously by doing his own subtle — and scary — marketing for the new film adaptation of his book It. Although the exact reason for its appearance hasn't been officially confirmed, it can be no coincidence that a red balloon is in Stephen King's window. The creature It, dressed as the clown Pennywise, lures children with such a balloon and so it seems like King is gearing up in the eeriest way possible for the film adaptation to hit theaters on September 8th.
Pennywise is the iconic frightening clown of It that terrifies the children of King's fictional town, Derry, Maine. He's synonymous with red balloons (even though Pennywise has been known to carry other colored balloons, too).
Just as It takes place in Maine, King's home is in Bangor, Maine, and the local news station, WMTW, spotted a single red balloon in a window of the author's home.
https://www.youtube.com/watch?v=w0t2PNyBByE?feature=oembed
Although King's 1986 book was adapted into a TV miniseries in 1990 with Tim Curry as Pennywise, it's being given the proper silver screen treatment now with Bill Skarsgårdin in the title role. And from the teaser trailers for the new It movie, it's clear that red balloons are very much one of Pennywise's favorite things.
https://www.youtube.com/watch?v=q-0PnsATSbc?feature=oembed
Considering Pennywise was created from the twisted mind of King, of course we believe that this rogue red balloon appearing in his home's window was 100 percent intentional to creep us out and get us ready for the new movie.
Pennywise has made a whole generation of people even more scared of clowns carrying balloons than they thought was possible. King's creation will also be doing it again when It hits theaters in September. You'll never look at a red balloon the same way again.