I recreated Selena Gomez's most iconic Instagram photos, and I actually learned a lot about myself in the process
There are many stories online about journalists who lived like famous people for a week (articles about writers and editors dressing like Kylie Jenner, Kim Kardashian, and North West come to mind.) That's when I figured I'd try my hand at copying a celebrity I can actually relate to — Selena Gomez. Here's the thing: we're both from Texas, we're both Latinas of Mexican-American decent, we both have beauty marks on our chest, we're both San Antonio Spurs fans, and we both love our hot Cheetos. I may be reaching on some of our similarities, but there's still something about Selena that I've always connected with. Maybe it's how open she is with her fans or maybe it's as simple as having the same family tradition of having a huge gathering every Sunday after church for lunch or dinner.
Either way, I was inspired to recreate Selena's most iconic Instagram photos. As the most followed person on there, it only made sense to copy some of her famous looks and images. The thing about the 24-year-old singer is that she's authentic on social media, and I think that a lot of her fans, including me, can relate to that.
So here's what happened when I recreated five of Selena's most iconic Instagram photos.
Hint: A lot happened, and I learned so much about myself and what makes me special.
1The heart wants what it wants (and in this case it's Coca-Cola) look.
When I first thought of this story, everyone I spoke to asked if I was copying this look because it's one of Selena's most famous Instagrams. And at over 6 million likes, mimicking this photo was a no-brainer.
Here's how I recreated the look: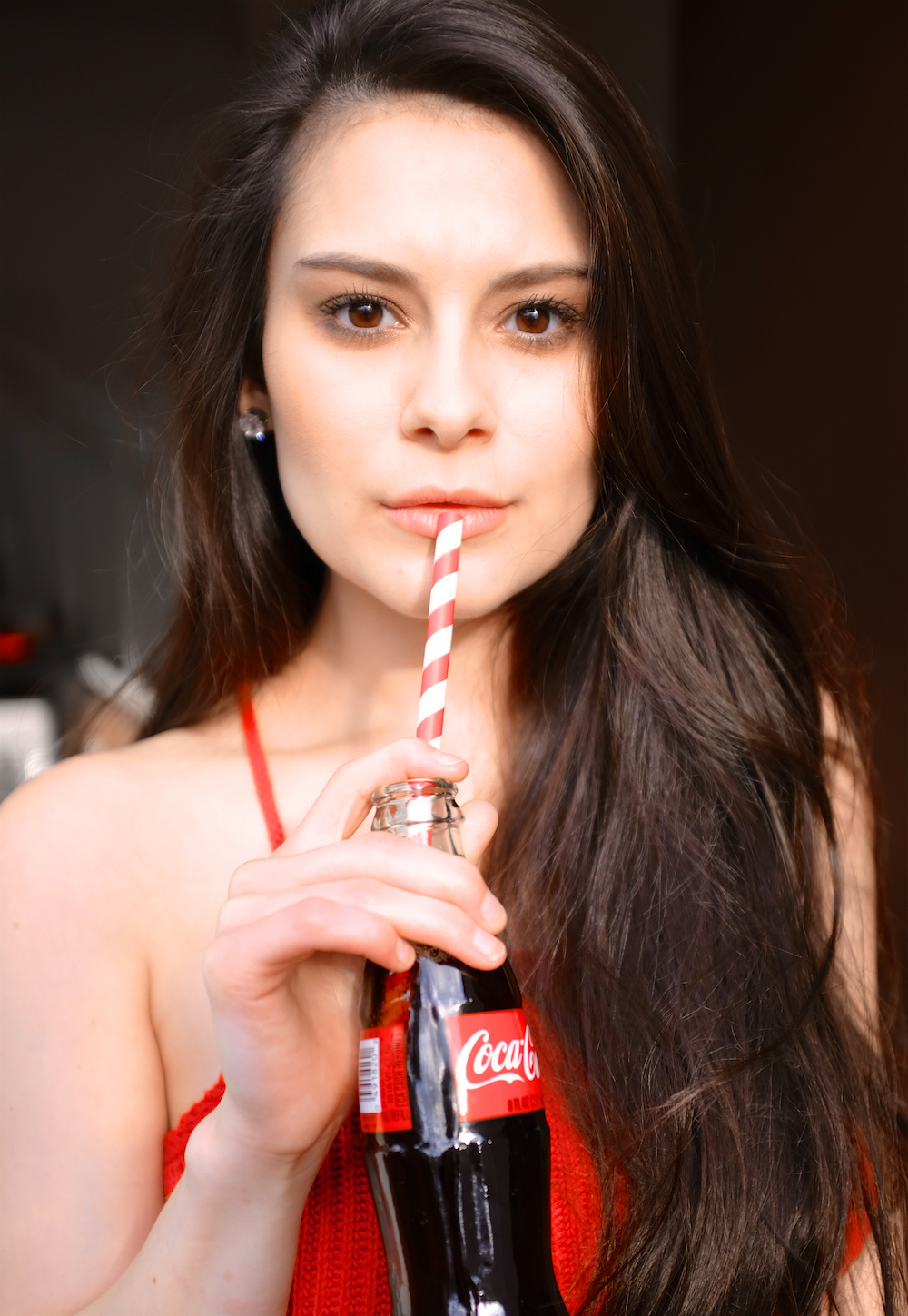 What I wore: Red crop top from Amazon ($9.99) and studded earrings purchased many moons ago.
While I haven't reached model status quite like Selena (I actually spilled a bunch of that soda before putting the straw in because I'm clumsy), this was a fun photo to recreate. While it was intimidating trying to copy a gorgeous celeb like Selena, I truly felt confident with my minimal makeup, naturally wavy hair, and casual outfit. I slipped into this little number and I was ready for my close-up.
2When denim and sweatpants are "good for you" look.
Selena knows how to make a black crop top, basic sweatpants, and a denim jacket look chic as hell. Every time I put on sweats, I look like a frumpty, dumpty. Instead of recreating all of the 24-year-old singer's glam fashion ensembles, I wanted to switch it up and copy something that us everyday folk would actually wear on our quick Target run.
Here's how I recreated the look: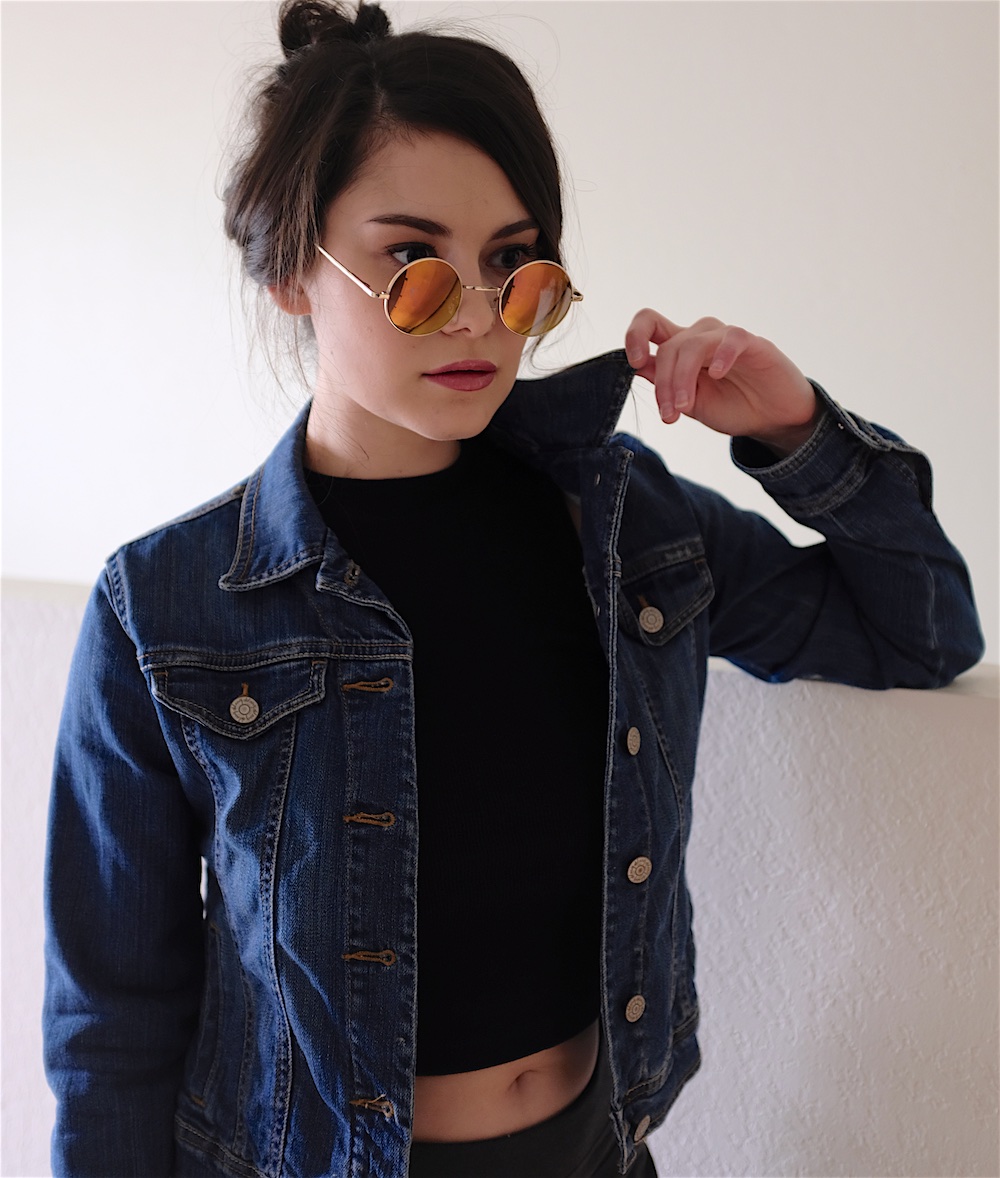 What I wore: Black crop top from H&M ($5.99), gray sweatpants from Amazon ($15.75), round sunglasses from Amazon ($7.48), denim jacket I already owned.
In case you can't tell, the whole time I was thinking, "suck it in, suck it in…why did you eat that big ass breakfast???" While I felt comfy AF, I slowly started to over-analyze everything — either I wasn't putting my hand in the right place or I was looking down instead of up. I also started getting a bit self-conscious because I started worrying that the camera was going to add 10 extra pounds. But I will say, looking at the finished result, I look cool as hell.
3The I can't keep my "hands to myself" and off the shelf look.
How could I not recreate this iconic photo? Grocery shopping photo shoot — I'm there. While Selena makes eating a popsicle while picking up her hair, and balancing on the cart seem effortless, I assure you this one was the hardest picture to copy.
Here's how I recreated the look:
What I wore: Gray button-down shirt from my fiancé's closet, denim shorts I bought last summer, boots I already owned, and sunglasses I already owned.
So here's the lowdown: Taking a staged photo at a grocery store is mostly embarrassing and kind of anxiety-inducing. To get this picture, my fiancé and I figured our local Ralphs would be the least packed in the evening, so we went around 10 p.m. We walked in without trying to draw attention to ourselves, and in LA wearing a men's button-down shirt with Daisy Duke shorts, and boots is kind of the norm, so I blended in. We first bought the popsicles, then we went back to the freezer section, set our cart in position, packed it full of sodas, and waited for the aisle to clear out.
My fiancé and I stood there awkwardly, pretending to look at the freezer meal options, lying about what we should put in our basket for a late dinner. Once it was clear, I hopped right on — click, click. The first two pictures were blurry, and luckily the third photo was a winner because I was already huffing and puffing from hopping on and off the cart — all the while still trying to balance myself and somehow look pretty?
4The "same old love" for coffee look.
This photo is so well liked, that even Selena made it into a tee for her Revival tour. When I think of the pop star, this photo always comes to mind. It's simple, cute, fun, and flirty. Plus, who doesn't want to look glam while drinking an iced coffee? I know I do!
What I wore: White tee I already owned, basic blue ribbon (that I used for the Beauty and the Beast hair tutorial), gold earrings from Amazon ($10.36), metal hair clips from Amazon ($6.49), and gold bracelet from Amazon (currently unavailable, similar one here).
The more I look at this picture, the more I feel confident about it. When I was getting dolled up, I just couldn't shake the feeling that I looked like a 99 cent dupe of the designer version. I seriously starting feeling insecure because I couldn't get my eye makeup down like Selena's — I went in too heavy with the eyeliner and mascara. I even started getting bummed about not having the exact accessories or shirt as her. While this project was supposed to be fun and voyeuristic, I suddenly felt self-conscious, chubby, and like a cheap knockoff. Looking at the image now, I'm really proud of it. In an ironic way, I can relate to Selena's speech about not needing validation anymore.
5The Vogue look.
While this Instagram is new, I wanted to show the new side of Selena. One that is stronger, wiser, and more in tune with herself. I'm not saying she wasn't before, but she's definitely matured and been through a self-reflecting journey after her hiatus. She's back in the spotlight — but this time she's in charge, and I think that's too powerful and inspiring to not highlight. This is her first American Vogue cover too, so it deserved to shine!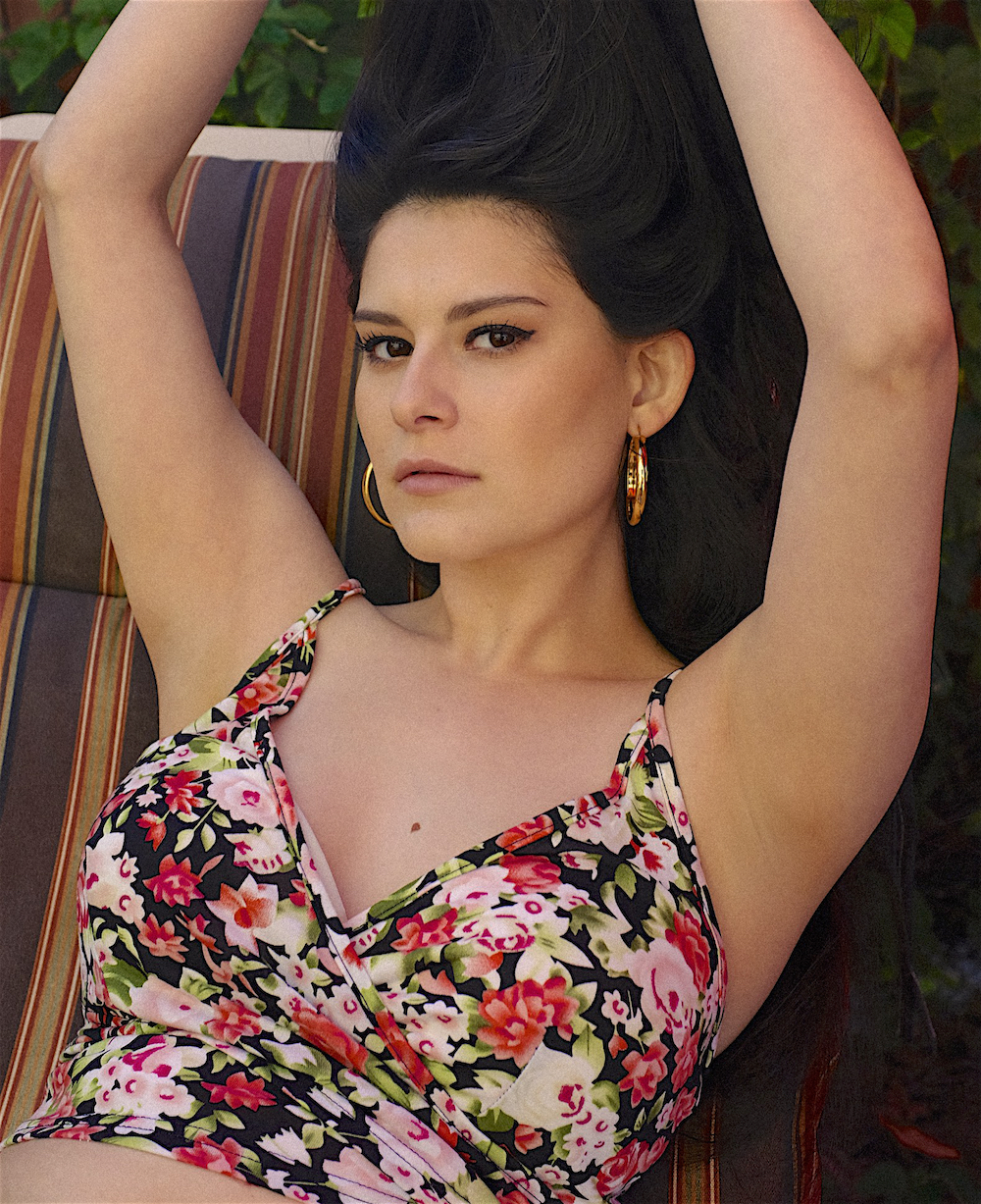 What I wore: Floral crop top from Amazon ($12.99) and thick gold hoop earrings from Amazon ($11.99).
I felt like fire in this photo! I'm sorry that I'm not humble or shy about it, because I seriously felt like a golden goddess ready to take on the world. I feel like Tyra Banks would be so proud of my smize. Luckily, my apartment complex has a pool area with lawn chairs that kind of looked like the one Selena sat on in her Vogue cover. This is one of my favorite images out of this project.
Looking back now, I feel like I've been on my own personal journey — yes, I felt insecure at times, but I also encouraged myself to get out of my comfort zone. This project opened my eyes to how celebrities must feel. You're constantly worried about your image — will the camera add 10 pounds? Are people staring at me taking this random photo? Why is there a photographer following her around?
It's all fun and games playing dress-up, but when you look deeper and start analyzing every movement, every pose, every flaw, it can become depressing and anxiety-inducing. Don't get me wrong, I had a blast recreating Selena's Instagram photos — and even when I thought I connected with her by just looking at slices of her life on social media, this project actually made me feel like I could relate to her on a deeper level.
Most of the time, I was just in my own head, worrying about not getting the right movements down to recreate Selena's pose, and at the end of the day, I'm super proud of these images and how confident I feel looking at the final product. It's great to see what makes me unique and how wonderful my quirks are.