I tried a makeup tutorial by Kim Kardashian's makeup artist from 2009, and it totally made me feel like a glamazon
Kim Kardashian is an entrepreneur, reality star, mother, wife, fashionista, and beauty icon. The list honestly goes on, because there is nothing she can't do. And when she's taking over the world, her makeup artist Mario Dedivanovic makes sure Kim Kardashian's makeup is on point. And luckily, he's blessed us mortals with his Master Class, where he teaches aspiring makeup artists and beauty lovers his tips and tricks. It doesn't hurt that his muse and model for some of his classes is Kim Kardashian.
But what if you're a beauty-obsessed person who can't afford to attend Mario's class? Well, I have got you covered! Back in 2009, when being a beauty guru wasn't a saturated market on YouTube, the celebrity makeup artist shared some of his best makeup techniques on Kim. He uploaded a three-part video tutorial that way us mortals at home could get a bronzy, smoky eye look just like the reality star. And honestly, his videos still hold up almost 10 years later.
Surprisingly, Mario's techniques are easy to pick up and use for everyday makeup application. You don't have to have a Master Class degree (see what I did there) to achieve a Kim K look. While Mario's makeup looks have evolved over the years to fit with today's beauty trends, his technique is still the same.
In the YouTube videos, Kim explains that the makeup look Mario is going for is the one she rocked on the cover of Vegas Magazine back in 2008. However, her makeup artist is going to show us a more "wearable" look, for those of us who aren't able to get dolled up for a magazine cover.
That smoky eye, ultra-bronzed cheeks with the glossy nude lips — I live for it. So in order to recreate this iconic makeup look, grab your beauty bag, turn on Keeping Up With the Kardashians, and get your chicest black tee out of your closet.
Why the basic black tee you ask? Well, in the YouTube video, Kim wears a black shirt with her hair in a messy pony, so naturally, to get the full Kim K experience, I did the same.
Step 1: Foundation and Setting Powder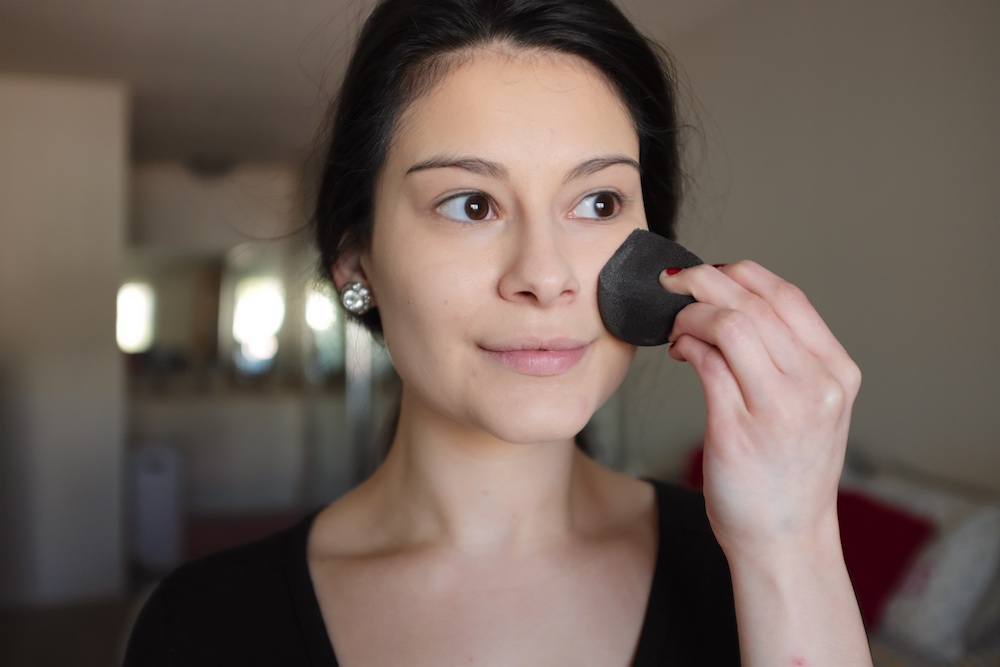 In the tutorial, Kim explains that Mario applied an emollient moisturizer to her face before going into the foundation. I used Aveeno's Positively Radiant Daily Moisturizer with SPF 30 ($16.99) and then, I applied Urban Decay's Naked Foundation ($40). Mario emphasized the importance of applying foundation on your hand first and pressing your makeup sponge into it because your skin will heat up the foundation.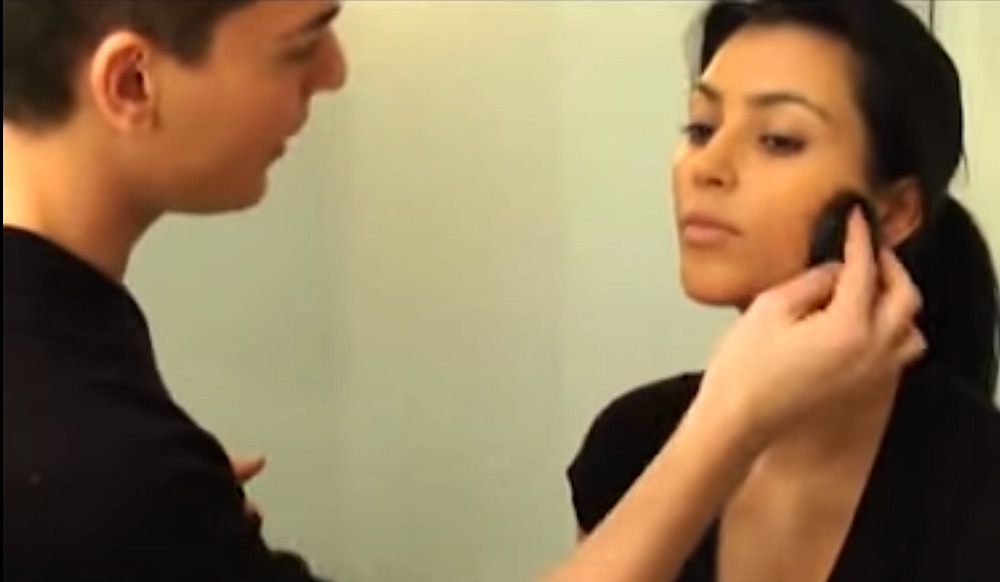 After, Mario set Kim's foundation with powder, so I used my Cover FX Matte Setting Powder ($38). He mentioned that it's best to use loose powder that has a little bit of color to it, and he dabs it onto his hand before applying it to Kim's face. Why? Having a blob of powder on your face isn't cute, and apparently, I've been applying my setting powder wrong this entire time.
Step 2: Eyebrows and Concealer
Surprisingly, Mario went right into eyebrows and used an eyeshadow palette to fill in Kim's brows. He explained that because of Kim's brow shape, he likes to focus on the outer corner of her brows and extend it a bit. He also explained that it should work for most brows because it opens the eyes. Mine are super round and have no shape, so while I tried mimicking Mario's technique, I think that he needs to work his magic on me first.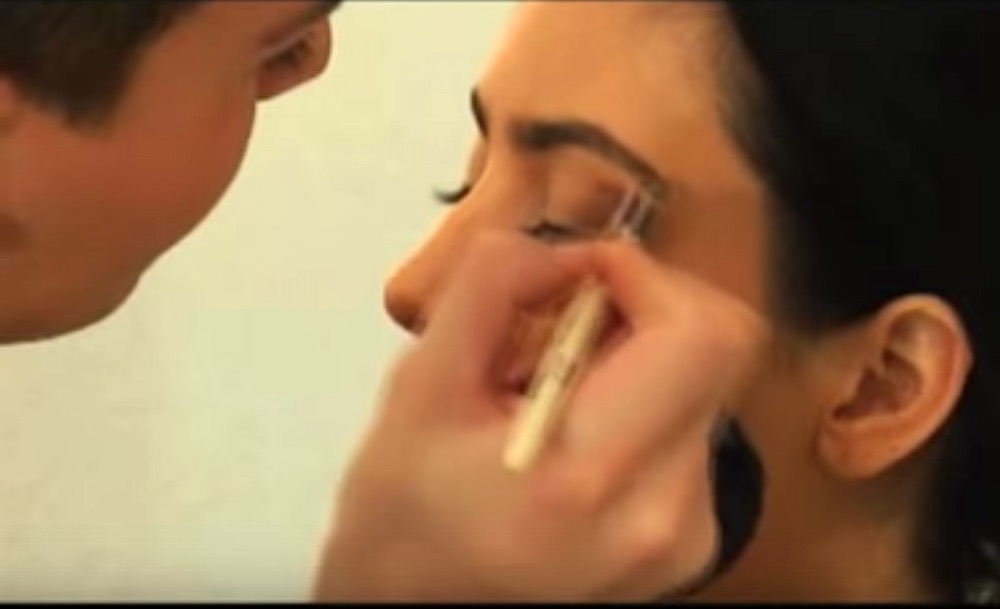 For my brows, I filled them in with Too Faced's Chocolate Bar Eyeshadow Palette ($49). There are so many brown shades to choose from. I used Semi-Sweet to fill in my brows, and because I didn't have a clear brow gel like Mario, I used what I had, which was Benefit's Gimmie Brow ($24) to seal the hair.
Step 3: Eyeshadow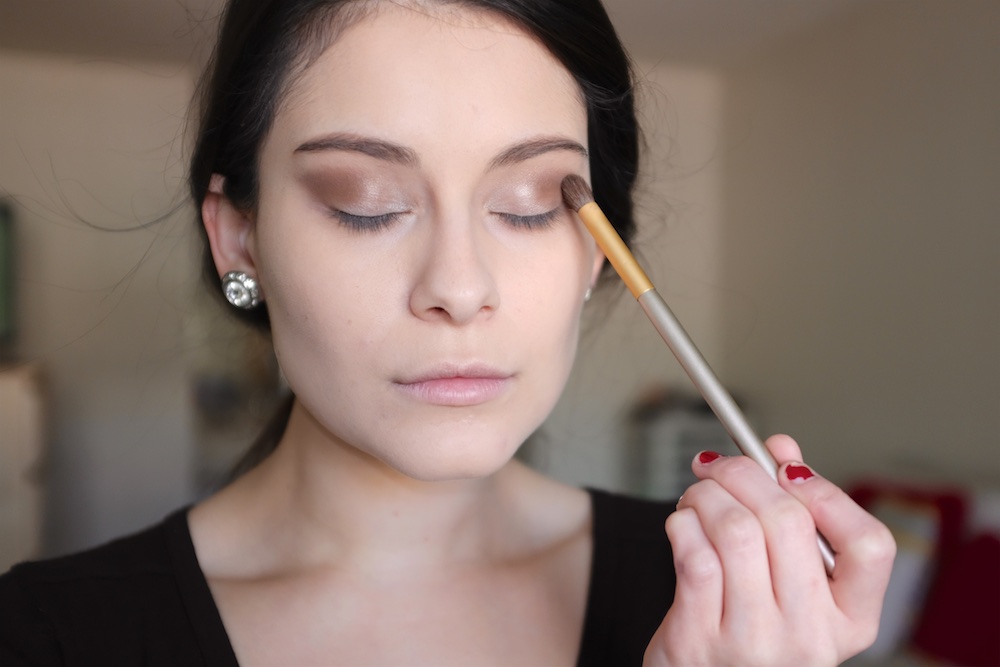 While this makeup look is replicating Kim's Vegas cover, which is a very gray-toned eye look, Mario mentioned that he didn't like using gray shadow in the crease because it's "too ashy for him." If it's a no for him, it's a no for me! Instead, he explained warmer colors in the crease work better, and for this look, he wanted to bronze it up a bit. To incorporate gray, though, Mario mentioned that it's best to use it to smoke out your liner to create a smoky eye. Before applying eyeshadow, he used concealer to give the lids an even base.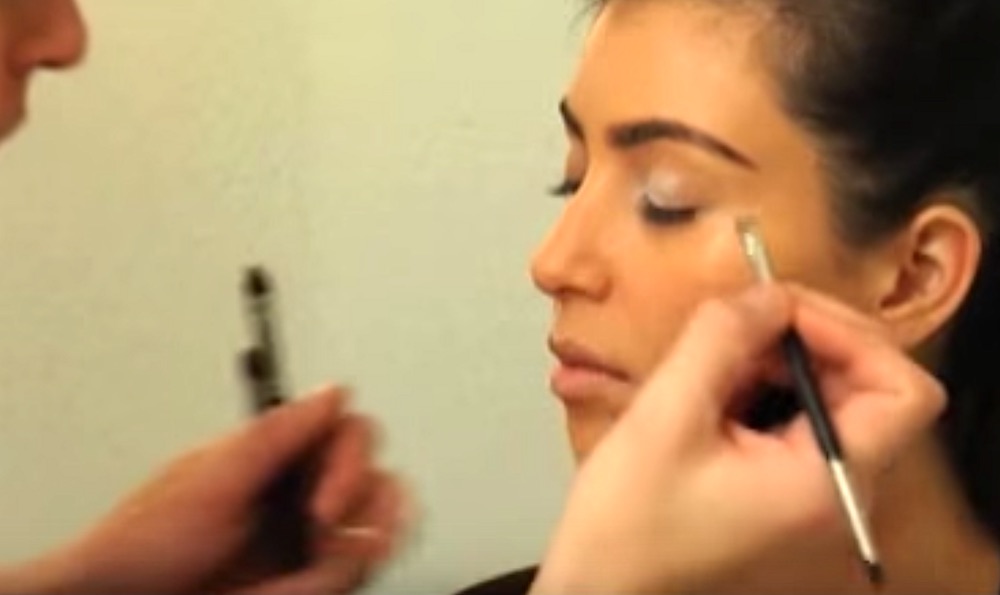 For this look, I used Too Faced's Chocolate Bar again. In my brow bone area, I used White Chocolate and Marzipan. Mario added a silver hue to Kim's inner corners and eyelids, but he didn't take it all the way out to her outer corner.
I applied Urban Decay's Nake 2 Eyeshadow Palette ($54) in the shade Verve to my tear ducts and eyelids. After, Mario used a bronzy shade in Kim's crease so I applied Milk Chocolate from the Too Faced palette in my crease first. Then, to give more of a metallic finish like Kim's, I used Snakebite from the Naked 2 palette and mixed it with Hazel Nut from Too Faced's palette.
https://www.youtube.com/watch?v=dNrnf787QG0?feature=oembed
Step 4: Eyeliner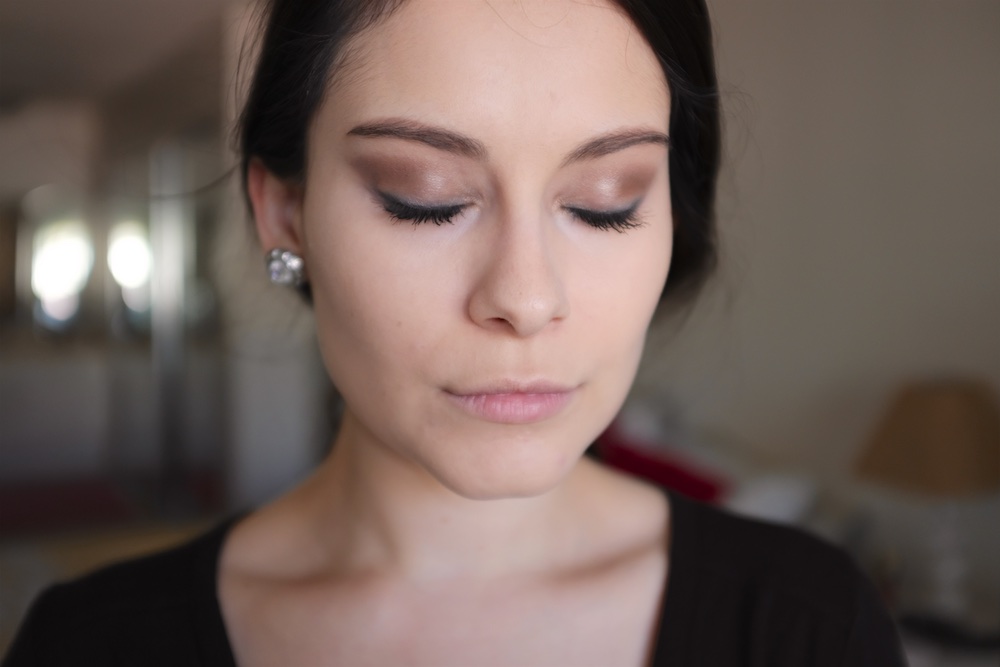 To get the perfect liner on Kim's lids, Mario likes to warm up his pencil liner on his hand first. Before he applies the pencil on the eyelids, he explains that he likes to create a thick line on the outer corner and a thin line on the inner corner because it lifts the eye. Sounds like a great technique to me!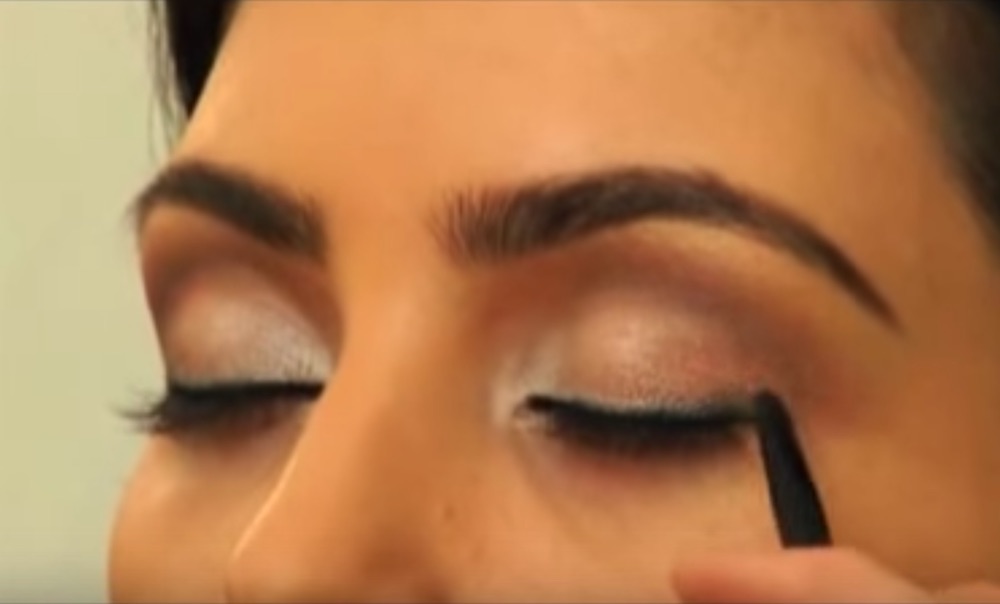 I used Ardency Inn Modster Supercharged Eyeliner in black ($20). To smudge it out, I just used a regular eye brush and by blending it out, the gray shadow will naturally move into the lid area, creating a smoky eye.
Step 5: Mascara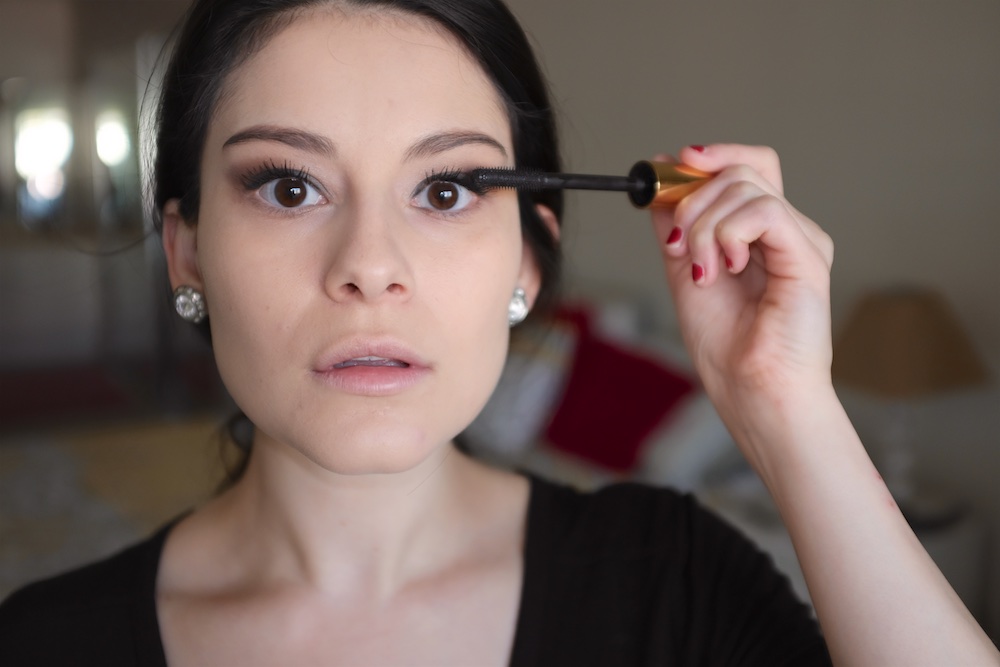 Probably the best advice Mario gave was how to properly use an eyelash curler. To make lashes look evenly curled on both sides, he presses the curler down for 3 seconds, counting 1, 2, 3, let go. While the technique is very simple, it's super effective. Both lashes were even and full. For mascara, I used Tarte's Maneater Mascara ($23).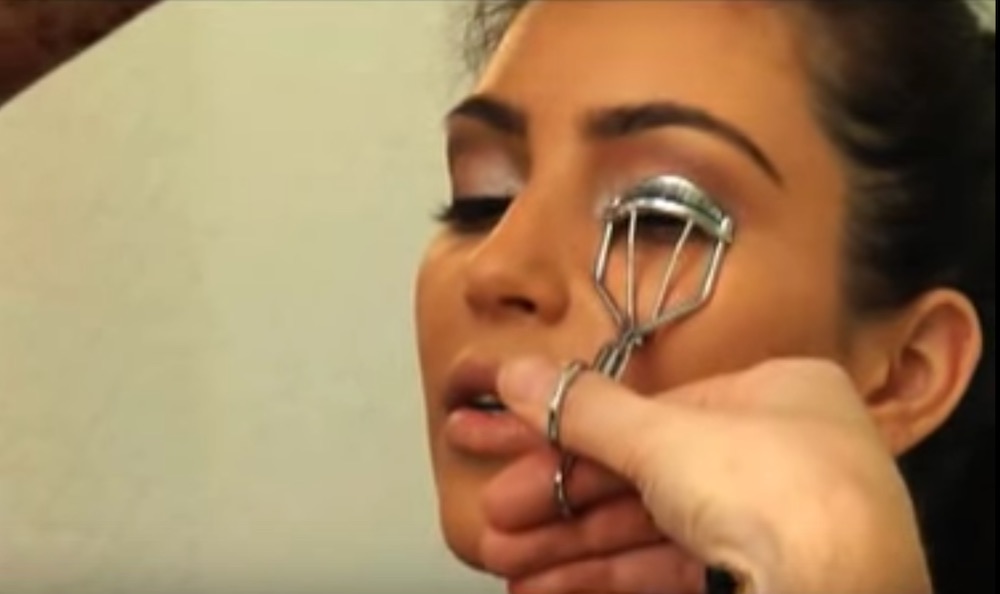 Step 6: Apply concealer under the eyes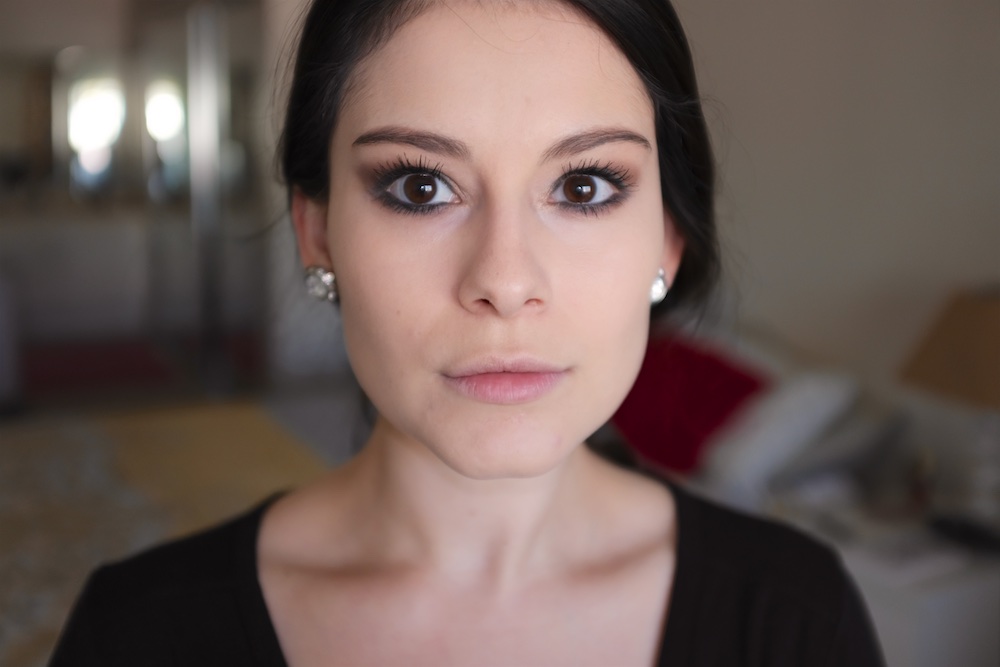 I found this step to be interesting since every YouTube beauty guru has taught me that applying concealer after foundation and before setting powder is key to keeping it locked in. However, even after Mario set Kim's face with loose powder, he used concealer under her eye area after he was done with her eyeshadow and eyeliner. While he doesn't go in depth on why he does this step after he's already set Kim's face with powder, he does explain that using a makeup wipe to get rid of the eyeshadow that has fallen is key to cleaning up the under eye area.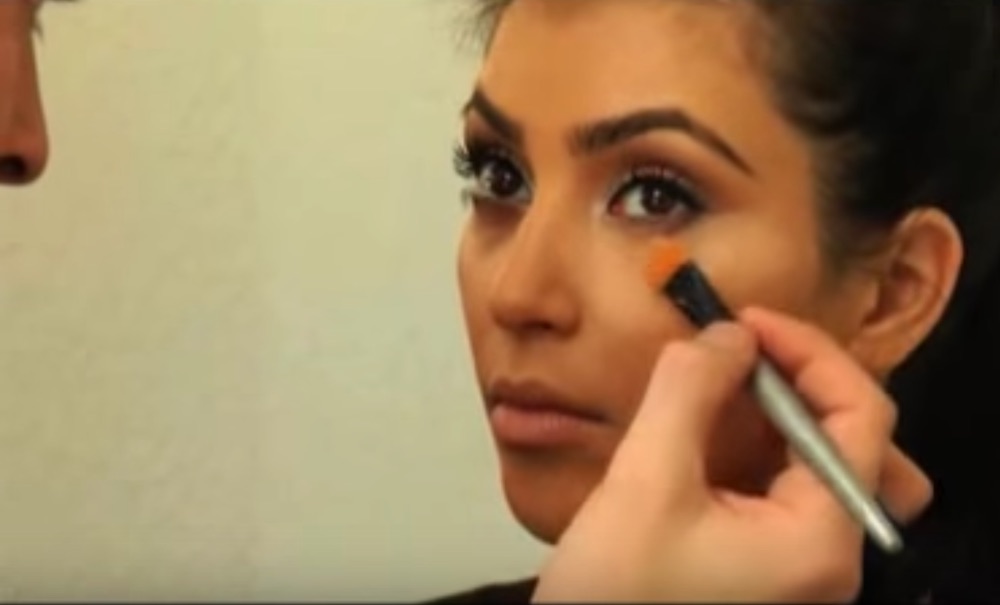 To match Kim's foundation with her concealer, Mario applied a brightening concealer that was about one or two shades lighter than Kim's skin, and then he used one that matched her skin tone. He mentioned that it's not necessary to go in with two concealers. To replicate this, I first used the concealer part of e.l.f Cosmetics' Under Eye Concealer and Highlighter ($3) and after I applied Maybelline's Instant Age Rewind Concealer ($6.79). Once you're done concealing, finish the eye look with eyeliner and mascara on the lower lash line!
https://www.youtube.com/watch?v=GzkCR3-t52E?feature=oembed
Step 7: Bronzer and Blush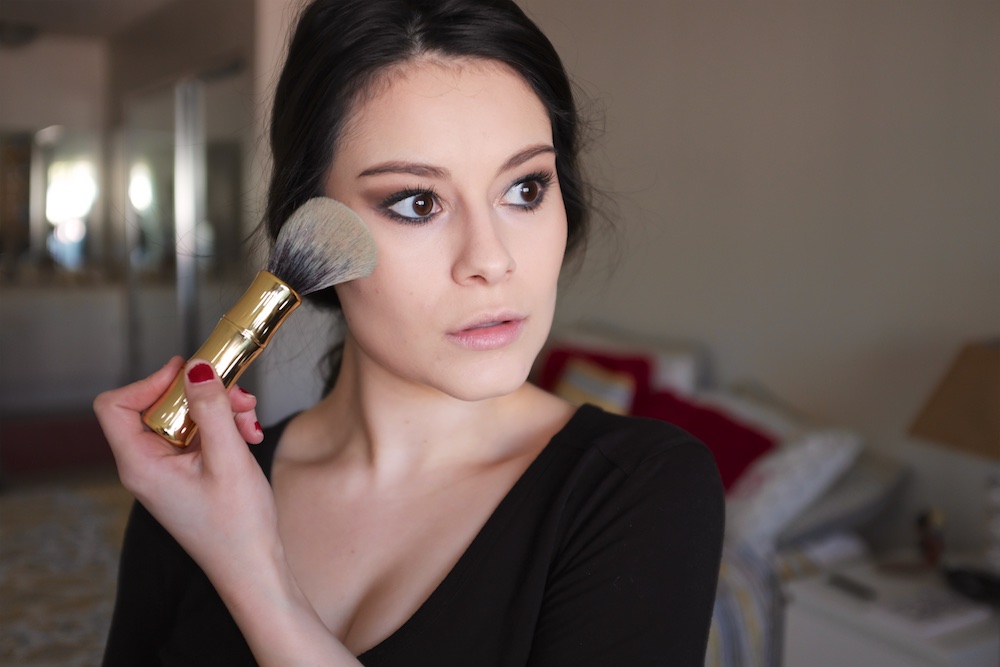 Interestingly enough, Mario didn't exactly contour Kim's face in this tutorial. Instead, he applied a matte bronzer on all of the areas you would for contour — like her cheeks, forehead, chin area, and her neck area — but instead of going heavy handed and using proper tools to contour, he just shaped her face with the bronzer.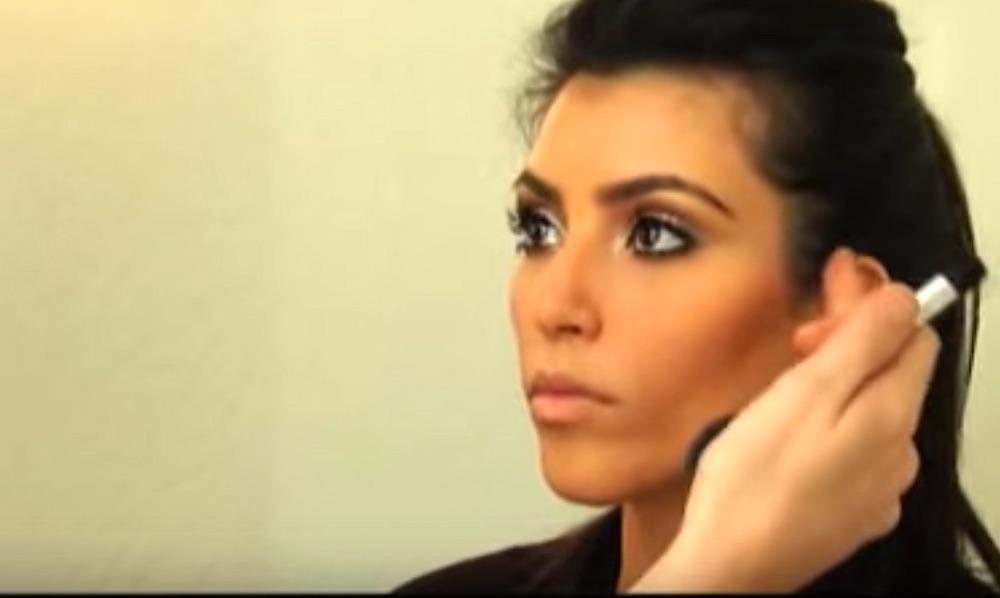 Mario explained that using a matte bronzer first is best because you want to place shimmer bronzer or any kind of shimmer separately. He added that applying the shimmer afterward will give you a natural glow as opposed to going in with a shimmer bronzer first and looking muddy. He noted that Kim loves to be bronzed (and same, girl), so for her, more is more! For bronzer, I used Physicians Formula's Matte Highlight and Contour Palette ($14.95), and I used the medium shade in this palette.
After Mario finished applying bronzer, he went in and added blush. He explained that it's best to keep the blush on the apple's of the cheeks and to apply it in an upward motion that way it easily and naturally blends into the bronzer. For blush, I used Physicians Formula's Murumuru Butter Blush in Rose Plum ($12.95).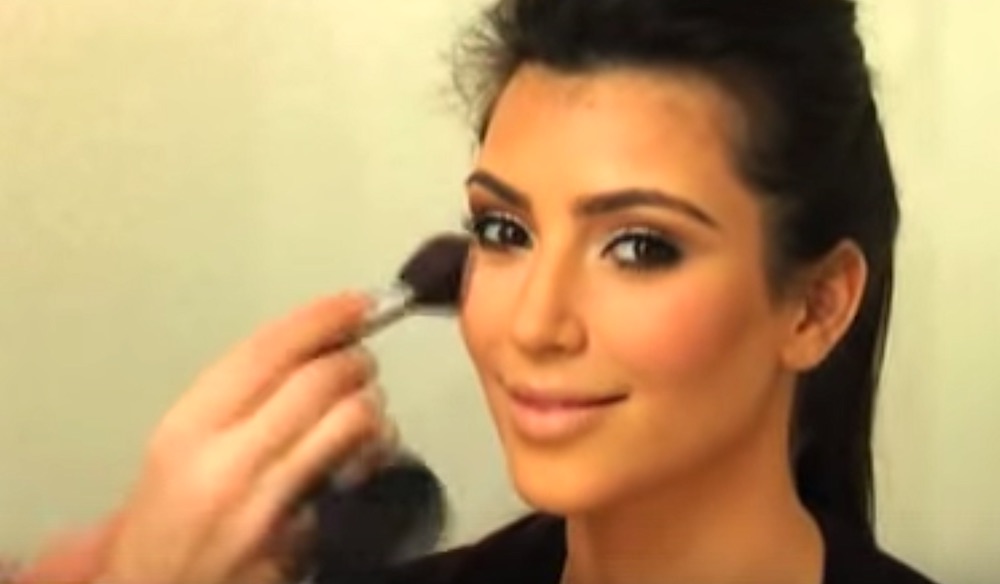 Step 8: Lips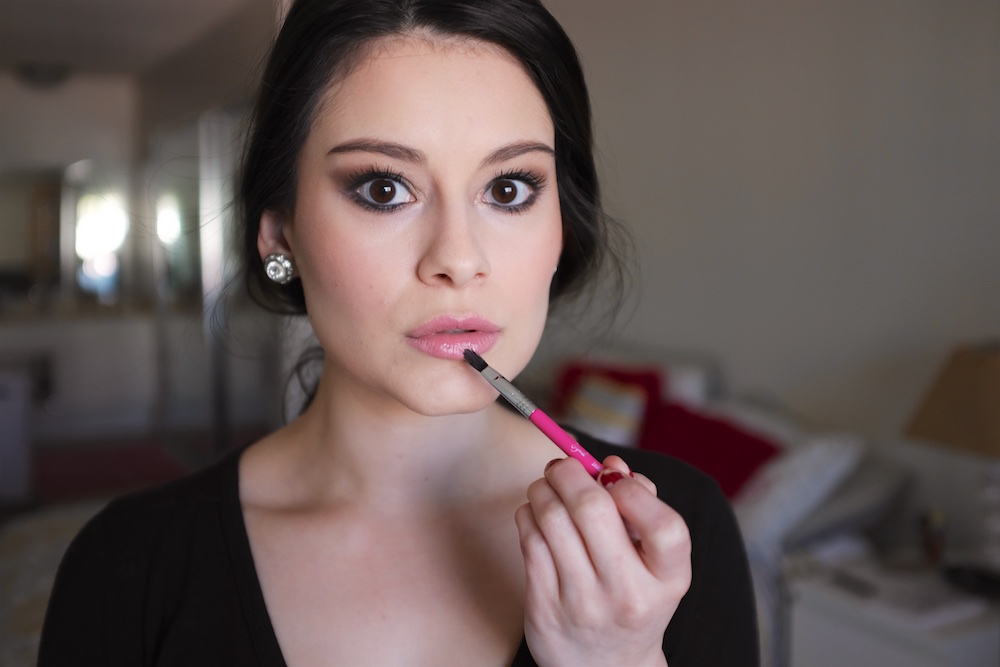 Get ready to have your mind blown, because Mario is a master at making lips appear larger and fuller. No lip injections need, no weird gadgets to suck on to get a bigger pout, because it's all about technique and applying like 700 hundred lip products!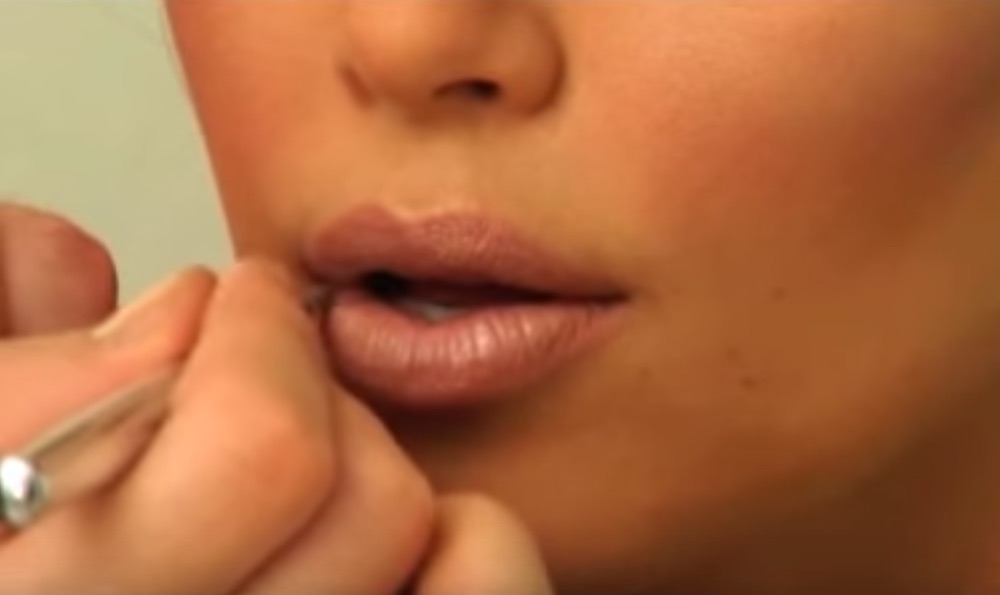 Because Mario played up Kim's eyes and face with bronzer and blush, he wanted to create a more nudish/pink lip. First, Mario went in with a nude liner that matched Kim's lips. While Mario didn't overline Kim's lips for this tutorial, he explained that if you want to achieve that look, it's best to overdraw with a lip liner that matches your skin tone that way it looks natural.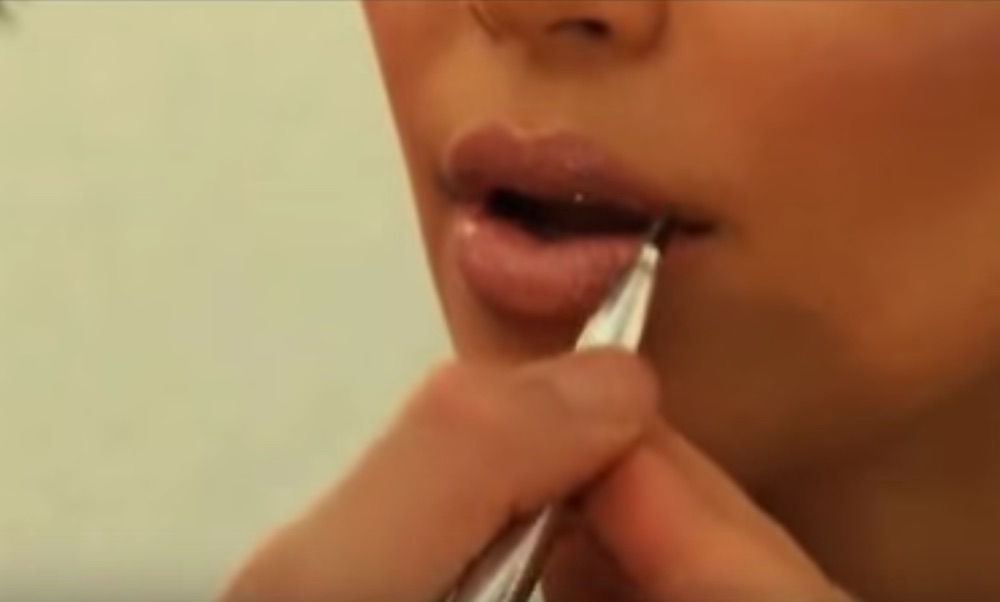 One thing I noticed was that Mario never applied lipstick to Kim's lips directly, instead, he used a lip brush. For the first lipstick, he went in with a nude, pink color — and he only placed it in the center of Kim's lips. For my lips, I used Rimmel's Lasting Finish Lip Liner ($3.99). For my pinkish nude lipstick, I used Wet 'n' Wild's MegaSlick Balm Stains in Rico Mauve ($2.99).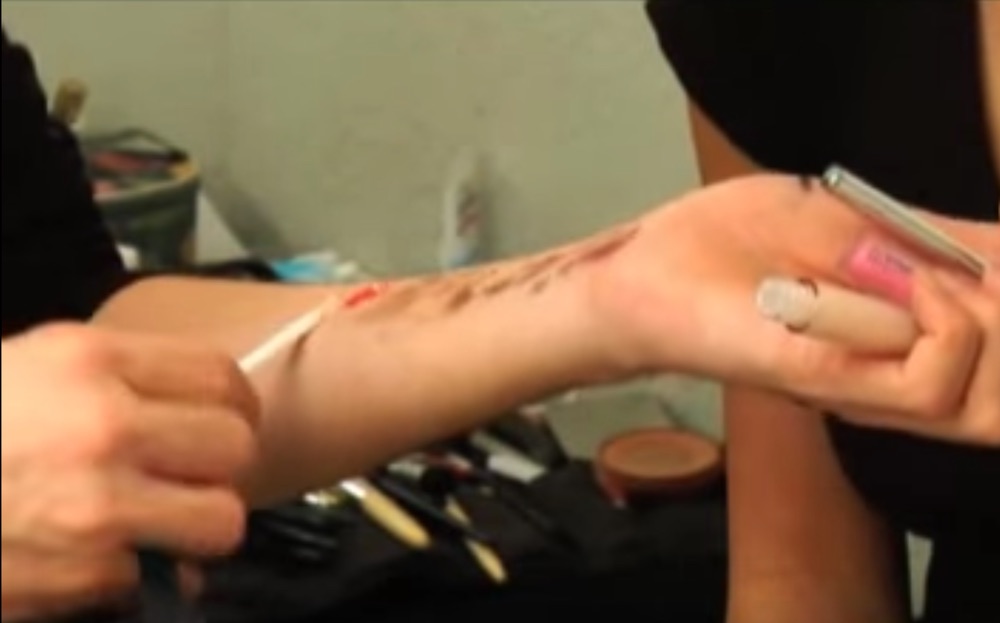 After, he used a more nude lipstick and applied it to the outside of Kim's lips. For my nude lipstick, I used my YSL Rouge Volupte in Beige Blouse ($37). Did you think we were done? Oh no, Mario likes to mix lip glosses too! He used two pink colored glosses, one that was more of a pastel pink and the other one was hot pink. First, he applied both of the glosses on his arm, then mixed them together for a customized lip color.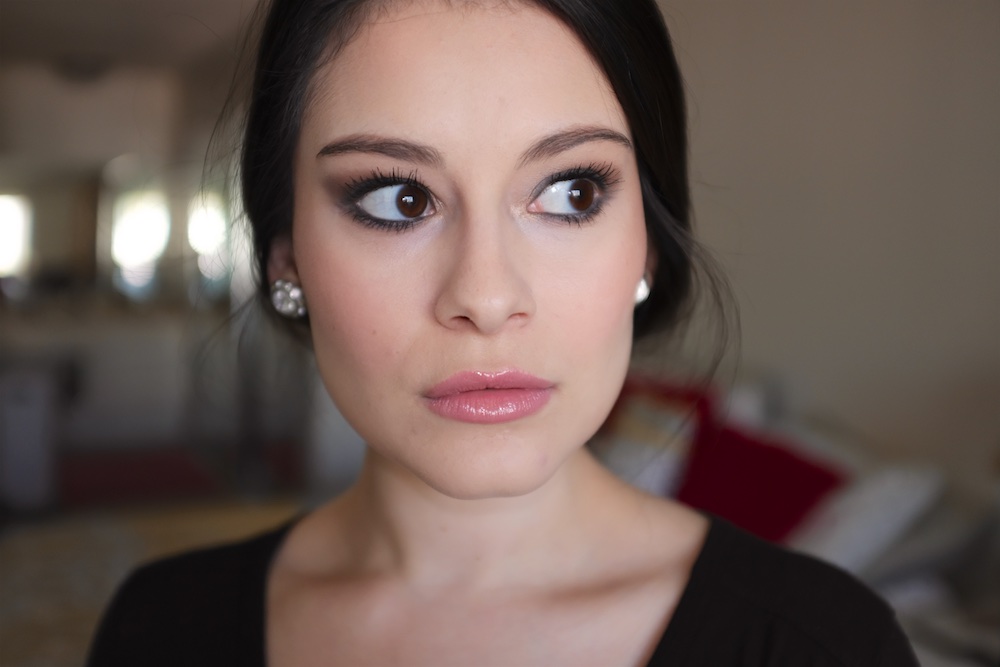 For my gloss, I mixed Sigma's Lip Vex in Sheila ($10) and Sephora's Lip Gloss in Peek a Boo Pink ($12). We're still not done, y'all! After applying the customized lip gloss, Mario added a shimmer gloss in the center of Kim's lips to give a little more oomph. I used Sigma's Lip Vex in Get Ready ($10).
https://www.youtube.com/watch?v=ECPTKSrPPZY?feature=oembed
Kim called him the mix master, and that's v, v accurate! Even almost 10 years later, he still uses this technique. At Mario's latest Master Class, he demonstrated how he mixed 8 different lip products, proving his technique still holds up.
All done!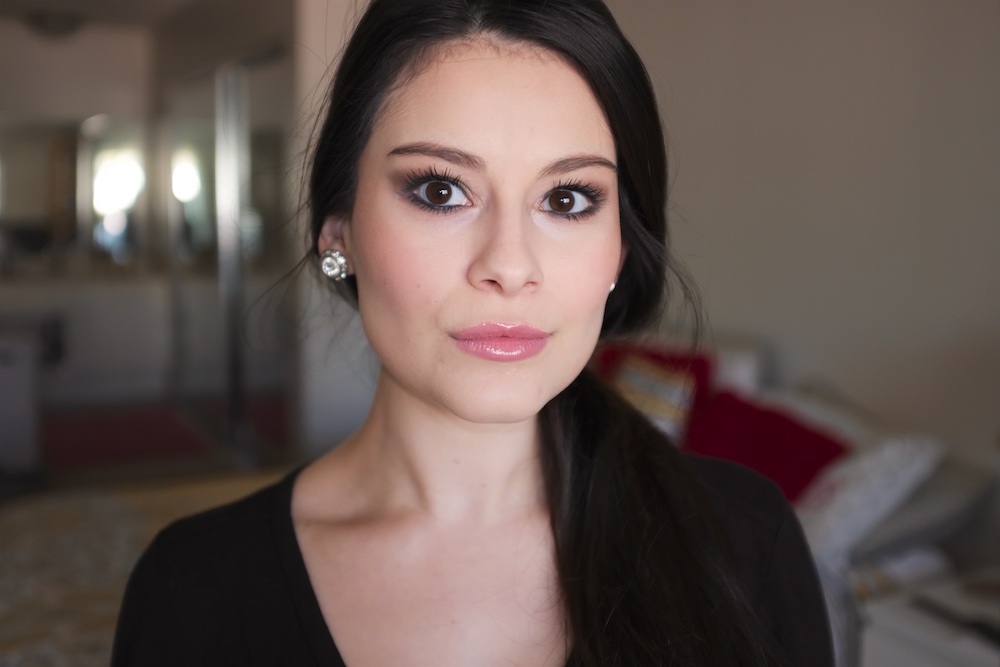 Let me just say that even with my hair in a messy pony and a basic black tee like Kim's, I feel fabulous. My lips have never looked this good, and I have never felt this glam with my makeup. While this beauty look is a little too much for me to wear on a daily basis, I did learn a lot of makeup techniques that are simple, effective, and easy to incorporate into my makeup routine! Even if you can't afford to attend Mario's coveted Master Class, his 2009 YouTube videos are worth watching!