10 recipes for when you could seriously care less about carbs
Every now and then you just need to let your hair down and load up on the carbohydrates. Maybe you had a really long day at work and your boss was being particularly insufferable. Or perhaps you just came back from a long visit with your mom, who simply wouldn't stop asking you if you're going to get married this year. Whatever the case may be, you can't deny that carbs are sometimes our very best friends. They comfort us and warmly fill our bellies. They tell us that everything is going to be okay. They can even put us to sleep and give us sweet, sweet dreams.
As important as it is to live a healthy life and (try to) eat a healthy diet, you shouldn't restrict yourself, so there's absolutely nothing wrong with pampering your being with some "naughty" food. There's something wildly satisfying about working hard in the kitchen and reaping the rewards. You won't be disappointed in yourself — and you definitely won't be disappointed in the following comfort food flavors.
1. Creamy Mac 'N Cheese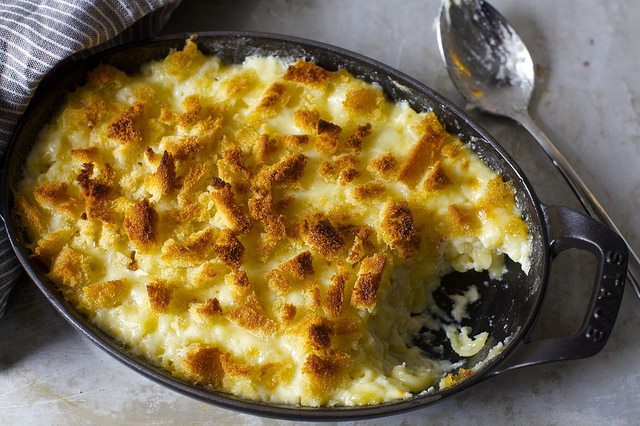 We felt it was necessary to start with the basics. Pasta, white bread, bechamel sauce, and loads and loads of cheese — how else is one meant to carb overload? Smitten Kitchen adapted this recipe from Martha Stewart, and it's supposed to be legendary. It takes more time than, say, a box of instant mac 'n cheese, but the two don't even compare. Get busy!
2. Sausage Stromboli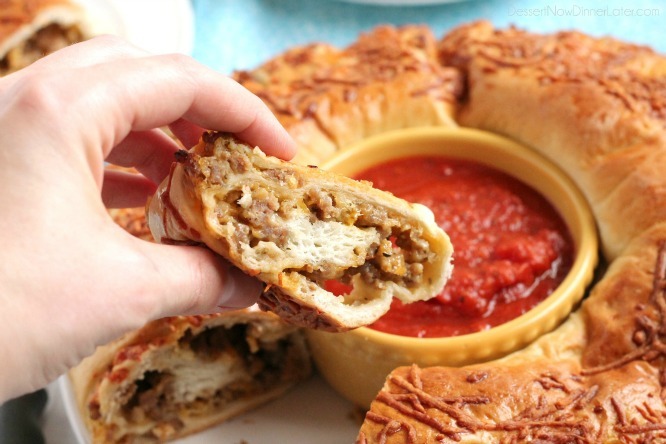 Look at all that bread. All that cheesy, meaty bread. The carb gods gave us a truly wonderful gift when they transmitted this recipe down through Dessert Now Dinner Later. It only takes six ingredients to make as well, and you don't have to spend hours slaving in the kitchen to make this a reality for you and your hungry friends.
3. Biscuits and Bacon with Honey Butter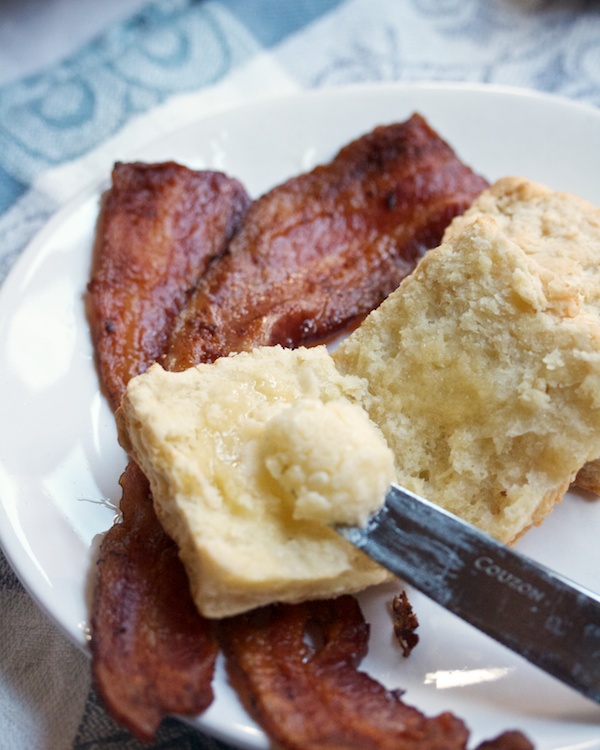 We daresay this is the ultimate at-home brunch recipe for a Sunday morning when you're just a tad hungover from a fun night out. This mouth-watering recipe from Big Girls Small Kitchen incorporates the most classic ingredients — buttermilk, thick-cut bacon, and good old fashioned butter — to make a timeless concoction of sweet and salty carbs. Hey, at least you'll get your fill of protein with that crispy bacon.
4. Pesto Parmesan Gougéres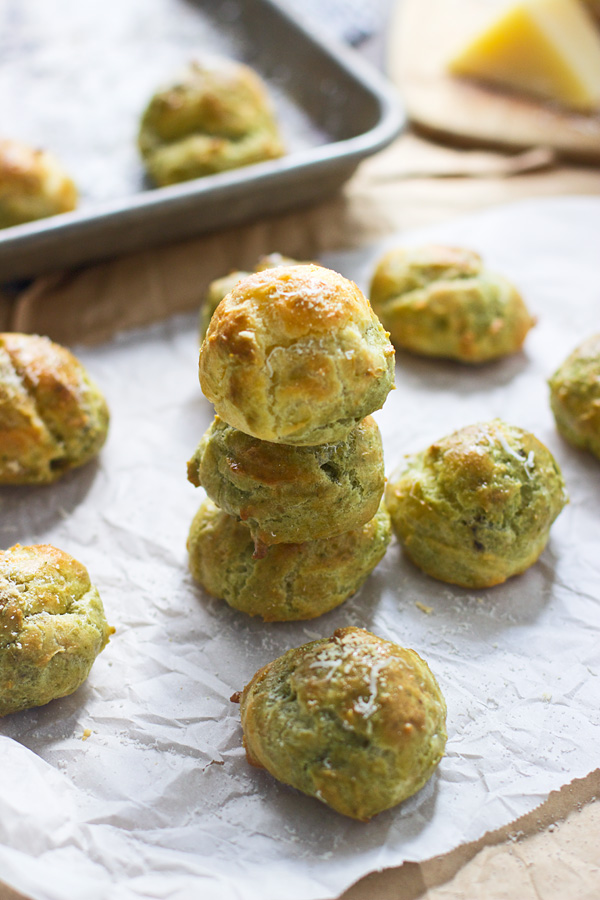 If you have no idea what a gougére is, don't worry. It's just a fancy French word for cheese puff. These balls of bread and cheese from Cooking For Keeps are going to bring a smile to your face, no matter what we call them, anyway. You don't have to be a bread expert to make them, either. Word on the street says the leftovers go really well in a ham and cheese sandwich, by the way.
5. Patty Melt with Caramelized Onions and Sharp Cheese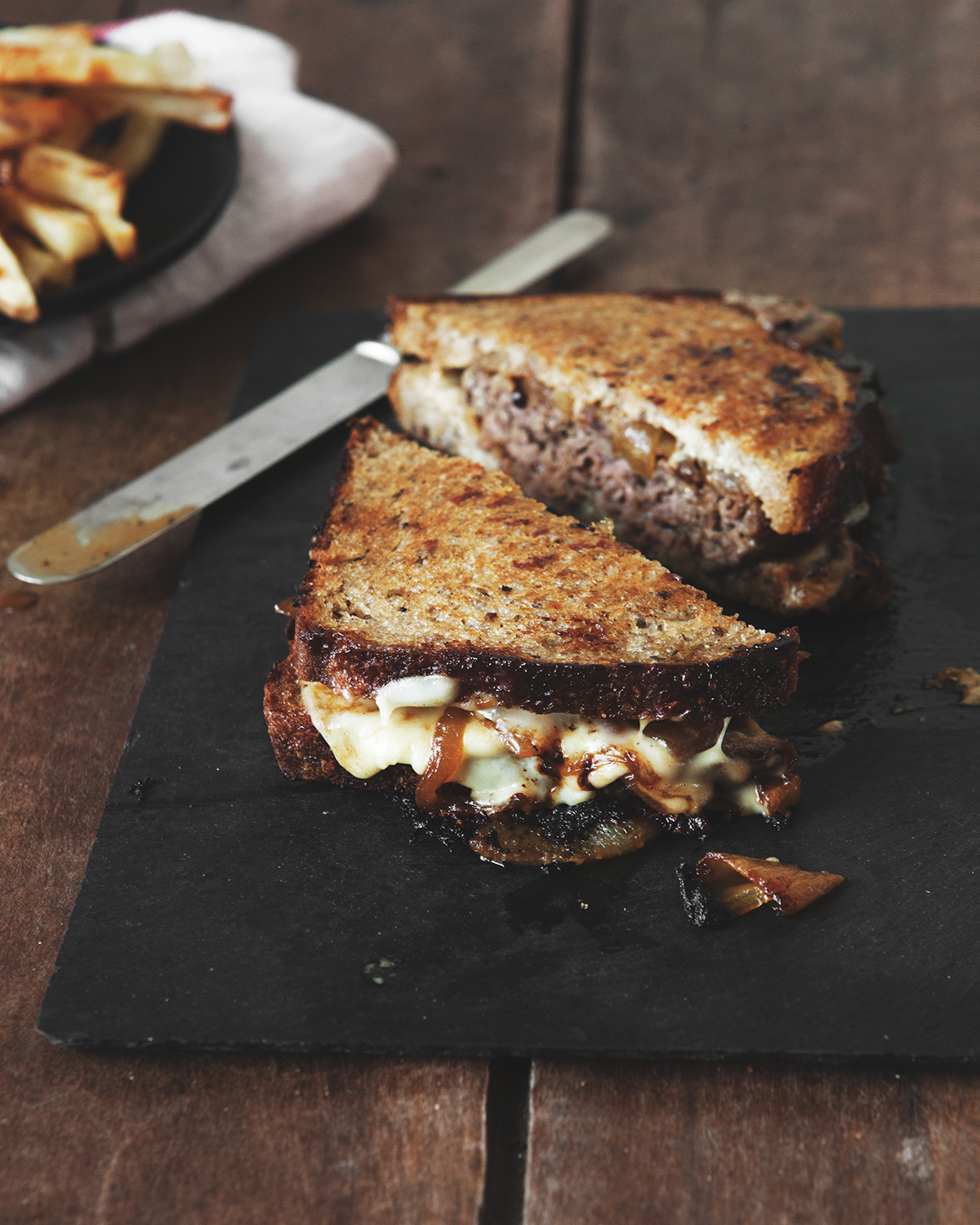 This picturesque, beautifully greasy sammie looks like it belongs in a fancy pub that sells fancy beer. I mean, how satisfying does it look? There are enough carbs in there to keep you happy for a whole week. A Better Happier St. Sebastian suggests pairing this melt with some homemade fries on the side, because, obviously.
6. Honeycomb Sugar Doughnuts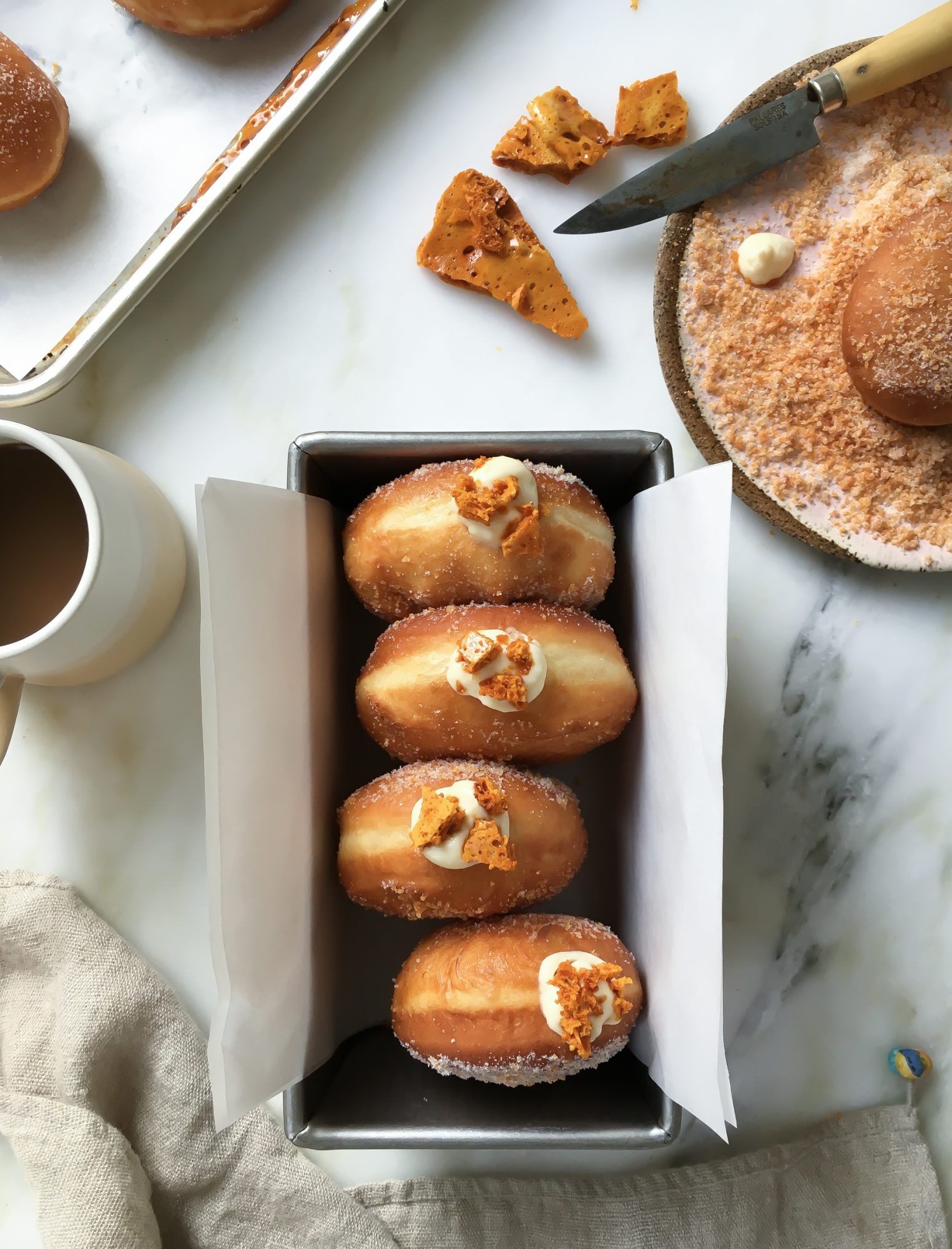 Did you get out of bed this morning? Are you wearing clothes? Then you deserve this scrumptious treat immediately. Doughnuts are the most glorious carby things on the planet, and everyone you should totally indulge every once in a while. A Cozy Kitchen walks you through the process to make these unbelievably decadent treats. Your friends won't even believe that you made them with your bare hands.
7. Salami, Hominy & Smoked Mozzarella Pizza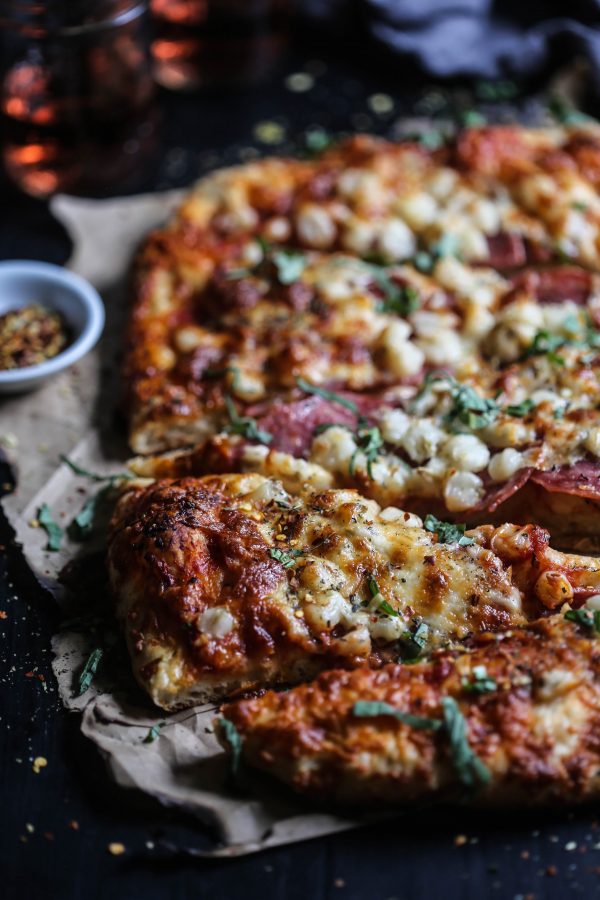 When you're looking to carb it up, your first instinct might be to call up your local pizza delivery joint, but that's only because you haven't realized your full pizza-making potential yet. Climbing Grier Mountain gives you the chance to make the pizza of your dreams. Do whatever you need to do to get your hands on smoked mozzarella, because that's what makes it extra special.
8. Baked French Toast with Peaches and Crumb Topping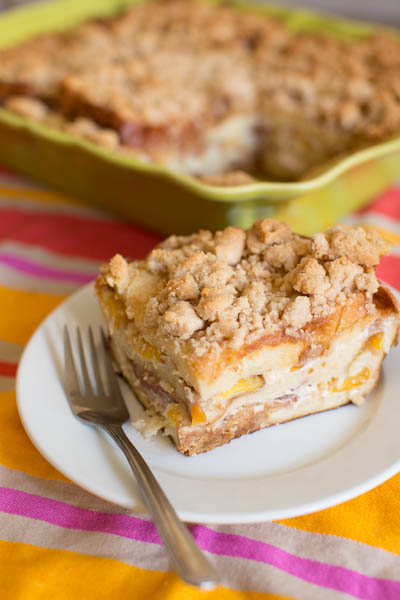 It all starts with some challah bread from your favorite local bakery. Toss in some cream cheese, maple syrup, brown sugar, and cinnamon (just to name a few), and you're bound to find yourself in carb heaven. Lick My Spoon makes it super easy for you to recreate this sinful French toast in your own kitchen. No chef training required.
9. Ramen Noodles with Cilantro-Ginger Pesto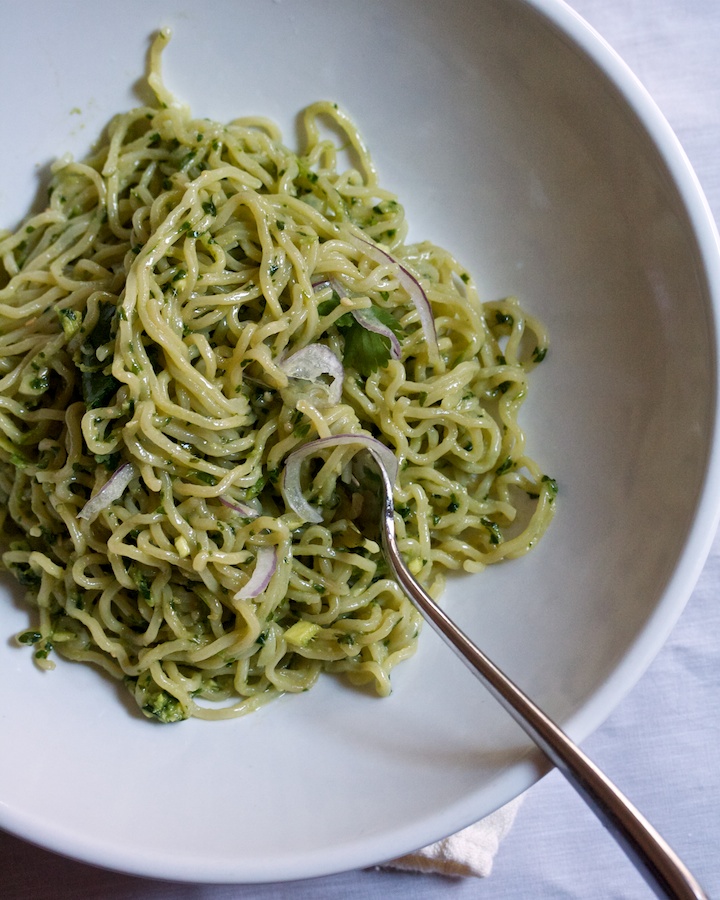 Ramen is weirdly satisfying. This dish from Big Girls Small Kitchen is perfect for those days when you're craving a fat bowl of ramen noodles but you want to feel more grown-up when you dig into it. Grab yourself a packet of ramen noodles and follow these simple instructions. You may fall into the sweetest food coma after you polish off your plate. Mission complete.
10. Cheesy Pull-Apart Bread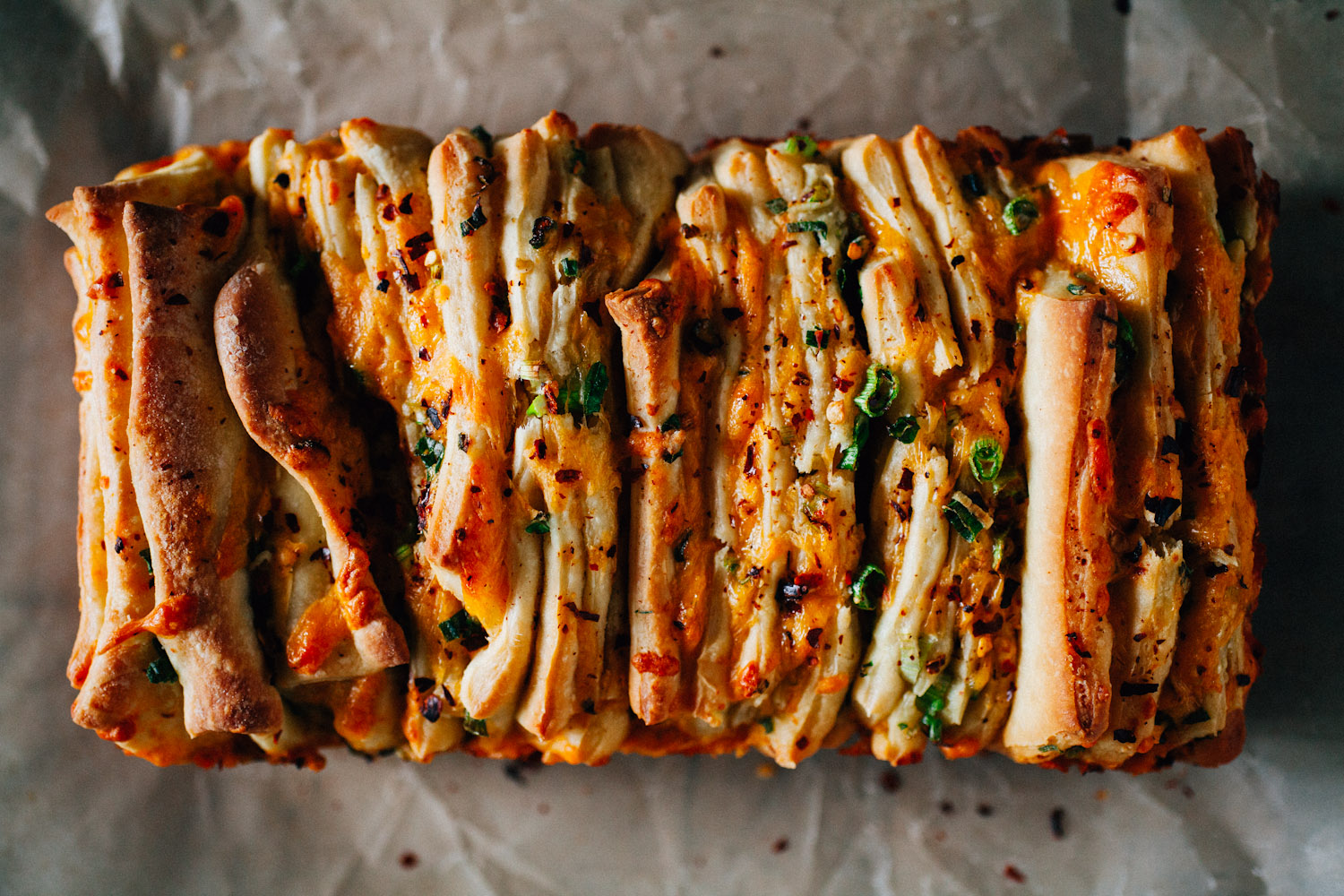 Bread and cheese were made to be together. Let them live happily ever after with this recipe from The Crepes of Wrath, which will also fulfill all your carb cravings in the world. We bet it would taste even better if you snuggled up in bed with it.