Rebecca Black penned a powerful essay about bullying and online abuse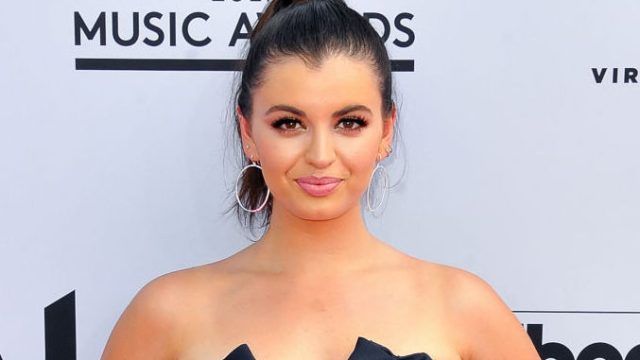 October is National Bullying Awareness Month, and many celebrities have used their platform to speak out against the real truths of bullying that exist online and offline. One of those well-known figures is Rebecca Black, who just penned an essay about bullying and how it led her to question her own survival.
Black famously released the song and YouTube video for "Friday" back in 2011 when she was just 13 years old. It absolutely exploded, and the singer quickly attracted a lot of attention to herself. Unfortunately, not all of it was positive. Now 20, Black still makes new music and is currently on tour.
To be so young and the center of so much internet hate is, understatedly, a traumatic experience. Black's essay, titled "What I Learned from Being a Target of Internet Hate at Age 13," is a reflection of resilience and meaningful insight on what she learned.
https://www.instagram.com/p/BacLkmzAzWD
"When 'Friday' went up on the internet, it went crazy — and the onslaught of negative attention I received was so sudden and so intense that I wasn't sure I would survive," Black wrote for NBC News. "It was open season and I was the target. The fact that there was a human, a person — a 13-year-old girl — on the other side of the screen seemingly escaped so many people's attention."
Black's insight into bullying extends into her own online community. She and her fans hold each other responsible for what they say to one another. As an extension of her own activism against bullying, Black is using her newest EP release, RE/BL, to talk about her experiences and be a voice for others who may have gone through similar situations.
https://www.instagram.com/p/BaIZJBYhl88
Even though Black's experience is pretty unique, she knows that bullying isn't.
"I will never fully understand how I became one of the first people to experience online bullying in an extremely intense way," she continued. "But I do know now that what happened to me is truly just a global extension of something that goes on in every school, on every computer screen and in every neighborhood."
https://www.instagram.com/p/BZ7fRMNASop
Black wants everyone to know that if you're experiencing bullying, you don't have to handle it alone.
"Nobody needs to suffer in silence, like I did, for so many years. Talk to someone who can help, whether that's a friend, a trusted adult or a mental health professional," she concluded in her essay. "Whatever a bully is saying about you is wrong. It didn't feel that way when I was 13 and people were writing about how awful and undeserving I was, but I now know they were wrong."
Thank you, Rebecca, for opening up and being a great resource for others.