Is Reba McEntire married? Here's what we know about the 2018 ACM Awards host's relationship status
Country music legend Reba McEntire is set to host the 53rd annual Academy of Country Music Awards, which would make this her 15th time hosting the awards show. First of all, can we pause to reflect on a woman hosting an awards show that many times? Bravo. While the empowering country music icon is set to host the ACMs on Sunday, April 15th, 2018 — her last music awards show appearance as a guest was at the 2018 Grammys where she was spotted with a date on her arm. That appearance had the internet wondering "Is Reba McEntire married?"
McEntire is not married and her date to the Grammy Awards was boyfriend Anthony "Skeeter" Lasuzzo. When the couple stopped for red carpet interviews at the music event, they seemed to indicate that the relationship was new.
"We've been having fun!" McEntire told Entertainment Tonight on the Grammys red carpet.
The couple was still going strong by the time Valentine's Day 2018 rolled around. McEntire shared a series of photos from their romantic and dimly lit V-Day meal, with a caption, "Skeeter and I had a wonderful Valentine's Day!!! We hope you did too."
This new love is even more special, considering the fact that McEntire ended a 26-year marriage in 2015. She and music manager Narvel Blackstock wed in 1989 and split in 2015. They share a son, race-car driver Shelby Blackstock, plus Blackstock's children from a previous marriage.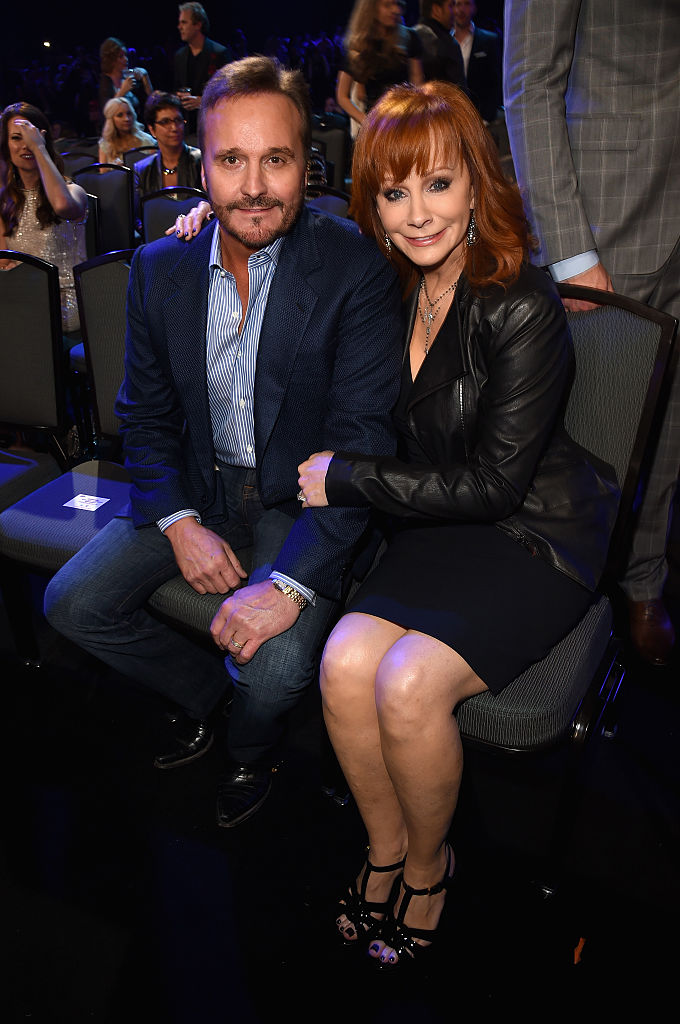 When the relationship ended, McEntire told Entertainment Tonight Canada in 2017 that "life goes on. You remember the good times. Don't look back. Go forward. And that's kind of what the whole family is doing."
Interestingly enough, it was her 2015 divorce that led her to her Chrisitan faith, which in turn led the famous country music star to create the gospel album Sing It Now: Songs of Faith & Hope, which went on to win a Grammy this year for Best Roots Gospel Album.
Before marrying Blackstock, McEntire was married to a rancher named Charlie Battles from 1976 to 1987, but they split so that McEntire could embrace her burgeoning music career. "He asked me to slow down off the road after I won Entertainer of the Year in '86. I guess I kind of chose my career over my marriage," she explained to CNN in 2002.
Of her new relationship with Lasuzzo, McEntire told Closer in January, "I'm just kind of winging it and taking it one day at a time. [But] I do want my fans to know that I'm very happy."