Here are the reasons for all those "Star Trek: Discovery" delays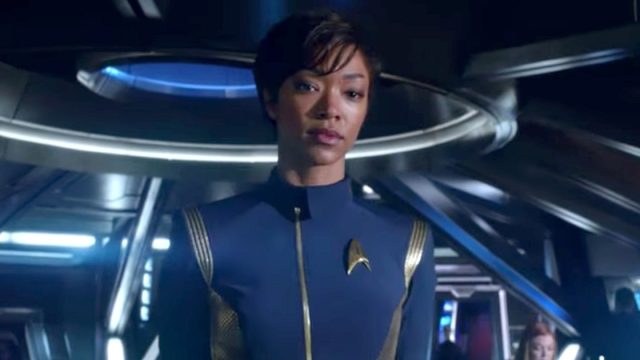 If, like us, you've been wondering what has caused all those delays with Star Trek: Discovery then wonder no longer.
The show, which was originally announced all the way back in 2015, was slated to air at the beginning of this year, but was later delayed until May and then to the fall. Thankfully, last month we finally got our first taste of the upcoming science fiction series with an EPIC trailer that gave us a taste of the new crew from the new Starship  as well as "The Walking Dead's" Sonequa Martin-Green and Captain Philippa Georgiou, played by Michelle Yeoh.
When it was announced that Star Trek: Discovery would initially be delayed, CBS told The Hollywood Reporter that there were a number of things that had caused the halt. Some of the delays were to do with casting, while others were, in their words, "to do this right [rather] than to do it fast."
Now, speaking to Entertainment Weekly, showrunners Aaron Harberts and Gretchen J. Berg have spoke more about the delays to Star Trek: Discovery.
Firstly. the pair shared how, essentially, there was some difficulty navigating the schedules of the cast, specifically Sonequan Martin-Green, who was tied up filming The Walking Dead.
Secondly, Harberts and Berg said that creating the world of Star Trek was just taking some time to put together.
"There's is so much artistry and custom craftsmanship that go into every prop, every costume, every set," Harberts said. "These things have to be designed and manufactured. We flew a costume designer to Switzerland to pick up the fabric for the Starfleet uniforms. Several items on our uniforms are 3D printed. Some of our sets can take over six weeks to make. CBS has given us the time and the money to make something the fans will find worthwhile."
Adding to this, Berg explained that with something like this you just can't cut corners, which is pretty amazing to hear.
"It has to be cohesive — and it is. I'm so proud of what's on screen, it's so beautiful and it's taking world-building to a whole new level," he said.
Thankfully, we don't have too long to wait until we get to see the fruits of Berg and Harberts' labours, as CBS just announced that Star Trek: Discover will debut Sunday, September 24th on CBS, before the show shifts to it's home of CBS All Access, the network's streaming service.
Given the time, money, effort, and dedication that has gone into creating it, we're pretty sure that Discovery could be *the* show that we become obsessed with come fall.