Here's why hamburgers are crazy popular no matter where in the world you live
If you're eating a lot of burgers lately, you're not alone. A new study has found that hamburgers are becoming more and more popular worldwide.
In France, usually known for more glamorous dishes, burgers are even now one of the most-served foods. About 75 percent of food establishments now have at least one hamburger (aka "le burger") on their menus. Of those, 80 percent reported that burgers are their best-selling item. We don't blame them.
Amazingly, in France, hamburgers may become even more popular than the ever-classic-and-popular "le jambon beurre" (aka a ham and butter baguette). Statistics show that the French ate 1.19 billion (!) burgers last year, increasing 11 percent from 2014. "Burger mania (in France) is unstoppable," said Bernard Boutboul, head of Gira Conseil, the food consultancy company that did the study.
The French are not the only ones in love with beef patties between a bun, it turns out. In Australia, people consume almost three times as many per capita as people in France. That's a lotttt of beef.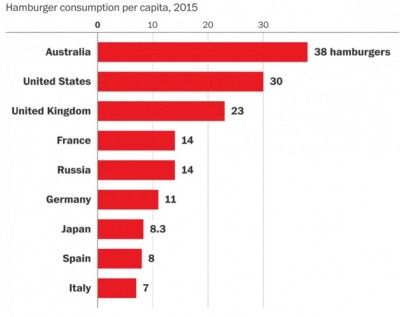 Even though per capita beef consumption in the U.S. has dropped by 20 percent during the past 15 years, people still want burgers more than ever. According to The NPD Group, restaurants sold two percent fewer sandwiches in 2014 than they did in 2013, but three percent more burgers. Crazy, right?
"The success of burgers in 2014 was a combination of factors," said Bonnie Riggs, NPD's restaurant industry analyst. "Quick service restaurant chains launched new burger items, casual dining restaurants added more burger items to the menu to offset higher beef costs, and Americans simply love their burgers."
Some think the popularity of hamburgers is also due to the way they can be reproduced. Louise Fresco, in her 2015 book Hamburgers in Paradise: The Stories Behind the Food We Eat, has a theory:
And, speaking of burger chains, outside America, where is McDonald's is the most popular? France. Hmm—we're starting to see a trend.
Even outside of fast food, burgers are popular among the French. "The weight of McDonald's, Quick (a French fast food chain,) and Burger King is derisory as it only represents a third of the 1.10 billion burgers sold in 2016," Boutboul said.
Worldwide, French fries, too, are up there in popularity, and you can probably guess why. Yep, they're burgers' BFFs.
No matter where you live, there's bound to be a burger—or French fry—with your name on it. Is it lunchtime yet?