6 reasons to go to college in a city where you don't know anyone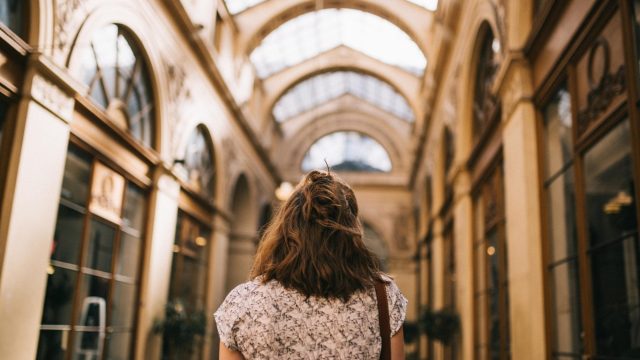 Going away to college is scary for anyone, but going to college far from home in a city where you don't know anyone is downright terrifying. But it also might be the best thing you ever do.
Even if you're totally ready for a fresh start, moving to a new city for four (or more) years is totally nerve-wracking. And when you don't know a single soul where you're going? You might be wondering what on earth you were thinking when you made that call.
But there are so many reasons why you should move away from your comfort zone and go to college somewhere new and completely on your own. Queue up the Natasha Bedingfield, because "the rest is still unwritten," friend.
1There's no better way to make a fresh start.
Starting over in a new city — especially when you're going off to college — is the perfect way to examine your life and do things on your own terms. College is one of the first opportunities a person gets to "wipe the slate clean," so to speak, so you're giving yourself a tremendous opportunity to start anew by going somewhere totally on your own. There's something seriously exhilarating about that prospect, no?
2Who you were in high school won't define you anymore.
Even if you were lucky enough to have a positive experience in high school, going off to college is a chance to be whoever it is you want to be. If you were shy in high school, you can become more outgoing in college. On the flip side, if you were a party animal in high school, you get a new chance to make school a priority in college. And when you're in a city where no one knows who you were before, there are no preconceived notions about who you were then, giving you the freedom to be whoever you truly are now.
3You can make entirely new friends.
OK, so this one is *kinda* obvious, but when you go to university somewhere, and you truly know nobody going in, suddenly everyone you meet has the potential to become a new friend. Use that to your advantage! It's scary as hell to put yourself out there, but it's also important to remember that every single college freshman is nervous and wants to make new friends, too.
So talk to literally anyone — you truly never know where you might find a friend. Join organizations or clubs that intrigue you to meet people who share your interests, and take elective courses that fascinate you. You will find your people.
4You can explore a new place solo.
Falling in love with a new city is such an incredible adventure, and doing so alone is even better. You can spend time exploring and seeing things you want to see while also establishing a routine and finding new gems on your own. If you were bored by the limited options in your hometown, starting over in a new city gives you endless new places to hang out, grab coffee, study, eat, exercise… You get it. Embrace the "newness" of being somewhere new.
5Going home will be that much better.
There's no doubt that you will get homesick while you are away, but being able to go home after spending time in a new place is basically the best feeling in the world. You'll truly appreciate the comfort of your friends and family back home, while also enjoying the freedom and new experiences you're having in school. It's the best of both worlds, really.
6You'll grow as a person in so many ways.
It will absolutely be a challenge to your comfort zone to be in a new city sans connections from high school, but the challenge is really the beauty of making this choice. You will definitely learn a lot (and we're not talking from a textbook!), and you will be surprised at how resilient and strong you can be when you're out on your own. As long as you're gentle on yourself when you make mistakes (because you will!), you'll make new friends and a new routine in your new city. It'll feel normal in no time — and you're be a way evolved version of the person you were when you went there.