Carrie Underwood revealed the specific reason she fell, and it's scarily relatable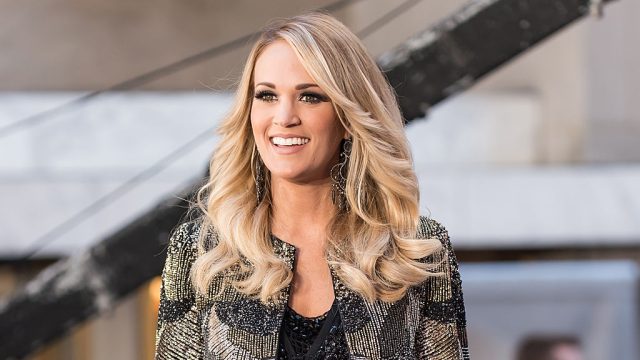 On April 15th during the 2018 Academy of Country Music Awards, Carrie Underwood made her triumphant return to the stage after a November accident left her with 40 stitches in her face. The singer unveiled her new single, "Cry Pretty," as well as a face that looks fully recovered. And now, she's opening up about what exactly caused her fall.
On the April 19th episode of Sirius the Highway's Storme Warren Show, Underwood said that she injured herself last November when she was walking her two dogs.
"I was clumsy and I tripped, and I held on to the dog leashes in my left hand and went to catch myself with my right hand and missed the step," she told Storme Warren. "There's one lone step. If I had fallen anywhere else, I would have been absolutely fine."
The "Before He Cheats" singer detailed the injuries she sustained in the accident, telling Warren that she had chipped a tooth, and that damage around her mouth was what required the 40 stitches. She broke her wrist in the fall, too (ouch).
Underwood also made an appearance on iHeartRadio's The Bobby Bones Show. When host Bobby Bones remarked that the singer looked almost the same as she had before her accident, she acknowledged that she had been "lucky in the healing process," but confessed that she didn't know how she would look post-stitches, and that was why she told her fans her appearance might be different.
"I didn't know what was going to go on and didn't know what it was going to heal like," she told Bones.
https://www.youtube.com/watch?v=whwUlzuLfs4?feature=oembed
Underwood revealed that having a broken wrist was the most difficult thing to deal with when she was writing music and working out.
Underwood's accident is unnerving in how relatable it is — falling while walking the dogs is something that could happen to almost anyone. But we're glad to see that the country star has recovered, and we can't wait to see the new music that she will release next.