Real Simple has a mattress line, and it's so good it's probably saving my marriage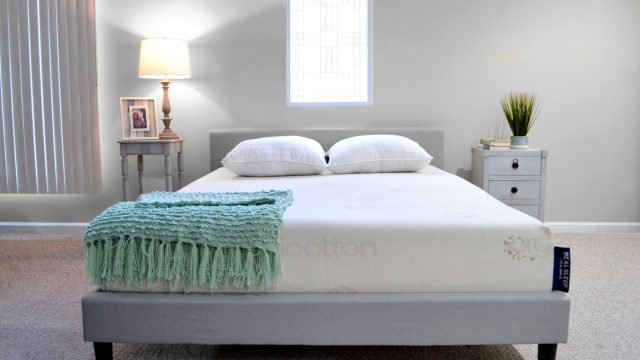 My husband and I got into a fight over the light. I turned it on. It was midnight, and my body suddenly remembered I drank 30 ounces of water two minutes before bedtime, so I left the light on and went to the bathroom. This shouldn't have been a big deal, since when my husband falls asleep you sometimes literally cannot tell if he's alive or not he sleeps so soundly, but he had just fallen asleep and he had a long week and he was not happy about the light suddenly turning on.
When I crawled back into bed, suddenly not tired and still not turning the light off, he told me I was "inconsiderate" and loudly walked into the office/storage room/guest bedroom/the "cats' room" and shut the door, which was kind of dramatic, but it gave him space to simmer down. Historically, whenever we fought, he would go sleep on our couch in the living room, because we are tropes. Luckily for him, we just got a new Queen size mattress delivered from Real Simple's Real Sleep line, which we'd put in the guest room (before that we had an old futon my cats threw up on), so we each now had our own separate space, and that is maybe the key to marriage.
The next morning, we bumped into each other in the kitchen, and I asked how he slept.
"Pretty good, actually." Was he in a good mood? Did this new mattress fix my grumpy spouse?
"Sorry I was rude about the light," I said.
"It's fine. Do you want to go grocery shopping today?" And just like that, what could have been a day of passive aggressively mentioning how uncomfortable the couch was and that he only got three hours of sleep, it was a just a normal Saturday.
That night, I wanted to try out the new mattress too, because according to the website, the 10-inch memory foam is temperature-controlled and responds to whatever position you like to sleep in and adjusts accordingly. We are truly living in the future, people.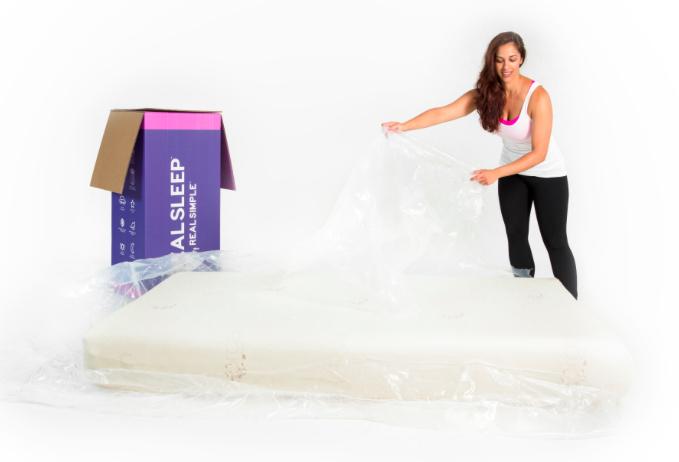 We don't have a box spring or frame for the mattress yet, so it's just on the floor right now and I told my husband this is as close to camping as I'll ever go, and he agreed, which is one of the reasons why we chose to marry each other, and we went to bed.
The mattress is possibly the smartest mattress I have ever slept on. It was firm, yet plush. It truly did support however I positioned my body, and when I woke up in the morning I felt energized and that never happens without caffeine anymore.
The next time my husband and I get into another fight, I think I'll probably pick the guest bedroom. ?
Buy the Real Sleep mattress ($540-$1,035) here.