The real-life Olivia Pope is reportedly handling the Brangelina divorce, which is clearly perfect
As if the drama going down between Brad Pit and Angelina Jolie wasn't baffling enough, things are getting even more star-studded, because the real-life Olivia Pope is reportedly handling their divorce, Huffington Post says. Our hearts were broken when we found out that Brad Pitt and Angelina Jolie were getting a divorce. Then the statements started coming out, and then we found out one of the reasons behind the split. Now, we're totally intrigued by this new development, and super curious.
According to People magazine, Jolie has apparently hired the real-life Olivia Pope to have her back.
Yep, that's right. Judy Smith, the amazing woman who inspired Olivia Pope (played, of course, by the lovely Kerry Washington), is reportedly working her magic to help Jolie survive the divorce. Like, whoa.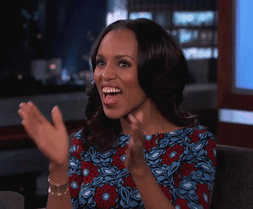 "Judy has been asked to consult with those working with Angelina on divorce negotiations, a source told People. "Judy and her firm have a long history of handling issues that have unfortunately garnered too much attention in the public eye, and she knows how to push towards resolutions that are swift and discreet.
How AMAZING is this? Smith is seriously such a powerful force, having dealt with issues faced by stars like Monica Lewinsky, Paula Deen, and Michael Vick. And now she's added Jolie to the mix? How freakin' TV-ready is this? Still, our hearts go out to Jolie. It can't be hard to deal with this, especially not so publicly.
And we hope that Smith can "handle" this divorce, and put it to rest.