WHOA, this woman looked EXACTLY like Barb from "Stranger Things" in high school and it's awesome
If there's one thing we love most about Stranger Things it's the characters and, well, let's be real…one character in particularly, Barb. **Shouts: Justice for Barb!!!** As one of the most relatable characters on the show this red-headed, sassy, and forgotten BFF spawned legions of Barbites who came together in solidarity after her untimely and gruesome death (Booo! Hissss!). But while Stranger Things fans toil away at fashioning the perfect Barb costume for Halloween this year, just know that someone was waaaaay ahead of you, and well, even the show itself.
Check out this woman's INCREDIBLE senior picture from the '80s.
And OMG to the fact that THIS WOMAN IS ALSO NAMED "BARB!!!".
Go ahead, we'll wait while you scream, "OH MY GAAAWWWD!" The image was originally posted by Redditor jujuness and, unsurprisingly, has since gone viral. According to the Redditor, this is their coworker's senior high school photo from the 1980s and her name is really Barbra, though she actually goes by "Barb" in real life. According to The Huffington Post, the Reddit user explained,
"She's a red-headed older woman, super nice, and a great nurse! She said she was freaked out when watching the show, because she saw herself. I would be too!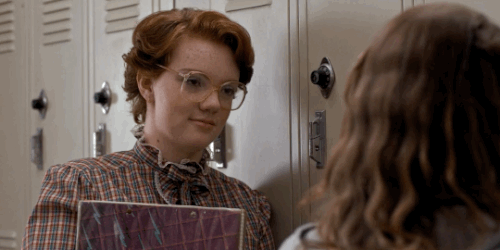 And, you know, we can't blame IRL Barb, because can you imagine seeing your doppelgänger on Stranger Things?!? I mean WE'D be over the moon, but like yeah… that'd be pretty freaky. We're still totally blown away by this image, and who knows, maybe if we're all very lucky the Duffer Brothers can work her into Season 2 of Stranger Things in some kind of alternate future reality where Barb lived and grew up to be a nurse? Maybe?!?
Ohhhh, Baaaaarb.
Because that MIGHT just be as amazing as seeing Mike take Eleven to the Snow Ball.