Raven-Symoné reveals that childhood body shaming still affects her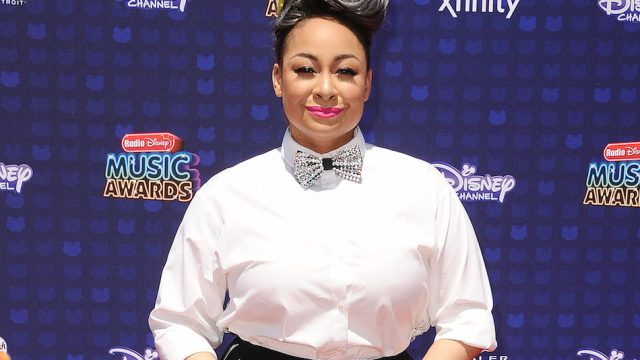 Raven-Symoné has been on our TVs since she was a young child. But while we've enjoyed her acting, singing, dancing, and speaking her mind (like on The View) throughout the years, her time in the spotlight didn't help her body image growing up. In an interview with People, Raven-Symoné discussed the body shaming she experienced as a child in the entertainment industry. Raven also opened up about how she's creating a body-positive message on her new show, Raven's Home.
In her People interview, Raven-Symoné remembered a specific moment from her youth. "[They said] I was too big to be doing an hour and a half concert. 'I don't know how she can dance being that big.' And I was like, 'I still did it!'" Raven-Symoné said. "I was on tour forever because it's not about your size, it's about what you have to say, if you can sing or dance, and performing. It's not about your size."
You don't have to be a fan of The Cheetah Girls (though you probably are) to know how wrong these body shaming comments were.
https://www.youtube.com/watch?v=C3XR1T7Ey5M?feature=oembed
However, Raven noted that things are better nowadays when it comes to body representation in the media and body positivity.
"I love embracing your body," she said. "In this day and age you have all kinds, and it's funny, it's serious, it's every color, it's every head shape, it's every hair. And there's androgyny, and there's LGBT coming in, and it feels good. We didn't have it enough last time and I guess that's what the past is for — to make sure the present is what it needs to be."
[tempo-video id="5534131187001″ account="416418724″]
"I wish I was living now as a younger person. I probably wouldn't have so many mental issues," the performer told People.
So she's doing what she can to help kids accept their bodies.
"The world is too big to have one sort of view to show beauty, because then you are literally destroying society," she said. "You are literally destroying it. And then you want to talk about how we are judgmental to each other and this and this. But it's being created in the industry that we're in. So why not break the mold?"
Raven-Symoné understands the long-lasting impacts that body shaming can have on our mental health, so we're happy she's turning her negative experiences around to make the world a more positive and accepting place.