Rapunzel just became the first Disney Princess to do this, and it's a big deal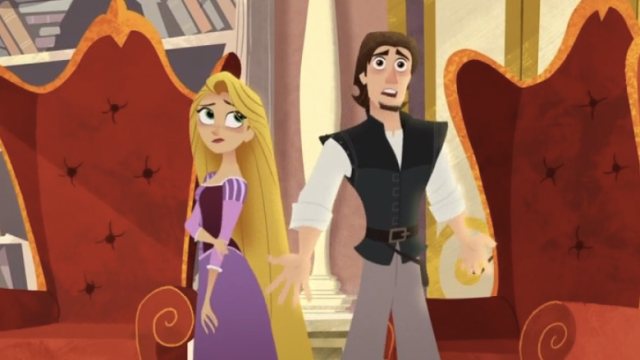 You know how the Disney fairy tale goes: Boy meets girl, one of them happens to be royalty, there's a bad guy to be fought, the hero wins, and everyone lives happily ever after — yay!
That's been the norm since the very, very beginning of Disney Princesses. Each princess — whether in their "main" movie, or one of their straight-to-VHS movies — has always, eventually, gotten married to their respective prince*, and then lived happily ever after. Except for Rapunzel.
Rapunzel just became the first Disney princess to straight-up reject a marriage proposal.
Friday night, Disney Channel premiered their latest Disney Channel Original Movie, Tangled: Before Ever After. The movie set up the story for the new Disney Channel show, Tangled: The Series. The series is a sequel to the movie Tangled, but a prequel to the Tangled short, Tangled Ever After. GOT THAT? (Also, spoilers ahead for everything Tangled.)
So while, yes, we already know that somewhere down the road Rapunzel and Flynn Rider Eugene Fitzherbert get married and live happily ever after, it was not smooth sailing for them.
During Tangled: Before Ever After, Eugene decides he wants to propose to Rapunzel, and does so in front of the whole royal court. Instead of saying yes, Rapunzel says no.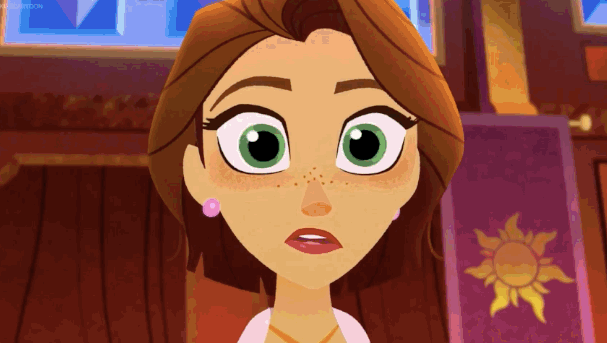 TBH, didn't realize Disney Princesses could say no to marriage proposals, because we've never seen it happen before. This is kinda a big deal. We're used to seeing this when it comes to the end of Disney movies: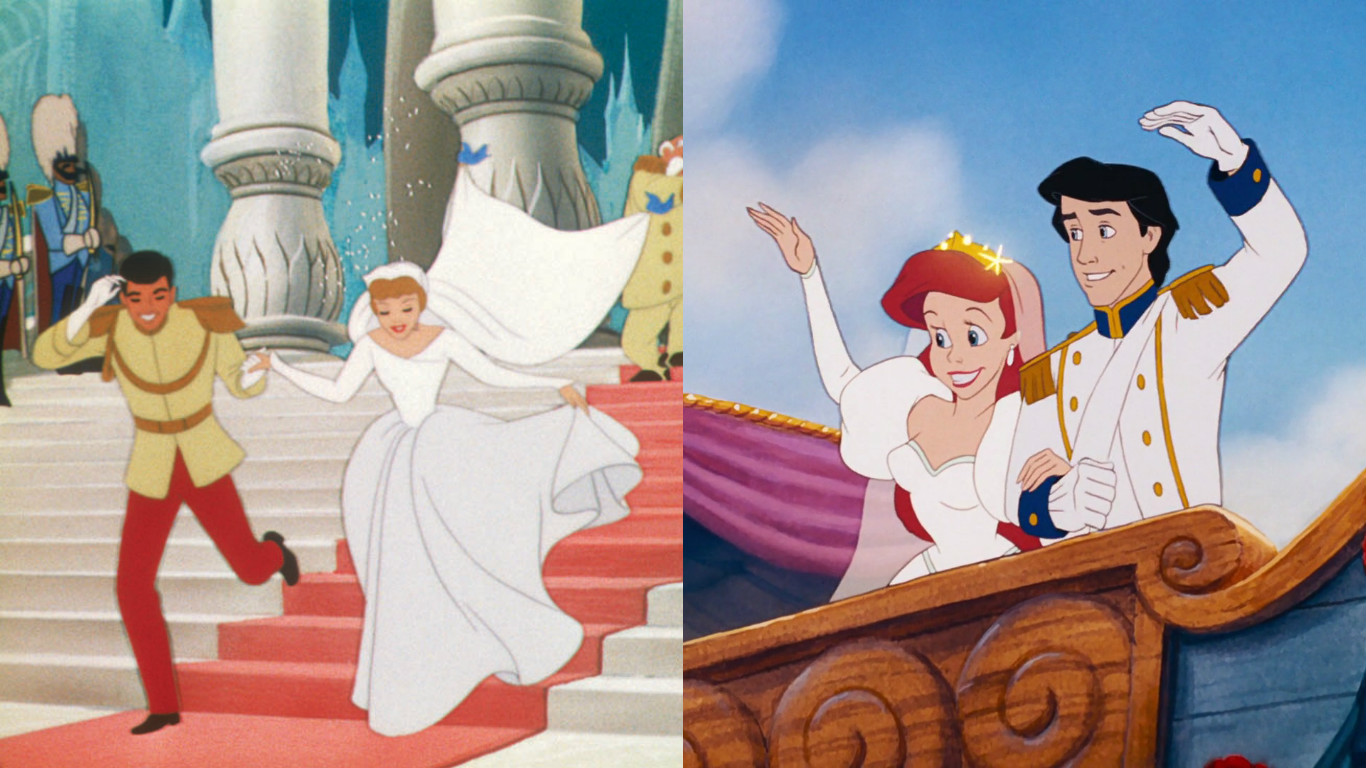 We've never seen a princess hightail it away from a suitor, just leaving him hanging there, diamond ring still in hand.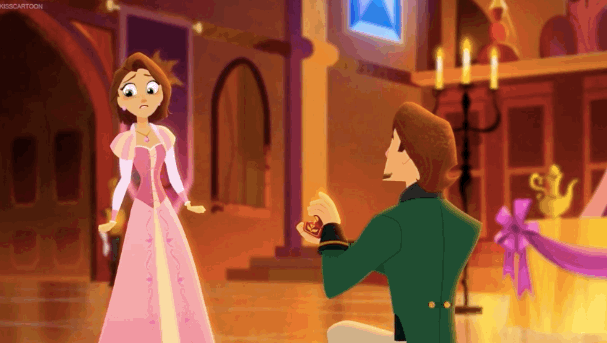 Later on in the movie, Rapunzel (now with her magical hair again — it's a long story) explains to Eugene that she is not ready to be tied down yet (!!), and he apologizes to her for putting her on the spot with the proposal in front of everyone (!!!).
"I don't quite understand why you said no, but I promise to do everything I can until I do," Eugene tells her. Honestly, this is groundbreaking because we have never seen a Disney Princess go through relationship troubles before. Disney Princesses are JUST LIKE US!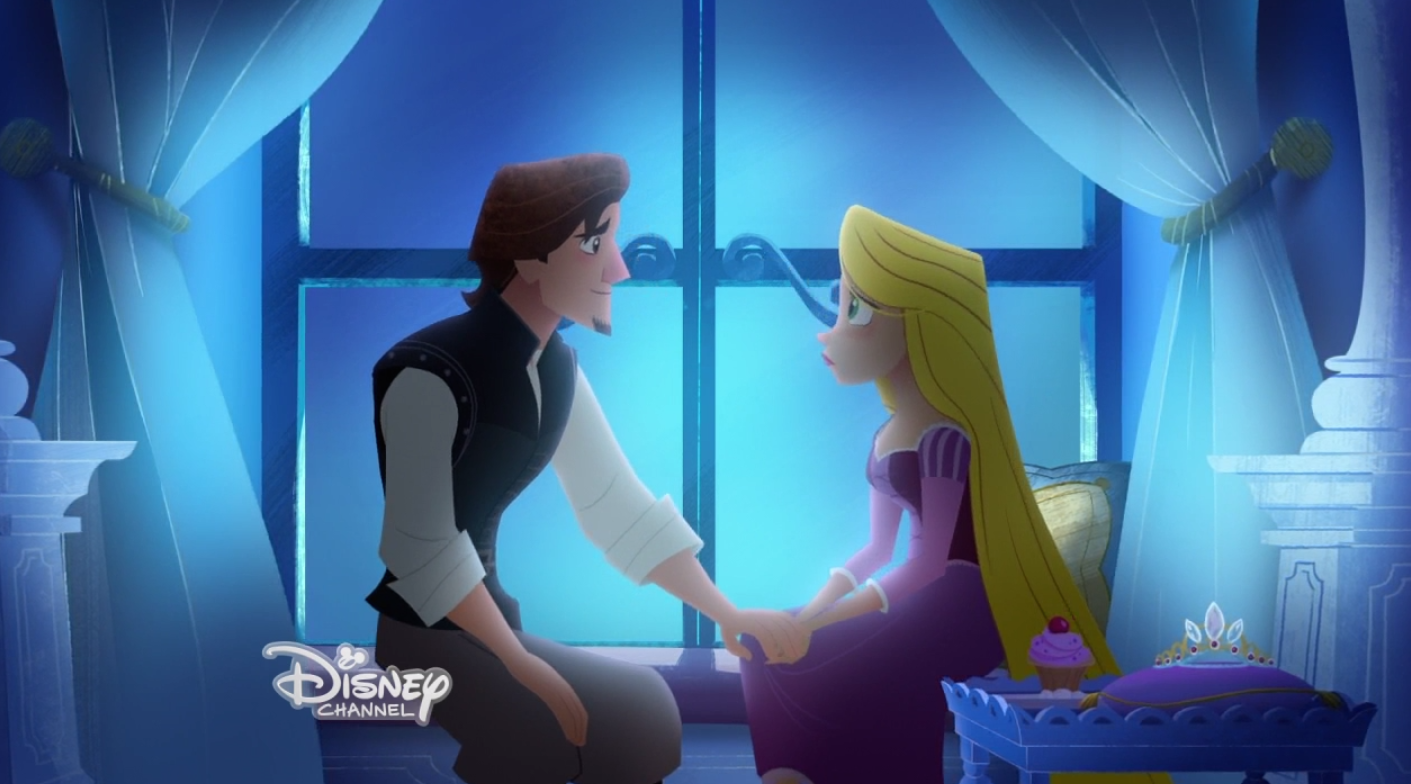 It's clear that Rapunzel and Flynn are not done, and are not breaking up. However, she just asks that they table the marriage proposal for the time being, and asks Eugene to "please…be patient with me." (It is worth pointing out at this point that Rapunzel spent the first 18 years of her life locked up in a tower, and has only now just reentered the real world and is still getting used to everything. Girl still isn't even wearing shoes. So yeah, rushing into a marriage is not the best idea ever.)
As Disney princesses continue to evolve and change over time, Rapunzel just became the latest one to break the mold we're so used to. While she's certainly got that ~fairy tale~ love, for her, it's not coming easy. Relationships are hard work, and it's not just riding away into the sunset in  a horse-drawn carriage with a man you just met.
Blondie, take as much time as you need to figure out what YOU want in life, and if marrying Eugene is part of it, then we're so happy for you two. But if you'd much rather scale the city's walls and run as far away as possible, that is perfectly fine, too. Go figure out what you want for your next new dream — no relationship pressure, whatsoever.
*Except for Pocahontas, who fell for John Rolfe instead, #Pocahontas:JourneyToANewWorld. 
**It has also been brought to my attention that Mulan and Shang had marital issues, so okay fine, I admit, I have never actually watched Mulan II. But sometimes I do watch The Little Mermaid 2: Journey to the Sea when I'm bored.