Rainn Wilson wants you to know that he's very different from Dwight Schrute, and he's not interested in your beet jokes
Sometimes, it's easy for us to think that a TV character is the same IRL as they are on-screen. However, that's not often the case. Now, Rainn Wilson reminds us that he's not Dwight Schrute, and he's not interested in your beet jokes, reported Entertainment Weekly. In fact, Wilson says he's very different from the popular character he played on The Office. But, since the show was on for nine (!) seasons, we can see how people think Wilson and Schrute are one and the same.
Crooked Media got the dl from Wilson in their latest Lovett or Leave It podcast, which just began streaming. During the podcast, which was recorded live in Los Angeles, when The Office actor spun the rant wheel, it landed on "I'm not Dwight Schrute."
So, naturally, Wilson ranted on the topic.
"I am not Dwight Schrute, okay? he says on the podcast.
"I played a character for 200 episodes, and it was an awesome character, and he was a beet farmer, he continues. "That doesn't mean you should hand me beets or make beet jokes every time I go into Starbucks and ask if they have like a beet latte or something like that.
And the kicker? Wilson wasn't even on the podcast to talk about Schrute! He was really on to talk about politics, and his nonprofit, LIDÈ Haiti, that Wilson founded with author Holiday Reinhorn and executive director Dr. Kathryn Adams to help girls in Haiti after the 2010 earthquake, according to EW.
The charity is an educational initiative, and it uses the arts and literacy to build resiliency and empower adolescent girls in rural Haiti. Then, it helps them transition into academic or vocational education.
However, back in April, Wilson ~did~ use some Schrute-ness to help benefit the charity.
He partnered with the social merchandising platform Represent. They released a limited-edition apparel charity campaign named "Beets," which included a T-shirt, hoodie, and mug. You can see the actor modeling some of the products here.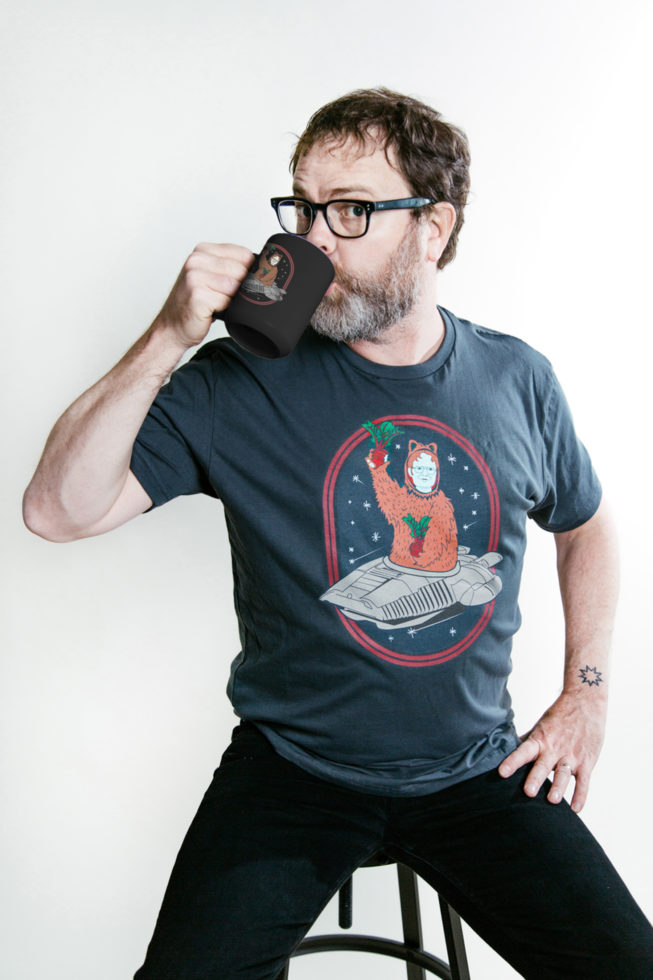 In-te-rest-ing, right?! But, as Wilson just told the Lovett or Leave It podcast, he's ~not~ actually Schrute.
"Don't hand me reams of paper, and don't say 'fact' to me, and don't ask me which bear is best because I am a human being of service to the women and girls of Haiti and to others in this planet, and I am not a beet farmer, he says on the podcast.
Point taken! And here's the podcast episode, so you can listen to Wilson for yourself.
Brb as we go listen to the whole thing now, too!