There's a real life rainbow unicorn cake and it looks straight out of our deliciously colorful fantasies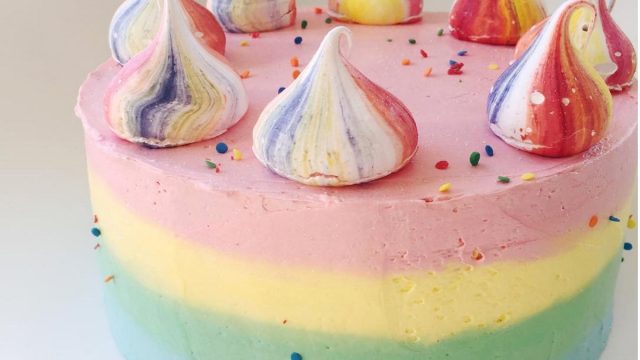 Just when we figured the thought of eating cake couldn't get any more delightful, a bunch of people brilliantly paired cakes with our favorite colorful fantasy creatures, the unicorn, and we are beside ourselves with joy.
Thanks to the Reddit user, megpi, we were introduced to the wonderful world of unicorn cakes, which are as fantastically amazing as they sound.
Rather than an all-out unicorn shaped cake (which is still pretty awesome), this cake are more avant-garde and we are loving it.
The cake itself sounds like it tastes as magical as it looks. The gifted baker said it's a confetti velvet cake with cream cheese filling that has multicolored and white frosting poofs on the top, melted white chocolate, and sprinkled candy for added effect. And, of course, the horn is made from fondant icing. Yummy!
Once we realized that unicorn cakes were a thing, we had to immediately search for more.
It turns out there are so many more ways you can incorporate the mystical creatures into your festive parties to add more color and horned-happiness to any event.
There are more abstract options to give you the feeling of colorful unicorn cake without actually needing any unicorns themselves.
Adding a little actual unicorn to the cake does seem to give it that extra special something.
https://www.instagram.com/p/BHU5U8AjzQr
https://www.instagram.com/p/BEE8sJgw2sv
You can always let the colorful emphasis be on the unicorn itself while the rest of the cake is simple yet beautiful colors.
And if you want the whole unicorn look without it being too abstract or committing to a full unicorn body, you can always create some serious beauties by just focusing on the face.
Don't forget, unicorns can also light up the night sky.
Even though lots of these unicorn cakes were made for children, we can hopefully all agree that they'll bring lots of smiles to people of all ages.
h/t Cosmopolitan