Rainbow reminder bracelets are the perfect summer jewelry trend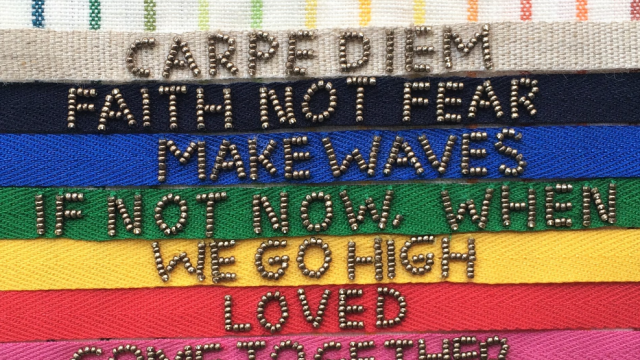 Some days (actually, most days), we're in need of a piece of positive advice to remind us to keep at it — whatever that "it" may be. Jewelry designer Roxanne Assoulin created rainbow reminder bracelets to be that source of affirmation during our day-to-day activities.
The hand-beaded accessories each display an important reminder, like, "Carpe Diem," "Come Together," and former First Lady Michelle Obama's words, "We Go High."
Actress Olivia Wilde is currently sporting the latter message.
These simple tie-on bracelets would make the perfect gift for a friend who is going through a hard time. Or pick one up for your fellow badass who knows the power of positive vibes.
Assoulin also recommends wearing these bracelets while celebrating Pride Month. Until June 26th, 20% of Assoulin's proceeds from select accessories, including the "Tie One On" bracelets, will go to LeGaL, one of the nation's first LGBTQ bar associations and a provider of pro-bono walk-in clinics for the LGBTQ community.
Stack a few reminder bracelets on your wrist, or mix and match them with other pieces from Assoulin's collection. Her Spectrum Bracelets ($75) are bright, loud, and happy.
Plus, they're a fave accessory of Anne Hathaway's —
— and Amy Poehler's!
Make this summer the best one yet with these eternally happy reminder bracelets. They'll keep you on the right track while keeping you on trend.