9 rainbow jelly bean manicures perfect for National Jelly Bean Day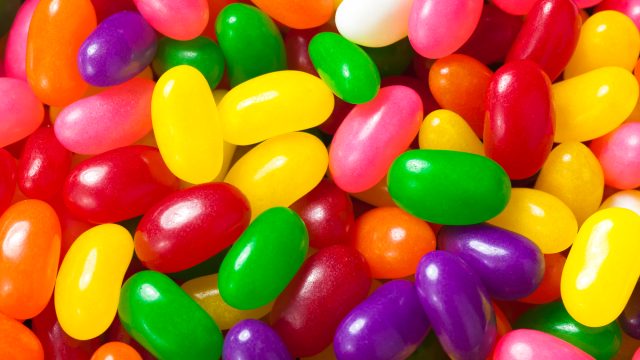 Today, we're celebrating a great holiday: National Jelly Bean Day. Yes, this is a real thing. How do you observe this sweet little holiday, exactly? Well, you could buy some jelly beans, plop 'em in your mouth, and use the #NationalJellyBeanDay tag to celebrate. Or, if you're really a fan, you can check out these amazing jelly bean nail manicures that are perfect for the celebrations.
The history of the jelly bean begins during the Civil War. Boston-born inventor Willian Schrafft made the candy popular by urging people to send them to Union soldiers. They grew in popularity over the decades and began to be associated with Easter in the 1930s.
As a result, we now have these delicious little candies to enjoy all year around. Grab a bag of candies and check out these beautiful rainbow jelly bean manicure designs.
1 Easter hues
https://www.instagram.com/p/BDT4iQThu-n
Even though we enjoy jelly beans all year round, this manicure is inspired by soft Easter colors.
2 Neon with black and white dots
Gotta love a neon with black and white dots. Furthermore, this is definitely something that can be done by yourself for a fun spring look.
3 Jelly bean shapes
Who says your nails have to just resemble the colors of the jelly beans? Look at this adorable design!
4 Pastel goodness
This translucent manicure is to die for! Love the gorgeous pastel ombre.
5 Neon, neon, neon!
The color of these nails is seriously on point. Try matching the jelly bean color exactly and tag your results!
6 Add some variety
https://www.instagram.com/p/01BrWUvNtD
Who said jelly bean nails have to only include color? Nail stamps are easy to apply for that extra effect.
7 Ah, the sparkles!
Sparkles make everything better! I seriously doubt you can prove me otherwise.
8 Colorful tips
Totally loving this simple, yet gorgeous rainbow manicure that just includes the tips of the nails at an angled edge.
9 A literal translation
https://www.instagram.com/p/yw9bdMr7mm
Do you love jelly beans so much that you want to wear them on your nails? For one thing, this unique manicure does the trick with each nail clearly featuring a little bit of something different.
Try these nail designs out and naturally, use the tag #NationalyJellyBeanDay to get your manicure recognized! Add sparkles, buy some nail stamps, or go with a classic pastel look. To sum up, whatever your color choice is, rep that jelly bean love today!