There are now rainbow Christmas bagels because of course there are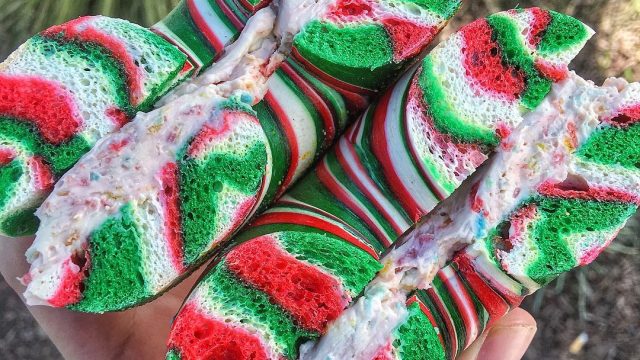 2016 was the year of the bagel. But not just any bagel — the *~fancy~* bagel. And now, to end the year on a yeasty note, we have the Christmas bagel! Of course, this seems like a natural progression, considering there have been rainbow bagels and goth bagels to fill all the holes that formed in our hearts this past year (and let's be honest, there were a lot, right?).
To bring the holly, jolly holidays to our breakfast tables, the festive geniuses at San Diego, California's Square Bar Café concocted the Christmas bagel using colorful swirls of red and green. Now, we can have the best of both worlds: The comfort of a warm bagel and the coziness of the holiday season.
I mean, who wouldn't want to wake up Christmas morning and find this beauty under their tree?
According to Cosmopolitan, one could make this bagel even better with oreo, fruity pebbles, or even cookie butter cream cheese available at Square Bar. Because holiday miracles do happen, guys.
Then again, just in case red and green aren't your favorite colors, there's still something you can look forward to if you're ever going on a culinary adventure in San Diego.
BECAUSE THERE ARE PIZZA BAGELS.
"You want a pizza this!?" LOL. But yes, yes we do. 
Now, if this is any indication of what we have to look forward to next year, we're on board. Bring on the fancy bagels, please and thank you!