These rainbow cheesecake slice soaps will make you hungry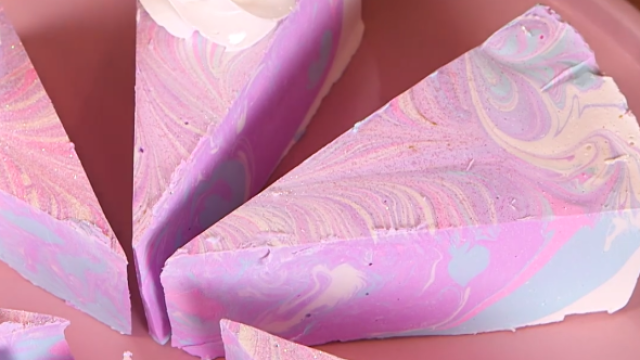 Before you get ready to dig into this dessert, think again. These rainbow cheesecake slices will make you want to wash your mouth out with soap, so to speak, according to Cosmopolitan. Yup, sadly, they're not edible. Soooo, the good news?! They're healthy! Soap Cherie makes them from ingredients such as coconut oil and shea butter, so they're probably waaaay better for your skin than actual desserts. But, like actual desserts, there are many "flavors" to choose from. Purple, pink, blue — yes, all your unicorn-colored dreams come true…in a "slice" of soap. For ~actual~ unicorn cheesecake, you may remember this recipe, btw.
But back to the matter at hand, and Soap Cherie's "cheesecake" varieties. Warning: You may want to have some actual edible cheesecake on hand, because this will make you crave some.
All we can say rn is: YUM.
I know, we want to eat these, too…
And these…
Annnnnnd these…
Don't believe they're not edible?! Here's the "cheesecake" being used as soap!
And look — making soap is a science.
https://www.instagram.com/p/BRW-9DNAxsB
Annnnnd, if you can't make it to Brooklyn, NY to visit Soap Cherie IRL, you can be the scientist. Or at least learn how to be a soap scientist from this vid.
YAS, you can make your very own soap cheesecake aka Rainbow Cake Bath Soap.
If you think about it, it actually makes the ~perfect~ gift for family and friends. Speaking of which, we're going to invite some over rn to help us practice making it. Brb.