Rachel Bloom's new music video perfectly captures the awkward realities of being a "lady boss"
You've seen her sing and dance on Crazy Ex-Girlfriend, but Rachel Bloom's new music video "Lady Boss" was created totally for Vanity Fair. The video was made for the magazine's first Founders Fair, a New York City event that celebrates entrepreneurial women. For those starting their own business or looking to be their own boss, the Founders Fair is a great place to share ideas, make connections, and talk about the rewards and struggles of being the head honcho.
In Bloom's video, she perfectly highlights both the dream and the reality of having the role of woman in charge.
"Being a boss is empowering, but it's also kind of weird. So this is how it feels to be a #ladyboss," Bloom sings, while showcasing some incredible moves in a blue pantsuit.
https://www.youtube.com/watch?v=L2_79T1P2qo?feature=oembed
Of course, since Bloom is involved, the song is both catchy and funny. Right in the beginning, she targets the struggle of taking control while trying to still be nice, and making sure she doesn't appear too weak. (It's a strange struggle, but definitely a legit one.)
The song also offers a few humorous tips, especially in regards to asking for a raise. We're also loving her Ruth Bader Ginsburg pillow, which she uses for mental and emotional support.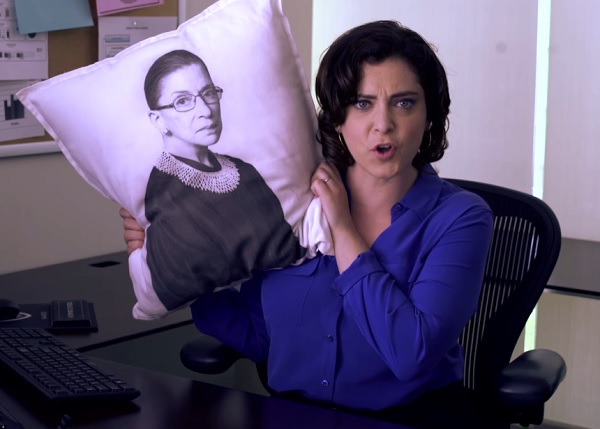 (For the record, in trying to look for this specific pillow, we realized there are a lot of Ruth Bader Ginsburg pillow available for purchase. And they all look amazing.)
At the end of the video, we're still left wondering how much boob qualifies as "too much boob," but we guess that's a call every individual has to make for herself. What we do know is that Bloom (once again) is totally in touch with women in the workplace, and we love her even more for it.