Rachel Bloom Spent Her Whole Life Searching for "Normal"—and Then Normal Disappeared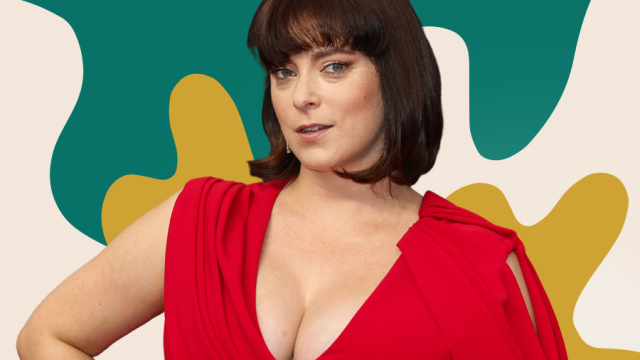 As the year plods on, the more it seems that our lives will forever be bisected into two stages: before and after the coronavirus pandemic hit the world. Crazy Ex-Girlfriend star and creator Rachel Bloom has a book coming out well into the "after" period—it's scheduled to arrive in November—but the "memoir-adjacent" collection of personal essays and sketch comedy were written in a pre-pandemic reality. So, what do you do with a book entitled I Wanna Be Where the Normal People Are when nothing and no one feel normal anymore?
Well, you make some changes. When we meet up on Zoom in early July, Bloom (who recently starred in the animated musical sequel Trolls World Tour), tells me that she's two weeks behind on edits to her book. But, she explains, she has a couple of very good excuses: firstly, the baby she and husband Dan Gregor welcomed in April, and secondly, the awareness that any book interested in the idea of what's "normal" should be carefully adapted to address what we're all living through right now. I Wanna Be Where the Normal People Are explores how the star—who has been open about her history of depression and anxiety—has felt like an outsider for much of her life. But with the pandemic, "the whole concept of normalcy is now out the window," she says. As such, she's working on an afterword for the book that's about just that.
"The book is this kind of time capsule for not only childhood in general, because a lot of it is about childhood, but also myself," Bloom explains. "And everyone, before February 2020."
During this almost universal experience, it seems that we all have our own, unique pandemic stories. Bloom's is more eventful than most, and it runs the gamut from joy to tragedy. Just after she gave birth to her daughter, COVID-19 took the life of her friend and Crazy Ex-Girlfriend co-songwriter, Adam Schlesinger, who was only 52 ("He is irreplaceable," Bloom wrote in tribute at the time). On top of all of that, Trolls World Tour—a project she'd begun years before—became an unlikely beacon of hope for kids and parents in quarantine when Dreamworks decided to make the movie available digitally amid worldwide theater closures.
"It makes me so happy, especially as a new mom, to know that it's helped people through this time," says Bloom, who plays rocker antagonist Queen Barb in the film. "Having a kid and looking into the history of how we raise children over the course of humanity, we're meant to raise them in a group. The phrase 'it takes a village' is quite literal."
"Nothing about this pandemic and this isolation is natural with raising children," she continues. "You're supposed to have help, you're supposed to be helping each other."
https://www.instagram.com/p/B9ZjW1EJTUX/
While Bloom couldn't have predicted Trolls' role in making up for some of that absent community, she recalls being initially intrigued by the "idea of being a part of people's childhoods and staying in their consciousness." And she was excited to play Barb ("a perfect character for Hot Topic," she jokes) as a "way to get kids into rock and roll." So now that the star, via Barb, has become a hero to millions of children in addition to the many millennials who've sung along to Crazy Ex's songs about self-destructive tendencies and the dogged pursuit of love, could music for kids be in her future? It's not off the table. 
"I think that doing kids music and especially kids comedy music is really hard," Bloom muses. "Because you play to the top of your intelligence, but you also have to remember what made you laugh as a kid, which is arguably harder."
Fortunately, there are some tunes already in her repertoire that could be easily adapted.
"I had a song called 'Ghost Snake,' where it's just about a snake who's a ghost and ghost who's a snake, off of my first album [2013's Please Love Me]," Bloom says. "The chorus is like, 'It's a motherf*cking ghost snake!' My friend with kids was like, all you have to do is say, 'It's a mama-flippin ghost snake!' And it's instantly a children's song."
But before she potentially embarks on a lucrative career in children's entertainment ("Paw Patrol? Those people are rolling in it," she observes), she's eager to see how her first book—and most personal project yet—will be received. Up until now, Bloom has mostly channeled her own experience and perspective through her characters, whether it's Rebecca Bunch or a persona she takes on in one of her comedy songs. Even the artist who gave the world "Period Sex," "Heavy Boobs," and "Anti-Depressants Are So Not a Big Deal" has some hesitation about sharing thoughts and stories that are explicitly her own.
"I'll be judged for who I am," Bloom says. "And I can't hide behind a narrative necessarily."
On the other hand, she knows that I Wanna Be Where the Normal People Are will open up a new avenue and audience for her relatable and unflinching comedy. "I think it's cool to tell stories that I otherwise couldn't have told when we were writing about, say, Rebecca Bunch, who is a different person than I am," she says. "So it's invigorating, but also scary that I'm just kind of laying parts of myself bare."
Luckily, the way that audiences have embraced her work in the past is tempering some of those fears. "Crazy Ex was such a vulnerable show," says Bloom. "I have been encouraged that the more vulnerable and honest you are, the more people will respond."
I Wanna Be Where the Normal People Are hits bookstores on November 17th, and Trolls World Tour is out now on 4K Ultra HD, Blu-Ray, and DVD.