Chef Rachael Ray says she was nervous during her role on "Gilmore Girls," and we don't blame her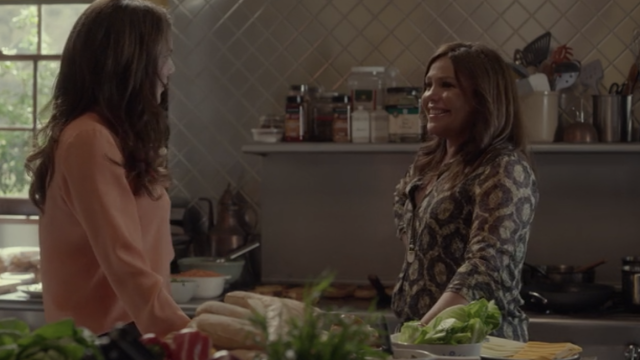 As we all know, because we spent our Thanksgiving weekend watching it, Gilmore Girls: A Year in the Life is out on Netflix. And you might have noticed a familiar famous face in the series that wasn't an actress. SPOILER ALERT for those who haven't finished the series yet. Food Network star and celebrity chef Rachel Ray made a surprise Gilmore Girls appearance, and we were totally excited to see her.
Rachael plays the chef that fills in for Sookie (Melissa McCarthy) at the Dragonfly. Of course, Sookie had to come back, so Rachael got an awkward firing scene. Lorelai comes into the kitchen to chat, and she has to let Rachael go, because the pop-up Rachael had set up wasn't doing well. Rachael told Entertainment Weekly it was fun, but she was nervous.
Because she's not an actress, Rachel was nervous filming for Gilmore Girls, and we can't blame her.
Rachael told EW, "I was so nervous. I mean, I'm not an actress. Everything we do is unscripted, but I was so impressed that the food stylist made all my food…She made all my real food, so it was kinda cool!"
We totally get why Rachael might've been nervous, but we think she did an awesome job. She fit right in with Lorelai's quick talking, down-to-earth style.
Rachael admitted that even getting fake fired was a little tough.
She said, "I've only been real-fired once in life, and I was kind of embarrassed that I got fake-fired on the show, but if it brought back Melissa McCarthy, that's fine with me."
And besides, even in the made-up universe of the show, Rachael wasn't fired over bad food. Because that would be ridiculous! She was only fired, because their experiment hosting a pop-up restaurant wasn't working out.
But overall, it sounds like Rachael had a blast!
She said, "[Stars Hollow] was so charming! Really the cutest film town ever and it reminded me of my hometown in upstate New York, so it was almost like a vacation."
Uh, pretty much THE coolest vacation ever!
We're glad (but totally jelly) she got to take a trip to Stars Hollow.
Check out Rachael Ray in the Spring episode of Gilmore Girls: A Year in the Life.