We asked protesters at the Women's March in DC why they were there, and their answers are amazing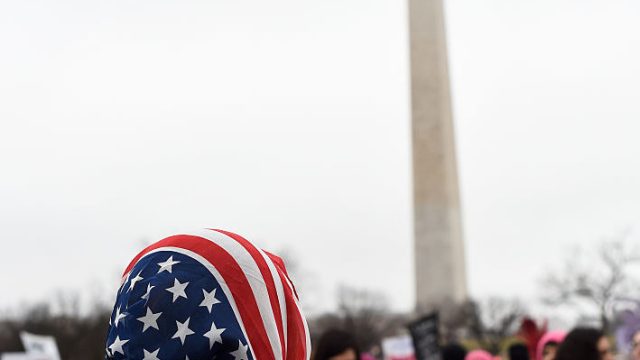 On the ground at the Women's March in Washington, D.C, we found it so heartwarming to see all those people out in the streets for justice and human rights. As impressive as all those massive crowds were, however, we also remembered that a crowd is made up of individuals. We wanted to find out the reasons individual marchers had come to Washington, and so we interviewed several protesters.
Their reasons for being in Washington were an amazing rainbow.
Some came for the kids in their life.
" I'm here for my son. Mothers keep losing their children to gun violence. I feel that our pleas to Congress fall on deaf ears. Congress needs to act. This isn't just politics, this is a public health and safety issue. I haven't lost my son, but I'm here for him and the other mothers that have lost children."
— Sheikha, Virginia
"I'm doing it for my children. I brought them here because I thought it was important for them to see. They're young women, I don't want them to grow up and lose their rights.
— Joy, Florida
"I'm a mother and a high school science teacher. After the election, looking at my students' faces, I felt compelled to march for them.
— Sherry, Indiana
Others just felt that this was the wrong time to be silent.
"I'm volunteering as a marshal because I'm an empath. I see too many problems in the world between income inequality, sexism, and racism. I want to use my voice to turn out, show up, and express my feelings during this historical moment. I want to lend my support to women's rights, Black Lives Matter, and keeping Planned Parenthood open."
— Jordon, Baltimore, MD
"Because it's no longer ok to sit and be complacent, I can't tolerate attacks on those who are close to me."
— Julie, Syracuse, NY
"I feel that I have to."
— Jane, Washington, DC
"I'm here because I have to be. I'll no longer sit silent, I can't let it happen. I'm here for the past, present, and future. I'm here for myself too, I need to show myself I can be strong. I have PTSD and anxiety so this is scary for me, but I think it's important.
— Cynthia, Virginia
Not surprisingly, the new administration was a major motivating factor.
"I want to stand up for everyone's rights. We can't afford not to with the new administration.
— Jack, Michigan
"The election proved that the new President is anti-healthcare, anti-choice, and wants to pit us against each other. I'm marching for children, to be an example, and for fellow women, so they know they're not alone."
— Lisa, Maryland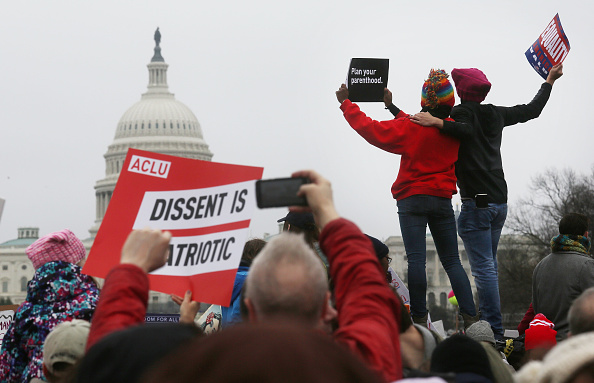 "It's important to come out. He's not my president."
 — Thomas, Virginia
"Five days after the election I was despondent. I saw stuff online about the march. I came because I don't feel safe, and I don't think my friends are safe. We need to stand up and disrupt together. I'm here for my mom who passed away this year, and my friend's moms too. They're all here with me.
— Laurie, New Orleans
But there was a fierce core of hope, determination, and the desire to fight for equality for all.
 "I'm marching because I was raised by powerful women. I'm here because black women shouldn't have to fear for their lives when they're stopped by cops, Native women shouldn't have to fear for their lives when defending their land, trans women shouldn't fear for their lives simply by living, and undocumented women shouldn't fear for their lives when they get a knock on the door. Trump represents the worst of us, but I'm not afraid, because the people in the streets today are the future.
— Chelsea, CT
"Because women will write the future."
— Debra, Florida
We were honored to meet so many protesters, each there with their own reasons and motivations. Together, we will all write the future, and yesterday was an inspiring beginning to the story we want to tell.