13 movies like A Quiet Place that are streaming on Netflix *right now*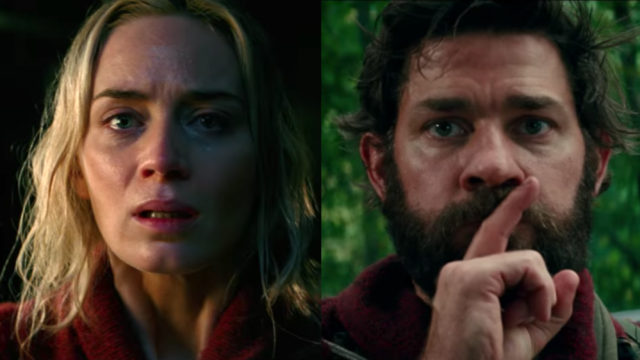 The rave reviews keep rolling in for John Krasinski and Emily Blunt's A Quiet Place. If you haven't seen it yet, A Quiet Place is a horror-slash-thriller-slash-survival movie that will take you by surprise and totally knock your socks off.
In the film, Krasinski and Blunt play parents who go to great lengths to protect their kids from danger. They're being hunted by aliens who detect them via sound, so they must remain completely quiet. Almost the entire movie takes place in silence and the actors communicate mostly via American Sign Language. It's really unlike anything we've ever seen before.
If you can't get enough of A Quiet Place, we don't blame you. Fortunately, there are tons of movies that you can stream on Netflix right now to get your horror fix. They might not fill the John Krasinski and Emily Blunt-sized hole in your heart, but they'll definitely satisfy your need to be spooked. And what better night to watch a scary movie than Friday the 13th?
That in mind, here are 13 movies like A Quiet Place that are streaming on Netflix right now. It's time to get your Netflix and jump scare on!
1Veronica
https://www.youtube.com/watch?v=My-yHZoCk74?feature=oembed
When Spanish director Paco Plaza released Veronica on Netflix in March, the internet totally freaked out. It's being called "the scariest movie on Netflix" by many, so yeah, it's pretty much the perfect thing to watch on Friday the 13th. Especially if you're into Ouija board-based horror.
2Be Afraid
https://www.youtube.com/watch?v=utCO2YI7bi0?feature=oembed
If you like your horror movies with a side of sci-fi, move Be Afraid to the top of your queue. It's about a man who experiences terrifying nightmares during sleep paralysis. And, just like the title promises, you're going to be afraid. You're going to be very afraid.
3Aliens: Zone of Silence
https://www.youtube.com/watch?v=cU1AYVvMmRA?feature=oembed
And if you like your horror movies with aliens, check out Aliens: Zone of Silence. These predators don't detect their victims via sound like in A Quiet Place, but trust us: You won't be disappointed.
4The Vault
https://www.youtube.com/watch?v=qIjH9sPYkcs?feature=oembed
At first, you might think The Vault sounds like an action movie. It's about a group of robbers staging a heist at a bank. But as the story progresses, you learn that the bank is haunted. And it makes for a very satisfyingly scary thriller.
5Death Note
https://www.youtube.com/watch?v=0SiyGOyAlW4?feature=oembed
Many horror movies center around a haunted object: a doll, a child, a Ouija board. Well, Death Note is about a teenager who finds a haunted notebook. The notebook will kill anyone whose name is written in it, aka Tom Riddle's diary on a whole other level.
6The Ritual
https://www.youtube.com/watch?v=Vfugwq2uoa0?feature=oembed
If one of your favorite aspects of A Quiet Place is that it took place in the middle of nowhere, you should definitely check out The Ritual. It's about four friends who take a wrong turn while hiking through the Scandinavian wilderness. And it'll completely freak you the eff out.
7Welcome to Willits
https://www.youtube.com/watch?v=BvhOiwnh5zA?feature=oembed
Continue your scary camping-in-the-woods movie marathon with Welcome to Willits. It's about teenagers who make their campsite on the property of a notoriously psychotic pot farmer who thinks aliens are out to get him. This might be the movie that makes you swear off camping for good.
8The Open House
https://www.youtube.com/watch?v=tMSu3Gyz1jU?feature=oembed
When you're scrolling through Netflix and see The Open House, you might think, Oh! Dylan Minnette is in this! I love him! But yeah, no. This is not the Dylan Minnette you know from 13 Reasons Why. The Open House is a terrifying movie about a mother and a son (Minnette) who move into a vacation home after a death in the family. The only catch is that they have to leave for open houses, and of course, terrible things start happening.
9Little Evil
https://www.youtube.com/watch?v=Mnj-MXs1yVU?feature=oembed
Okay, Little Evil is actually pretty funny. (How scary could Adam Scott ever really be?) It's a dark comedy about a man (Scott) who thinks his stepson is the spawn of satan. So if you want to be scared but, like, not TOO scared, this is a good pick.
10The Hatred
https://www.youtube.com/watch?v=ZHlzmpp4tls?feature=oembed
All you need to know about The Hatred is written on the movie poster: "From the creators of Halloween." We're already sold. Plus, how terrifying is that trailer?!
11I Am the Pretty Thing That Lives in the House
https://www.youtube.com/watch?v=NRP-4f_vyrY?feature=oembed
A young nurse, an old woman, and a big old house. Yep, this is a recipe for a (beautiful) disaster.
12Dead Awake
https://www.youtube.com/watch?v=6Eui1g7GJU0?feature=oembed
Dead Awake is a psychological thriller from the creators of Final Destination. This scary movie about evil that haunts people who suffer from sleep paralysis will haunt you for weeks.
13Cabin Fever
https://www.youtube.com/watch?v=Wda8vC9j8vA?feature=oembed
You can never go wrong with a classic. (Or Rider Strong.)
Happy Friday the 13th!