John Krasinski pushed to cast deaf actress Millicent Simmonds in A Quiet Place — and more representation like this, please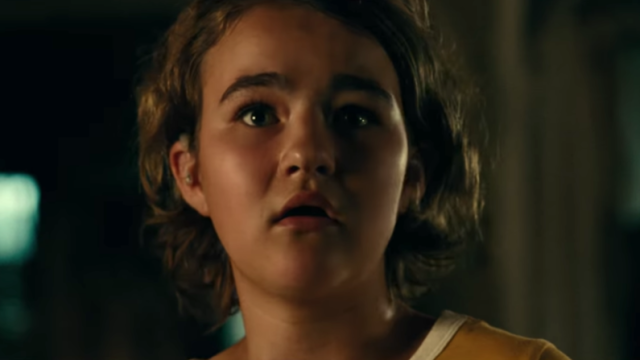 No one can stop talking about A Quiet Place. The horror thriller from John Krasinski that uses sound and silence in an entirely new way has taken the box office by storm and it's already being hailed as a smashing success only one weekend into its theatrical run. But it's the decisions that were made behind-the-scenes that make the film even more of a success. When it came time to casting the roles of the children of real-life couple and stars of A Quiet Place Krasinski and Emily Blunt, Krasinski insisted on casting a deaf actress.
Krasinski, who also directed A Quiet Place in addition to starring, really pushed to hire 14-year-old Wonderstruck breakout Millicent Simmonds to play his and Blunt's onscreen deaf daughter, according to The Hollywood Reporter.
"We always had a deaf character in the script, but John really pushed for them to hire Millicent," A Quiet Place screenwriter Scott Beck said. "She came to set and taught everyone sign language. It was really amazing and brought an extra depth to the film."
"I don't know that hearing people have ever felt that experience of truly being left out," Simmonds told People with the help of her interpreter, Lynette Taylor. "They have easy communication, while deaf people can't join in. It takes more time to communicate with us."
Calling herself "lucky," Simmonds wants "to see more deaf people have the opportunity to become actors," and that starts with getting more people to learn ASL. "The oral approach to lip read and speak is very anti-sign language and I want to say, learn sign language first," she said. "It's very easy for everyone to learn. No one is judging you and it'll be an amazing experience."
In this day and age when Hollywood is working to show more diversity, it's important to remember that that extends beyond the like of gender and race.
People with disabilities, like being deaf, should also be represented in pop culture — and with that, representation and inclusion should involve casting those who are deaf in real life. It's so important that Krasinski pushed for authentic casting and gave Simmonds an even bigger platform to advocate for the deaf community.
Plus, she's just *so good* in the movie, too.