These 7 questions are the most likely to lead to conversation on a dating app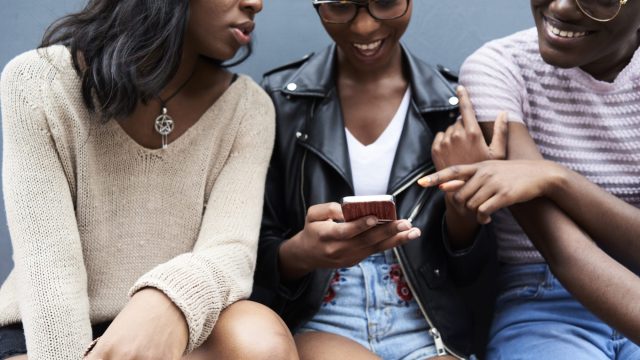 Dating apps have certainly made meeting people a little easier, but that doesn't mean they've made dating easy. Dating is always hard, and rejection is kind of the name of the game. It's unavoidable. That being said, there are certain things you can do to set yourself up for success. According to a new survey from Hinge, there are very particular questions that lead to conversations on dating apps — and good conversations often lead to better dates.
Just so you know, especially when it's up to you to open up the conversation, keeping it simple is apparently not the way to go. In fact, only 1 in 1,500 conversations that start with a plain, old "hey" actually lead to anything or even get answered.
So if you want to connect with a match on a dating app and up the chances of getting a response, don't go the monosyllabic route. The best dating app conversations, according to Hinge's survey, tend to lean on self-deprecation, a little vulnerability, and a willingness to dig deep into your personal history and share your most cringe-worthy moments.
The fewest conversations get started when someone starts talking about dates right away, is "self-promoting," or talks about their family. That makes sense — no one wants to date someone who's bragging or compares you to their mother, right? It's much more fun to talk about your most embarrassing moment in high school, or your favorite place to escape on vacation.
Seriously though, dating app messaging can go either way. So to help you find love, here are the top seven questions that make good conversations happen most often on dating apps.
1"What's your worst roommate story?"
This is a great way to figure out if they're the ones who don't do the dishes.
2"Who was your childhood crush?"
It's a great question to dig into what kind of kid they were, their fave '90s TV shows, and whether or not they ever asked their BFF for a kiss on the playground.
3"What's your go-to karoake song?"
Ooooh, this is a tough one.
4"Did you ever have a fake ID?"
Not that we'd ever condone using false identification, but this is a good way to see if someone is up for breaking other kinds of rules, too.
5"What did you want to be when you grew up?"
This can be such a fun conversation to have with a new person, especially if it turns out they wanted to run away and join the circus. Or actually did.
6"How did your parents meet?"
This is a decent way to ask about someone's family without getting into the too-personal stuff that might turn someone off.
7"Who (or what) would you donate a kidney for?"
Do they have a BFF they'd give an actual piece of themselves to? Or some other cause or dream in their lives that they'd give up an arm, leg, or vital organ for? These are the important questions.
As you can see, all of these questions are fun and make you both think a little bit about where you've been and where you're headed, which is a great way to start a relationship.
Other Hinge prompts that get a lot of responses?
"Where to find me at the party…"
"My last meal would be…"
"I get overly competitive about…"
"My dream job if money didn't matter…"
"The next vacation I want to go on…"
See? There are tons of ways to get talking with a potential mate online. And if dating apps aren't for you, these all work in real life, too.