5 LGBTQ People Reveal the First Times They Saw Themselves in Other People's Style
They were pivotal moments.
In the Tony Award-winning musical Fun Home, a young girl—based on queer comic Alison Bechdel—sings a song called "Ring of Keys" about seeing a masculine-presenting woman for the first time ever. By simply existing, the "butch" woman speaks to something deep within the little girl and leaves her mesmerized. The song ends with the girl singing, "I know you. I know you." Of course, she doesn't truly know or even talk to the "handsome" woman; she merely observes her in a diner. But by connecting with the woman's queer style, the girl is able to "know" the woman—and also know something about the woman she wants to become.
Like that young girl, LGBTQ people everywhere have experienced similar revelations upon seeing other people use fashion and beauty to showcase their queer identities for the first time. For Nasir Montalvo, that person was a male peer in his high school who dressed overtly femme. For Harrison Brennan Kallner, that person was superstar David Bowie, an artist known for gender-bending looks that pushed limits. Yet whether they're inspired by bold teens or iconic musicians, countless LGBTQ people know what it's like to be "seen" by someone else's style—and that representation has helped them envision their futures and be pointed toward a more authentic way of living.
In honor of Pride Month, five LGBTQ people reflect on the first times they saw themselves in someone else's style and presentation.
Grace Ancrum, 21, North Carolina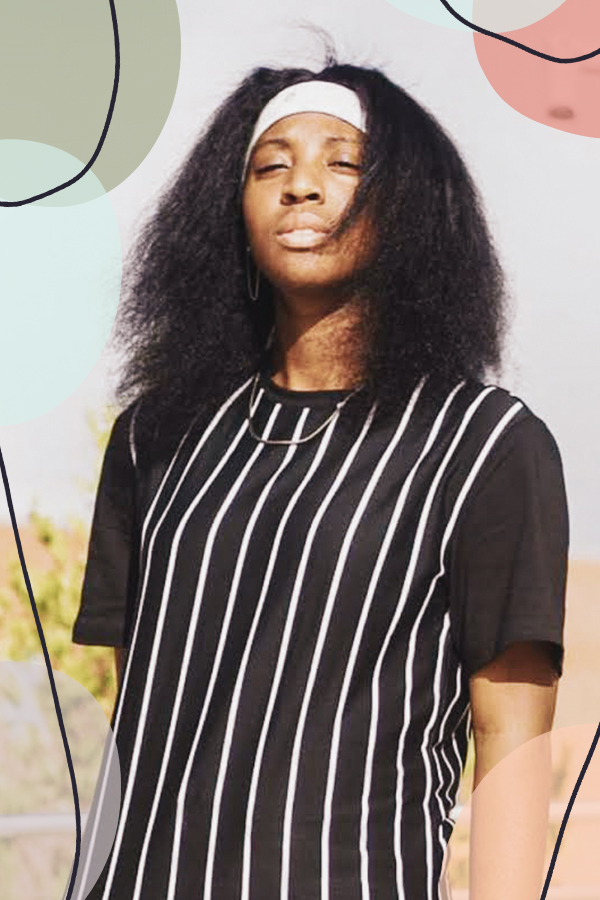 "I grew up in a part of the country where you'd rarely find someone who was masculine or androgynous-presenting. I remember being 15 and meeting my dance instructor for the first time and thinking that she was very attractive due to her style. With time, I realized I wasn't attracted to her, but I wanted to be her. I wanted her charm, her laidback vibes, and her skater/hippie look in between masculine and androgynous. She was the only positive representation I had of a masculine-presenting Black woman because the media fails at showing this.
"At 18, I started getting into my rebellious phase and didn't want to dress like the typical 'urban stud' in my community. I struggled a lot with being masculine, and hyper-masculinity was being pushed on me because of the clothes I wore back then. Now, my style is so unique and fluid: I can combine my feminine energy with my masculine one as well. If I dressed any other way, I'd feel heavy dysphoria despite being cisgender. I have different styles depending on how my day starts. My style is a statement, not only because it ties [in] my culture as a Black woman but because it also fits my personality and sexuality as a queer lesbian.
"I want to be the positive representation in modeling or media platforms to give to younger Black, masculine-presenting queer women. I want to let them know the clothes they wear [don't] make them any less female, any less gay, any less bisexual, or any less genderfluid. I am proud to be who I am, and that's a masculine-presenting woman, a stud, androgynous, a butch—whatever you want to call it. I am me."
Johnny Leggette, 25, Washington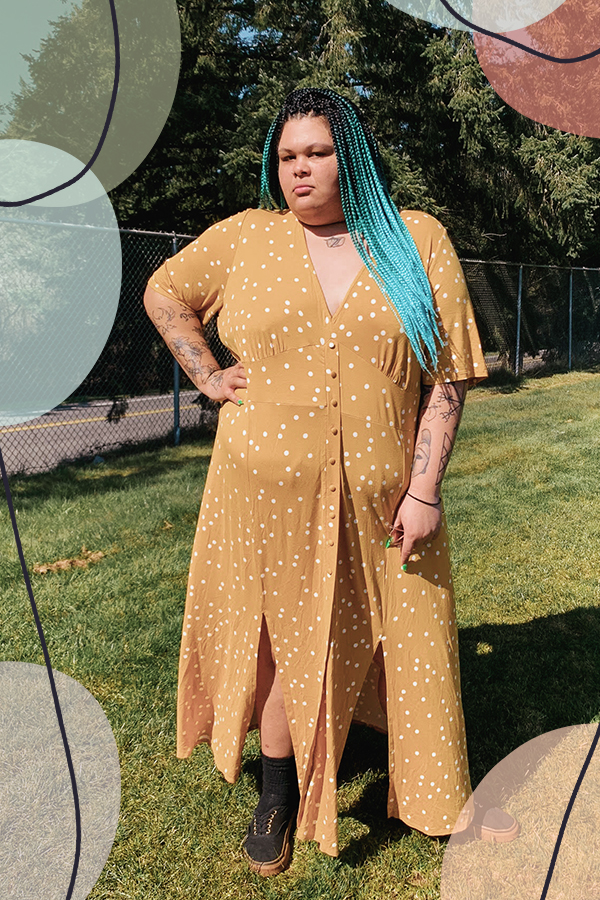 "Alex Newell personifies a lot of my process in coming out and finding myself. I remember watching Glee when Newell went on that show as [male-to-female transgender teen] Unique Adams. Seeing Unique's evolution on the show and seeing the role that fashion played in her authenticity really stuck with me. I've never identified as a man, but I didn't have the words or the language to explain how I was feeling. Seeing that character was one of the first times that I actually had the language and a blueprint.
"For many people, fashion is a way to express how they feel on the inside on the outside. Seeing people like Newell experiment with femme fashion has shown me how boldness is a positive when it comes to style."
Ose Arheghan, 20, Ohio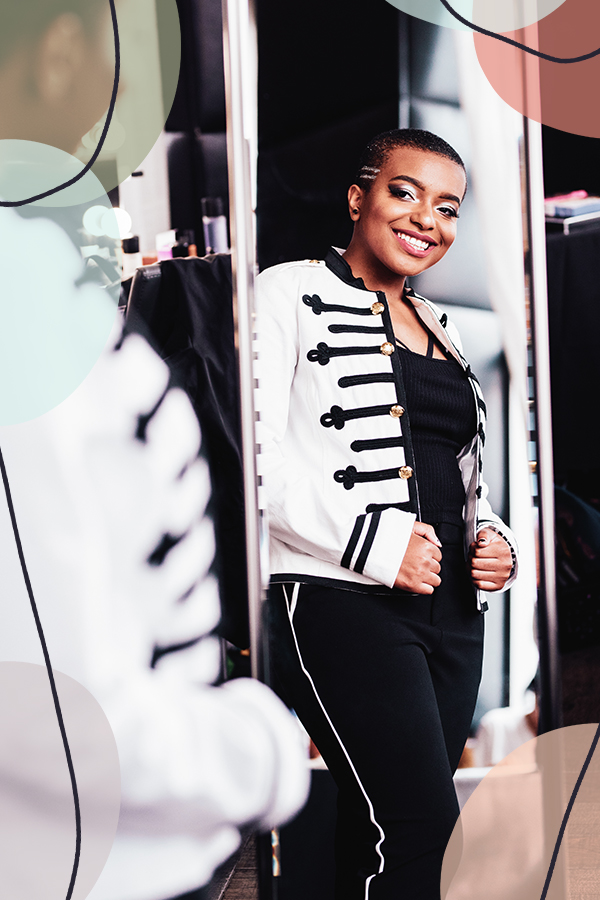 "A pivotal moment for me was when I first discovered Janelle Monaé. I was 8 or 9 when I first saw her music videos, and I saw this intelligent, nerdy, dapper Black girl being herself unapologetically and wanted to be like that. Around that time, I didn't have the language or information to know anything about gender identity or the life experience to question my sexuality. That would all come later, but self-expression was really important to me. I'd never seen a Black woman in the media who was being celebrated in her dapper glory. All the people I saw in the media playing with fashion and subverting gender expectations were white. That representation was a game changer.
"As I grew up, I learned that there is a long history of Black folks who challenged gender norms in society. That was the frame of reference that gave me the confidence to wear a suit to my sixth grade graduation and shamelessly steal clothes from my brother's closet. Growing up, people would frequently have trouble determining whether I was a boy or a girl because of my personality and sense of style. Ironically, this confusion is one of the things that inadvertently helped me understand my own gender identity.
"Fashion and style are tools that I use to express myself. Fashion has been used as a vehicle for political protest, social commentary and self-expression for years. My style is how I outwardly express not only my gender but also my personality and a lot of the things I don't think words do justice."
Harrison Brennan Kallner, 22, California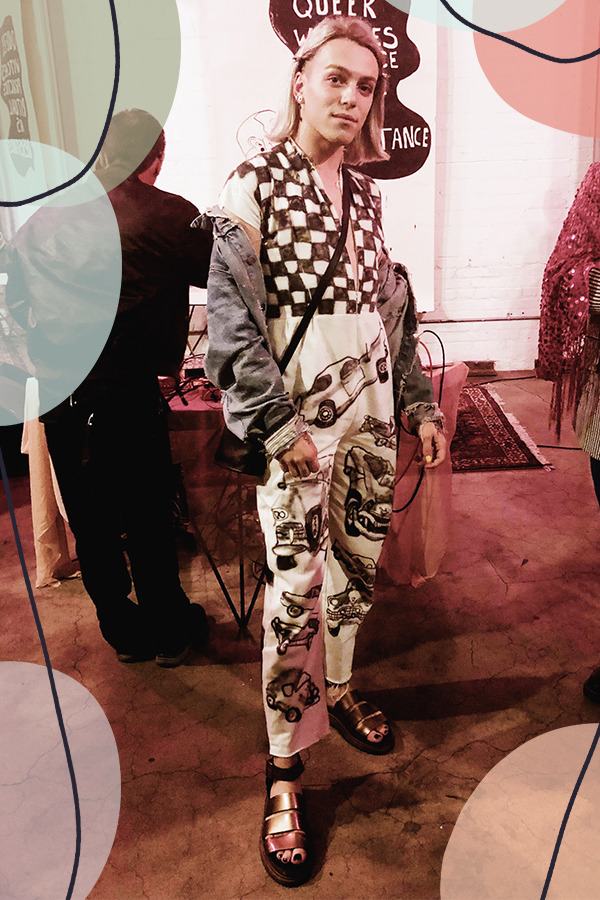 "I wish I could say that I had appreciated the greatness of David Bowie before his passing, but it wasn't until he did pass that I became fascinated with him—not only as a musician but as a style icon. The same thing happened for me when Prince died. I was 17 at the time and was identifying as gay, but I was still very uncomfortable with myself and my self-expression. As a baby gay in the Midwest, examples of queerness were nonexistent in my daily life. Researching Bowie and Prince was the turning point of my journey with my own personal queer style because they represented freedom, expression, and bending gender to me. I was fascinated by the metallics, the prints and patterns, the obscure colors, the makeup, the platform boots, ruffles, and jumpsuits. It opened my brain creatively and expanded the limitations I thought I had with my style.
"I started exclusively thrifting and purchasing both womenswear and menswear. Bowie and Prince taught me how to be comfortable showing parts of my body that beforehand had felt unacceptable, like my thighs and midriff—boys are taught to not show those things because it's considered feminine. Bowie and Prince threw all of that out of the door, and I grew a lot more comfortable with my identity and my body because of them.
"Fashion and style is important for me as a queer person because it allows me to outwardly express myself the way that I am on the inside. Fashion is so gendered, and as a non-binary person who still mostly passes as my sex assigned at birth, traditional menswear or the conventional way for men to dress does not please or interest me. It makes me cringe and feel dysphoric to dress exclusively in menswear, which is why fashion is such an important tool for me and my happiness.
"There's this androgynous renaissance happening in fashion right now on a mainstream level which is cool, but it's also a double-edged sword. You see guys like Harry Styles or Bad Bunny experimenting with feminine garments and accessories, and Billie Eilish doing the whole basketball shorts thing. But for queer and non-binary people specifically, using fashion to break the conventions of the gender binary has never been about trends but more about survival, self-love, and the expression of our authentic selves. I just hope that this will trickle down and influence mainstream straight, cisgender culture so that queer people will stop getting harassed or even killed for dressing unconventional in our daily lives. I've been spat on and called slurs on the subway for the way I was dressed—that needs to stop. Androgynous fashion and gender expression isn't a trend for us. We do it because we have to."
Nasir Montalvo, 21, New Jersey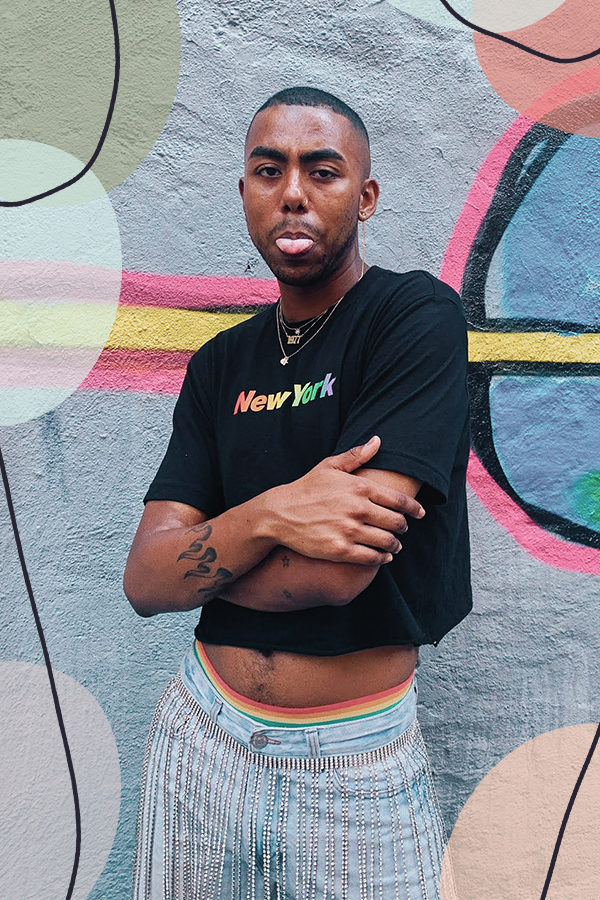 "I went to public and charter schools my whole life, so I wasn't really exposed to different types of dress because of uniforms. But in high school, I started going to public school, and that was a big change for me. There was this one person who went to my high school who was unapologetically himself, and he would come to school wearing makeup and stuff. I always looked up to him, but what really struck something within me was at the first homecoming: He came in a dress and full-blown hair and makeup. I remember thinking, 'Oh my god, I can't believe he has the confidence to show up to a school function like that.'
"After that moment, I started to deconstruct things about myself. Like, yes, I identify as a man, but sometimes I feel cute in a dress. Not to be a brat, but I feel like I have good fashion sense. Every day when I get up, I feel like I have to get dressed up. I have to put on something that makes me feel good. To me, the whole concept of 'looking good and feeling good' isn't about fashion trends or what celebrities are wearing. I just wear what makes me feel good. Sometimes that's sweatpants and a hoodie. Other times, it's a nice oversized suit. Sometimes, it means I want to wear a dress. As long as you feel good in what you are wearing, that's style."
A special thanks to GLAAD for helping to source members of the LGBTQ community for this story.