"Queer Eye" Season 2 promises to be *even more* emotional, and can you believe?!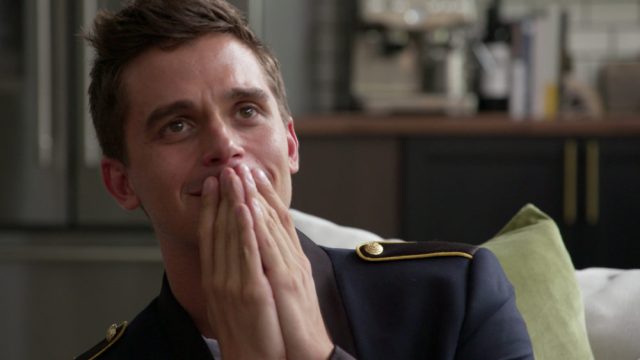 Can you believe?! After an overwhelmingly successful first run, Queer Eye has been picked up for Season 2, and we're chugging down redneck margaritas in honor of our favorite makeover dudes: Antoni, Bobby, Jonathan, Karamo, and Tan. While we're counting down the days until we get to binge-watch Queer Eye Season 2, Fab Five design guru Bobby Berk and series creator David Collins spilled the beans on what to expect from the next set of episodes, and holy (Antoni's) guacamole, we're already crying!
For starters, Queer Eye Season 2 will include eight episodes.
That's the same number of episodes as the first, which many (easily) binged in one sitting. Even without an increased number of episodes, you'll be happy to know that the show, which will once again take place in Georgia, will continue to feature diverse characters — because with Queer Eye, all things just keep getting better.
"One of the things I'm most excited about for the new season is the continuation of diversity, even more so than the last season. Without giving anything away, with our heroes, you're going to be seeing a lot more different people than you did the first time," Bobby told Variety. "A lot of people have been asking,'Why are you just working with straight guys?' Or we did have one gay guy. And I'm like, 'Stay tuned for Season 2. You'll see a lot more diversity.'"
Will we get to see the Fab Five transform the life of a trans man? A nonbinary person? It would surely be a delight to see our favorite quintet help people across the board feel more comfortable with their identities, don't you think? And by showcasing and connecting with a more diverse set of heroes, perhaps the show will make more and more people realize that we're not so different after all.
Season 2 will also dive deeper into hot-button topics such as religion.
While it's essentially a makeover show, Queer Eye does not hesitate to tackle topical issues like the Black Lives Matter movement and police brutality. In Episode 5, we even witnessed Bobby recount his story of growing up gay in a religious community; he revealed that the next season will further highlight that particular issue, as opposed to just being shown in one scene.
"Moving forward in Season 2, there is an episode that we really go in deep on religion. It's going to be one that people are going to be very excited to see," Bobby explained. "Not only does it change a lot of our hearts, but you definitely see the hearts of people we're working with change and you see the hearts of an entire religious community change."
No official premiere date has been declared, but we can expect Season 2 to start streaming pretty soon. Why? BECAUSE ALL EPISODES HAVE ALREADY BEEN SHOT. "These we actually shot right at the tail of the first season, so they've already been shot and they're ready to go," Bobby divulged.
We can't wait to see everything Season 2 has in store!