Twitter has some very strong feelings about the mac and cheese from the "Queer Eye" reboot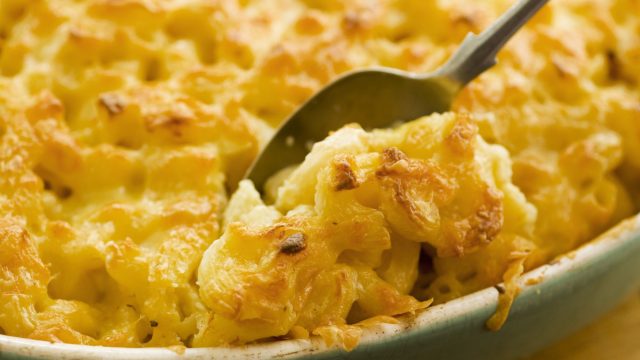 Like it or not, macaroni and cheese is probably one of the most important dishes, well, ever. It's basically a major food group. And whether you're more of a Kraft, Velveeta, or homemade kind of person, chances are you've got pretty strong opinions on what makes mac and cheese great. So, when mac and cheese made a guest appearance on the new Queer Eye for the Straight Guy reboot on Netflix, people had opinions.
First of all, we'll admit it. We're big fans of macaroni and cheese. We don't really care where your cheese comes from, whether it's the good stuff or a questionable orange powder, but we do care what else makes it into the pot. Cut-up hot dogs? Sure. You can taint the mac and cheese with those if you're 5 years old. Extra cheese and maybe some meat? It's not for everyone, but you do you.
But when Queer Eye food expert Antoni Porowski put *peas* on top of a baked mac and cheese? Some people might be pro-vegetable when it comes to macaroni and cheese, which is somewhat forgivable. But the chef didn't stop there. Nope, he also added Japanese bread crumbs, dijon mustard, and nutmeg to the dish.
NUTMEG. 
As in "this-goes-in-pumpkin-spice-and-chai" nutmeg. We'll try to withhold judgement (for now), but clearly the internet isn't so forgiving.
Twitter reacted to the controversial Queer Eye twist on the dish, with many divided on the issue.
false false
false
While some were definitely not here for Porowski's recipe, others actually loved the idea of sprucing up this staple dish.
false false false
So, which side do you fall on in this oh-so-important debate? Would you try the fancier version of mac and cheese from Queer Eye, or do you prefer this cheesy masterpiece in its classic form? Let us know!