Queer Eye's Karamo Brown revealed what he'd be doing if he wasn't on TV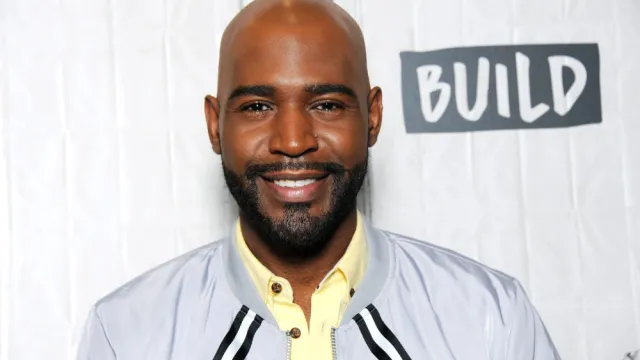 The cast of Netflix's Queer Eye have become celebrities practically overnight, winning over legions of fans with the reboot. And though the show was recently renewed for Season 3, Fab Five member Karamo Brown just revealed that he also has a second dream job…and it might surprise you.
In an interview with LinkedIn, Brown shared that he's passionate about politics, revealing, "So, I do love TV. I love it with all my heart and ironically TV was my second dream job. Going from social services to this…but now that I'm in television and I'm succeeding at it, I think my second second dream job that I've always played and toyed with is the idea of politics. I love politics and I've always thought about running for office one day."
After becoming the first out gay black man on reality TV on MTV's The Real World: Philadelphia in 2004, Brown worked as a licensed social worker for a decade, as well as co-founded 6in10.org, an organization that provides support and HIV education to the to black LGBTQ community. The organization partners with the Centers for Disease Control, which predict that 6 in 10 black LGBT men will be exposed to HIV.
https://www.instagram.com/p/Bgur62Xl-Ew
Brown also volunteers as a youth counselor at the Los Angeles LGBT Center, and has served as a health and wellness ambassador in partnership with the CDC and the National Black Justice Coalition. Recently, the graduate of Marjory Stoneman Douglas High School has also served as a gun control activist, and it's clear he has a passion for helping others.
But he also has plenty of experience in politics, revealing that he's worked with both the Obama administration and the Trump administration, sharing, "I've spent time at the U.N. and the more I get into these environments and I learn more and see the power of uniting people though legislation, it excites me."
https://www.instagram.com/p/BGdGBYQvqUr
In 2016, he worked directly with the Obama administration to create policies in support of LGBTQ youth, and he recently met with Karen Pence's office to discuss the arts and LGBTQ rights.
As for what level of politics he has in mind, Brown didn't share, but he did say, "to be in a space where you can create the legislation that will affect someone's life forever, in a positive way, and help people to see that they matter and they belong, and to guide them, it sort of gets me excited."
We think the sky's the limit for Brown. The world needs more humans like him in office.