A "Queer Eye" superfan recorded her own version of the makeover show, and the Fab Five approved her message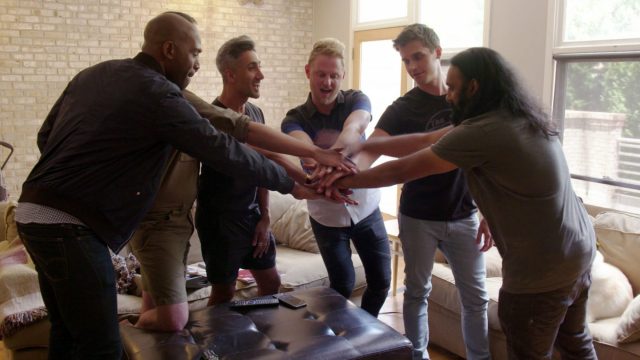 It's no secret that we absolutely *love* Netflix's Queer Eye reboot. And honestly, what's not to love? With some clearly fabulous mentors and inspirational pep talks, the Fab Five are back and better than ever. In fact, one Queer Eye superfan apparently loves the show so much that she recorded her own version, and we cannot stop watching it.
In the video, Queer Eye fan Melissa Aquiles becomes all of the Fab Five in order to give her boyfriend, Jack, a makeover — and unsurprisingly, hilarity ensues. The video starts with an on-camera confessional from Jack before Melissa launches into her own ah-may-zing interpretation of the show's opening credits.
"Living with Melissa is kind of like living with the Queer Eye guys," Jack says to the camera before pausing dramatically. "Like, exactly like that."
We're honestly in love, and based on the tweets, it seems Twitter agrees.
Melissa makes sure to comment on every aspect of her boyfriend's life in the video, from his personal grooming habits to the design elements of their apartment. The resulting parody (complete with hilariously bad wigs and drawn-on facial hair) is highly entertaining.
At the end of the video, Melissa gives Jack a handmade photo album as emotional music swells in the background. He even starts to cry as he flips through the snapshots.
"How does that make you feel?" Melissa asks him.
"It makes me feel like I wish you didn't dress like the Queer Eye guys all the time," Jack tearfully replies. (Props to him for being a great sport about the makeover!)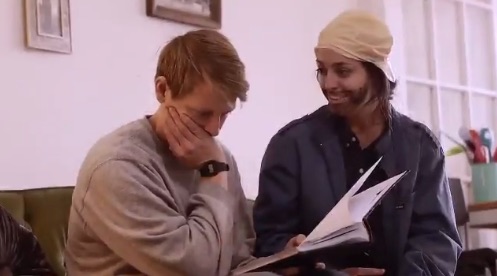 TBH, Melissa's version of Queer Eye is everything we didn't know we needed in life, and you definitely need to watch it.
Obviously, Twitter loved the video just as much as we do. And they made sure Queer Eye's Fab Five saw it.
Three out of the five have already retweeted the video (!!!), because they clearly know genius when they see it.
Even the show's executive producers watched the video and loved it!
We love you, Melissa. Keep being totally fabulous. Now, if you'll excuse us, we need to go binge-watch Queer Eye again.