Queer Eye's French bulldog mascot, Bruley, has died, and the cast is saying goodbye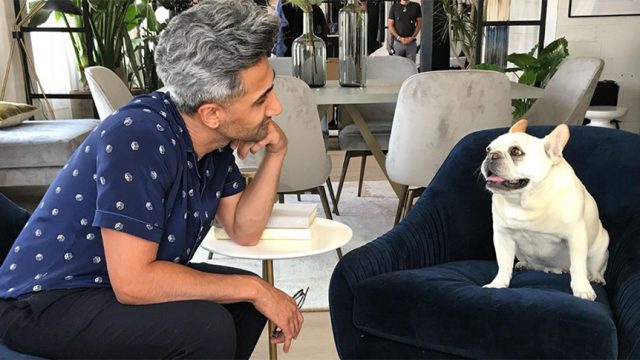 As if we needed another reason to love Netflix's Queer Eye after Season 1, Season 2 gave us (a furry) one. Season 2 of the beloved show introduced us to the Fab Five's four-legged friend, Bruley, the French bulldog. Whether he was sniffing around the Fab Five loft in Kansas City, cuddling with the cast on the couch at the end of each episode, or gladly accepting scraps smuggled to him by Antoni, Bruley captured our hearts each time he trotted onscreen.
Sadly, Season 3 marks the last time Bruley will appear on Queer Eye. The French bulldog died of a heart attack at the age of 10 yesterday, October 3rd.
And today, October 4th, the Queer Eye cast is honoring him on social media.
Bruley's owner, Michelle Silva, is a Queer Eye producer who worked down the hall from the Fab Five loft. Throughout Seasons 2 and 3, Bruley made adorable cameos with the cast, and basically became an honorary sixth member of the Fab Five. Silva explained how the pup passed away on Instagram.
"Bru had been suffering from heart problems, she wrote on Instagram on October 3rd, "and an instant heart attack was a possibility. He just had too much love and heart for his physical body. It all happened so fast, but I held him as he took his last breath, and I was able to tell him I loved him the very most.
https://www.instagram.com/p/B3Kpmb_lvii
Queer Eye home expert Bobby Berk made a tribute to Bruley on Instagram by posting a photo of himself and the pup accompanied by a touching caption.
"RIP my furry little friend. You brought joy to so many with your jump kisses, grunts and even your farts 💨. You were the best little sidekick we could have had. You will be very missed by all including your mama @tinsely_who my heart goes out to right now. I love YOU #bruleybru #queereye," Berk captioned the photo.
Bruley's Instagram account commented on Berk's post, saying, "It's no secret now. You were my favorite Uncle. Thank you for loving me and my mama."
https://www.instagram.com/p/B3Ks4AqHvyb
Antoni Porowski, the Fab Five's food & wine expert, shared Silva's October 3rd Instagram post via his Stories, adding, "Rest in puppy peace, because all dogs go to heaven, little one."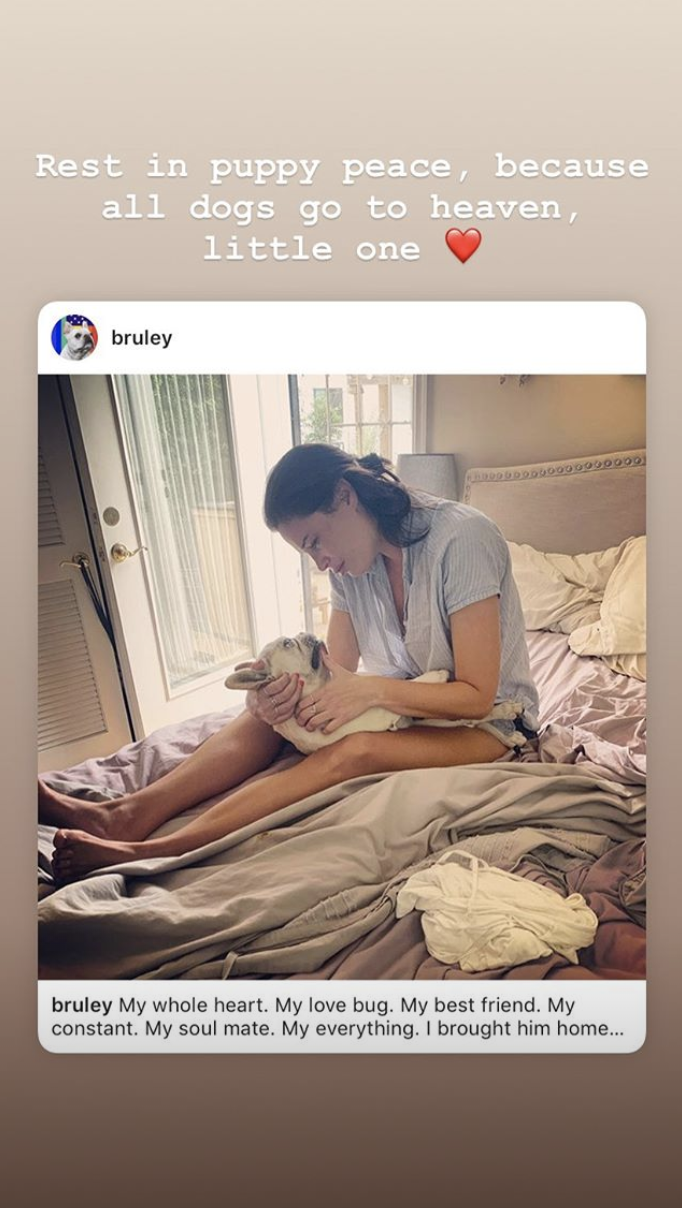 Our hearts go out to Silva and the whole Queer Eye cast during this sad time. We'll miss watching Bruley onscreen, but he'll be a Queer Eye legend forever.