People think Queen Elizabeth sent a secret message with her brooch during Trump's visit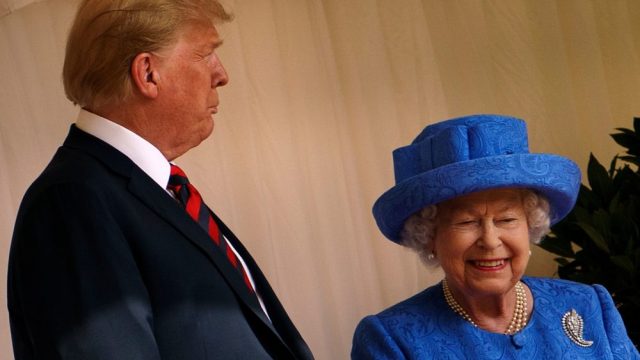 Queen Elizabeth II's brooches have officially taken over the internet. The 92-year-old Queen of England is making headlines this week because people are convinced that she threw shade at Donald Trump while he was in town – and it's all because of a significant outfit choice that many of us initially missed. It turns out, the Queen wore a brooch gifted to her by the Obamas on the day of Trump's arrival in England.
Last week, the monarch met with President Trump and First Lady Melania Trump for the first time while thousands of people gathered in Central London to protest his visit. But it seems like the Queen might have staged a private protest of her own.
On Thursday, July 12th, she wore a brooch personally gifted to her by former president and first lady, Barack and Michelle Obama, in 2011. Yep…of all the brooches the Queen has in her undoubtedly vast collection, that's the one she chose to wear on the exact day that Trump arrived in her country.
Some may interpret this as a mere coincidence, or even a welcoming nod (especially since the brooch is known as the American State Visit Brooch), but many on Twitter theorize that Queen Elizabeth may have been subtly trolling Trump.
https://twitter.com/udfredirect/status/1019564969833259008
Of course, we should remind you that the Queen does not normally comment on political matters, so even if the brooch was a political statement, it's very unlikely that she'll admit it.
Thoughts?