Queen Elizabeth is hiring, and this job is guaranteed to make or break her whole day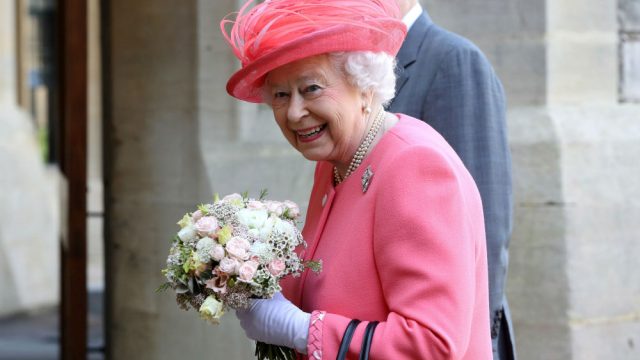 If your ultimate dream job includes hanging around the royal family, potentially getting a behind-the-scenes look at Prince Harry and Meghan Markle's wedding, and also being being able to get a glimpse of Prince William and Kate Middleton's new baby, then there's a job out there that you're definitely going to love. Queen Elizabeth is hiring, and this is one job that is super important.
The Royal Household, which is the official site for jobs serving the royal family (who knew this was a thing?!), recently announced that our fave royals are searching for a new Demi Chef de Partie (an assistant chef) to cook for the queen and her guests at Buckingham Palace.
If selected, you'll be cooking for the literal Queen of England. So it's safe to say this job comes with a lot of pressure.
Interested? The new assistant chef would be working full-time, five days out of seven, Monday to Sunday, so there won't be much downtime to hang out and try to hear royal gossip. The chef will be working on everything, from important state dinners to smaller staff lunches.
The job descriptions says, "This is no ordinary Demi Chef de Partie role. In our state-of-the-art kitchens, you'll prepare classical and contemporary menus for a wide range of events, learning essential skills that will provide stepping stones for a great career."
It also sounds like a pretty amazing learning experience. The site says, "Working with quality ingredients and highly skilled colleagues, you'll develop specific technical skills, rotating through all sections of the kitchen."
If hired, you even have the option to live in Buckingham Palace. Can you even imagine?! Of course, you won't be living with the rest of the royal family, but you'll still be able to say you live there, so that's definitely a huge perk.
The only downside? The salary is pretty low at £21,151.88 a year, which, in American dollars, comes out to about $28,700. However, there are a lot of perks, like 33 vacation days, a 15% employer contribution pension scheme, free meals, learning opportunities, and the use of recreational facilities. Plus, you'll be cooking for the queen, which is pretty amazing.
If you think this is perfect for you, why not go for it? You can apply online right here. And if you're not a chef but still want to work at Buckingham Palace, you can check out the other positions available right now. Good luck!