Queen Elizabeth II's Funeral: All the Sentimental Nods
Kate Middleton and Meghan Markle donned pearl earrings in her honor.
On Monday, Sept. 19, 2022, Queen Elizabeth II will be interred at Windsor Castle following a funeral at Westminster Abbey and procession to Wellington Arch. The queen's coffin was carried to Westminster Abbey via the State Gun Carriage, which was also used for the funerals of King George V, King George VI and Britain's first prime minister Winston Churchill, per CNN.
King Charles III led the procession on foot, joined by siblings Princess Anne and Princes Andrew and Edward. Princes William and Harry as well as Princess's Anne's son, Peter Phillips, followed behind. The music for the funeral was carefully selected to honor several key moments from the queen's life, including a hymn from her wedding to Prince Philip and her 1953 coronation anthem.
RELATED: 40 Questions to Ask Your BFF to Find Out How Well You Know Each Other
According to NBC News, over 500 foreign dignitaries were accounted for at Westminster Abbey. Among those were President Joe Biden, Britain's new prime minister, Liz Truss, leaders of the Commonwealth and other world leaders.
However, there were few other famous faces in the audience. TV personality and Chief Scout Bear Grylls as well as Killing Eve's Sandra Oh were seen walking into the service. The actress sat with the Canadian delegation.
Celebrities aside, everyone is talking about the fashion —specifically, the accessories donned by the women in the royal family.
Kate Middleton, the Princess of Wales, donned the queen's four-string pearl and diamond choker. This very same necklace was also worn by the late Princess Diana on multiple occasions, Yahoo reported. It was a gift to Queen Elizabeth from Japan in the '70s. Kate paired it with the queen's Bahrain pearl earrings, which Kate also wore at Prince Philip's funeral in 2021. The drop earrings encrusted with diamonds were a gift from Prince Philip on their wedding day in 1947.
Meghan Markle wore a pair of pearl and diamond drop earrings as well. According to PEOPLE, these earrings were gifted to Meghan by the queen during their first solo outing together back in 2018. This set is meant to be a mini version of the queen's favorite pair of earrings that she often wore during her reign.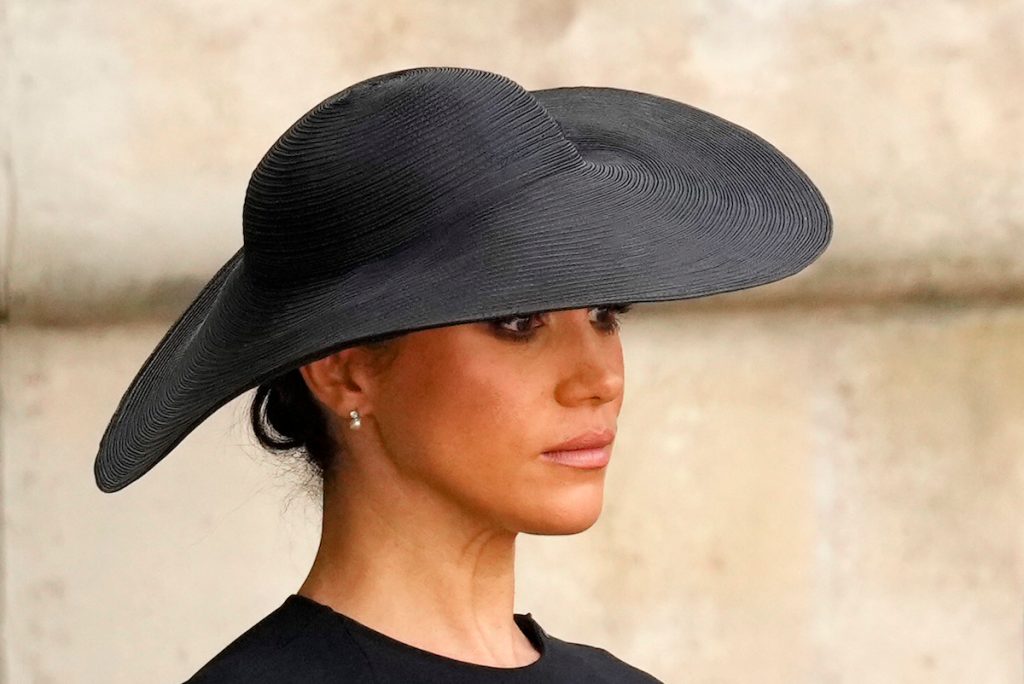 For her part, Princess Charlotte wore a hat with a bow in honor of her great grandmother. The style of hat was one often worn by Her Majesty. This marks the first time Kate and William's seven-year-old daughter has ever donned the accessory, per PEOPLE. Charlotte was also photographed wearing a small horseshoe brooch, a nod to the queen's appreciation for horses.
Following the funeral, the Queen takes one final journey through London. The procession will end at Wellington Arch, then proceed to Windsor, passing staff, Armed Forces and the public who've gathered to pay their respects. The committal service is set to take place at St. George's Chapel this afternoon. 
Emily is a NYC-based freelance entertainment and lifestyle writer — though, she'll never pass up the opportunity to talk about women's health and sports (she thrives during the Olympics).
Read more