10 fun ideas for celebrating your anniversary in quarantine
Whether it's your first, fifth, or fifteenth year together, celebrating your anniversary with your loved one is a special way to commemorate your bond. Now more than ever, relationships are being tested, and couples are having to get creative about carving out time to connect when they are, you know, stuck together 24/7 because of the coronavirus (COVID-19) pandemic. And while it can be easy to get bummed out that you won't be able to eat out at your favorite restaurant or follow through on your travel plans this year, there are still plenty of ways to celebrate an anniversary in quarantine.
"When it comes to your anniversary and being locked up in quarantine, you need to go for it," says Susan Trombetti, relationship expert, matchmaker, and CEO of Exclusive Matchmaking. "It's important to mark milestones in your relationship, so make it special and carve out that time for the two of you. It might not be what you dreamt of doing, but the idea was to be with your partner, and you are both together."
Now's the time to break out the stemware, fine china, and candles to make your quarantine anniversary feel extra special. And hey, you never know: This might be your most memorable year yet.
Quarantine anniversary ideas:
1. Re-create your first dance.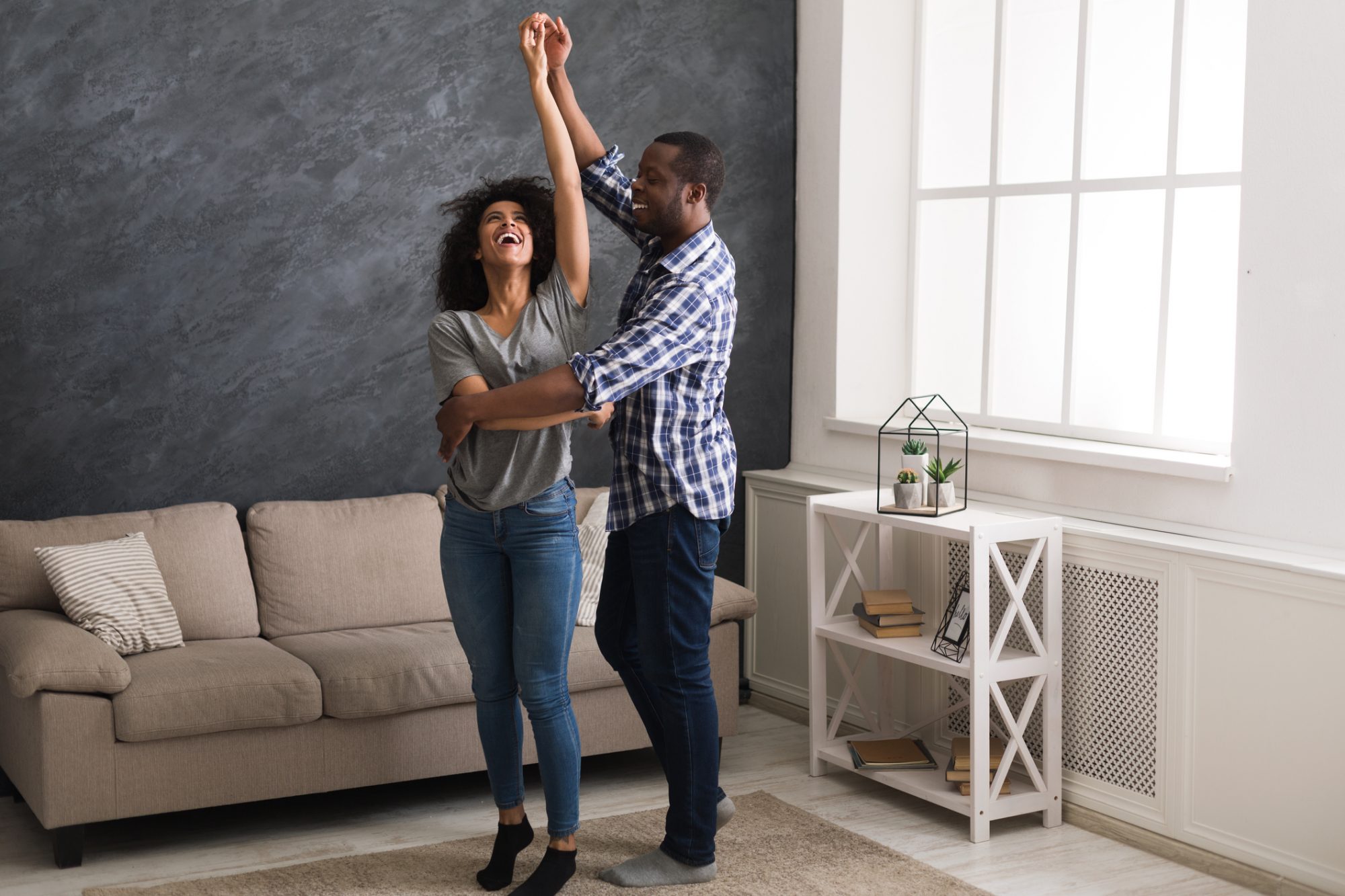 Get dolled up and put on your wedding shoes. Or, this time, dance in the living room in your PJs. Either way, recreating this special moment will stir up all kinds of emotions and remind you two of where it all started.
2. Write each other notes this year.
Take a few moments to sit and jot down a note about your love. It could be what you love about your partner or spouse, the next romantic trip that you want to take, or even your memories of when you first met. According to Trombetti, "It's a very romantic gesture that will make you both feel appreciated."
Please confirm that product_url, retailer_name, price and primary_image parameters are required in the shortcode
3. Order dinner for two from one of the nicest restaurants.
Support your local businesses by checking out which restaurants are offering take-out or delivery in your area. Then, choose something special on the menu. It can be lobster or fine steaks—just as long as it's special to you and your partner.
4. Opt for a special bottle of wine or Champagne.
Sure, you might not be able to sip Champagne at a restaurant this year, but that doesn't mean you can't order your favorite bottle and clink glasses with your S.O. at home.
"Remember: It's a special day, and that calls for a special toast to each other to stop and mark the time and commitment," Trombetti tells us.
Services like Minibar and Dizly make it easy to support your local alcohol retailers—and get something fancy or unique brought right to your door.
Please confirm that product_url, retailer_name, price and primary_image parameters are required in the shortcode
5. Be nostalgic with old photos.
Grab the old photo albums and spend the evening pouring through your memories together. Choose a few to print out or frame as a sweet way to refresh your space right now.
Please confirm that product_url, retailer_name, price and primary_image parameters are required in the shortcode
6. Get outdoors…while staying inside.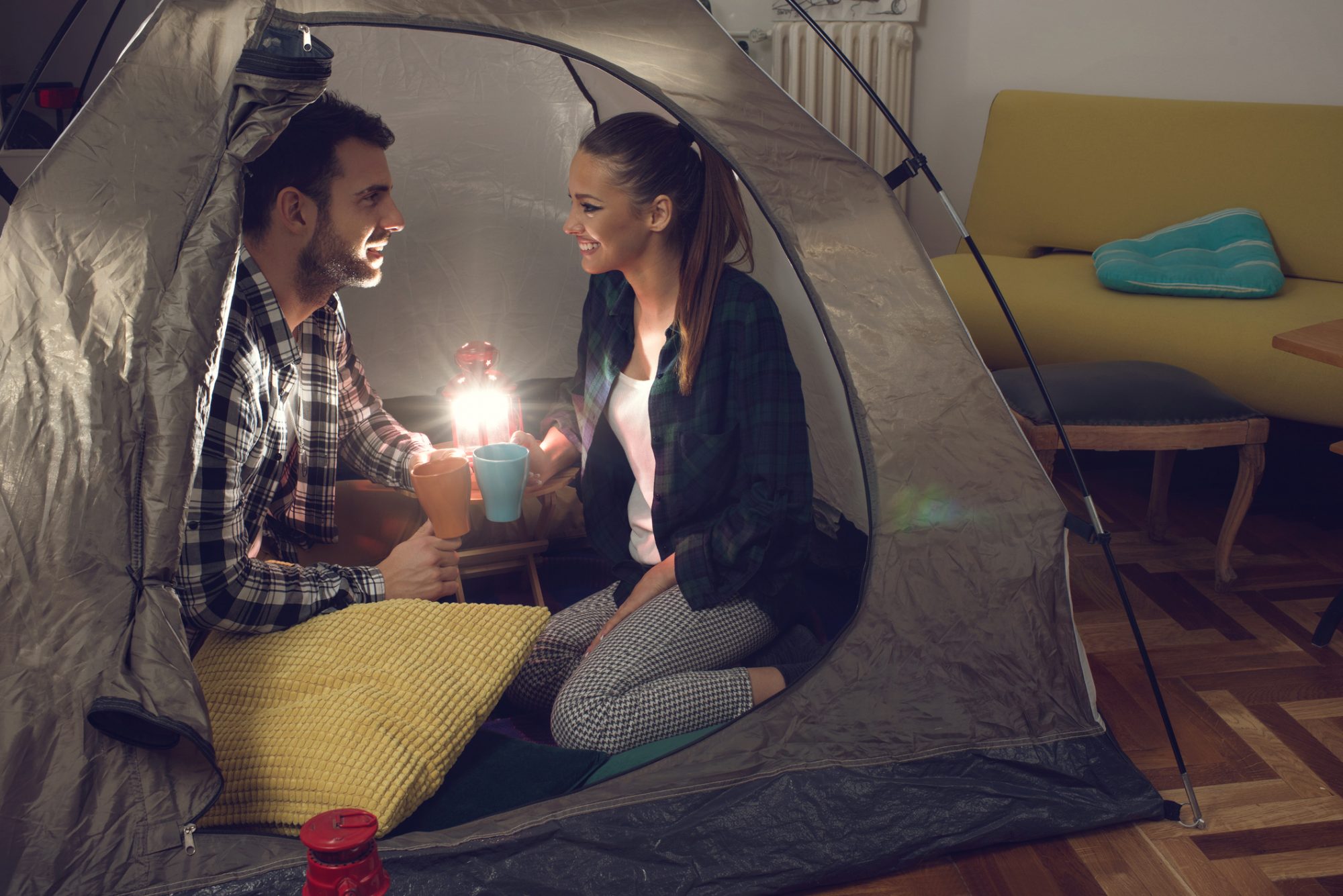 Our senior fashion and beauty editor recently celebrated her anniversary with her partner by setting up a tent in her apartment. "We are both really outdoorsy people, and originally we were going to escape to a cabin upstate for our anniversary. Obviously, that didn't happen," she says. "So, we had to get creative about bringing the outdoors in." The two ordered food and watched a nature movie from inside the tent to make it feel extra special and different.
7. Try a virtual experience together.
There are so many incredible virtual experiences available right now, from visiting museums to riding roller coasters. You and your partner can travel the world and do something completely new together, all from the comfort (and safety) of your couch.
8. Order a date night in a box.
Since it can be hard to get out and get supplies to hold your own quarantine anniversary date night, try a service that ships you everything you need. Companies like Date Night in Box and Crated with Love will let you choose the vibe that's best for you and then send you a themed box with games, recipes, challenges, and more for the two of you to complete as a team.
9. Have a movie night.
You might not be in the mood to do something especially grand for your anniversary this year, and that's okay. Try turning your living room into a movie theater with some fun string lights, maybe pop some popcorn, and snuggle up for a relaxed evening. Pick a movie that you both love—or the first film that you ever watched together!
10. Make a list of things you're excited for.
If you're feeling anxious or exhausted by this quarantine, you're not alone. And while it can be difficult to get out of the ho-hum headspace of your day-to-day right now, there's still so much for you and your partner to be excited about in the future. Write down and share with each other what you're excited to do with them a month or a year from now. This list will give you something tiny to look forward to—knowing that, eventually, this pandemic will end.