The Pussyhat Project is an empowering way to get involved with the upcoming Women's March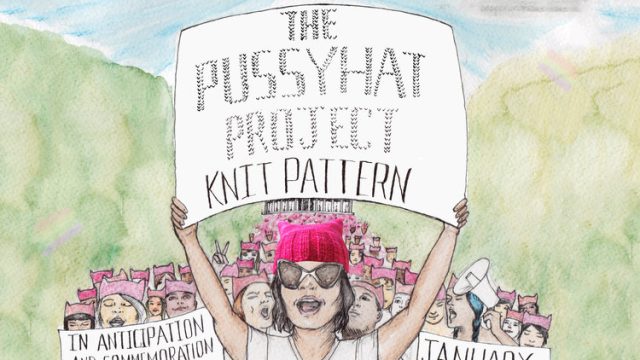 For many of us, it's been deeply difficult to gather ourselves into action after the election results. However, where there is widespread disappointment there is also creative organizing, and The Pussyhat Project is one of the empowering ways to get involved with the upcoming Women's March on Washington.
If you're unable to make the trip but still want to lend solidarity to the massive Women's March taking place the day after Donald Trump's inauguration, The Pussyhat Project offers you a way to lend your voice and skills from the warmth of your home. The concept: Pussyhat partners sign up to knit a hat, and women marching in D.C. can sign up to receive a hat to keep their head warm during the event! All of the hats are designated as pink as bright signals of femininity — also, you'll easily be able to spot others connected to the Pussyhat Project.
For people worried about their knitting abilities, there's even a pattern for the hat to help you on your knitting journey.
We were lucky enough to chat with Krista Suh, the woman who conceived this idea, about what inspired this project!
HelloGiggles: When did you first think of the idea for Pussyhat Project?
Krista Suh: After the election I was really crushed.  I was really excited about having the first woman president and all that it stood for.  I'm from L.A. and had flown to Ohio to campaign for Hillary. When plans for the Women's March on Washington D.C. surfaced that week, I knew immediately that I was going. I'm a "creative" — primarily screenwriting, but my degree from Barnard College is in Art History, so I was thinking about what I could visually do on my own to make a powerful statement for women's rights. So I was brainstorming what to do and what to wear, then it occurred to me that my feeble LA body (used to sunshine year-round) would FREEZE in Washington D.C. and I thought maybe I would knit myself a hat. And that's when it clicked.
What if we all wore the same hat in solidarity at the march, and what if they were all handmade by people who couldn't be at the march but wanted to support the movement?
I asked my knitting teacher Kat to design a special hat and we came up with the specifics together with my co-founder Jayna. Pink, cat ears, and made of materials anyone in the U.S. could get, with a super simple pattern. I asked my friend Aurora to do the artwork and Jayna grabbed all the social media accounts and we wrote the manifesto together. What started out so small has really grown exponentially in a short amount of time. The best part of the project is seeing how we are giving people who cannot go to the march a way to "be" there, and a chance to do something for what they believe in.
HG: How many women have volunteered so far? Have you been receiving positive feedback?
KS: It's hard to give an exact number. In just one week, we've had over 50,000 UNIQUE visitors to the site, meaning that if they click twice in a two-year period, they are only counted once! We were slammed on a Republican blog and his post sent 100 people to our website and that was awesome! So, not every website visitor is a woman knitting hats, and yet for every naysayer there are literally thousands of people who are picking up their needles for the revolution.
We've gotten such AMAZING feedback from women all over the country and all over the world. We have people knitting hats in Norway, France, Germany, Netherlands, the U.K., Thailand, Australia, and Canada. If you check out #pussyhat on Instagram we have super-fast knitters who are already posting their hats! Lots of women are writing in saying that they are making this a group effort — many sewers are going to hold a "Stitch n' Bitch" which is sort of like a party and crafting night in one! Knitting groups and yarn stores are holding knitting parties and "knit-alongs" which is a great way to make crafting a social event.
https://www.instagram.com/p/BNhKU61g0OI
HG: Have you been an avid knitter for awhile?
KS: My grandmother taught me how to knit when I was about 10.  Then that skill lay dormant until this past summer.  My friend and cofounder Jayna wanted to try knitting and crochet for therapeutic reasons, so she signed us up for lessons at our local yarn store.  I went as this martyr figure, "sure sure, I'm here for my friend Jayna," and I ended up being the more obsessive one. As a kid I only made flat things (scarves, blankets, shawls) and this summer I broke into the 3rd dimension and made a SWEATER and I was so proud of myself.  I promptly made 4 other sweaters just like it in different colors for my girl squad. Knitting is an addiction.
https://www.instagram.com/p/BNhU15SjWy3
HG: I saw that there are forms for the knitters to write notes to the hat-wearers. Are you hoping to start a correspondence between the women donating and the women marching?
KS: YES!  Perhaps it's the screenwriter in me, but I am aching for and envisioning a beautiful connection happening. I'm fascinated by the connections that can happen between knitters and marchers that may not have happened if not for this project. It's another way of uniting women all over the country, crossing barriers of geography, age, race, class, sexual orientation, etc. And as a marcher you can wear the hat knowing that a stranger-now-friend out there supports you, that many people out there support you in this march. If the march becomes a sea of a million pink hats, it's almost like 2 million women are there, 1 million marchers and 1 million pussyhat makers, all who care about women's rights and want to be heard and demand to be heard.
You can join the ranks of knitters or marchers wearing pink hats on the Pussyhat Project website.