Four members of Pussy Riot were jailed for staging a protest at the World Cup, and so much for freedom of speech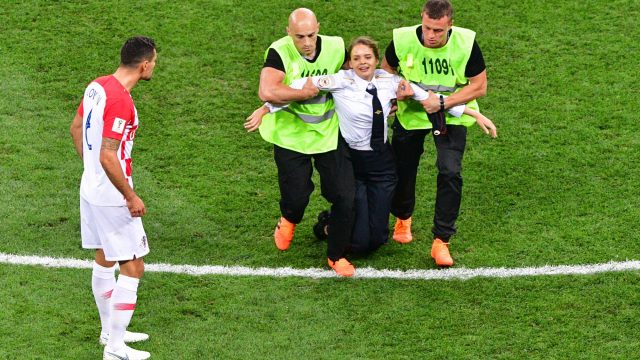 Pretty much the whole world was watching the World Cup final, which took place at the Luzhniki Stadium in Moscow on July 15th. With all eyes on the hotly anticipated game, members of the feminist punk rock protest group Pussy Riot took the opportunity to stage a free-speech demonstration. Four people affiliated with the group ran onto the pitch wearing fake police uniforms. Now, they've been jailed for their actions, according to Reuters.
The BBC reports that the protest took place early in the second half of the Croatia vs. France match (which France went on to win 4-2). The interruption lasted about 25 seconds, as the soccer players looked on in confusion and security rushed to remove the Pussy Riot members from the field as they ran.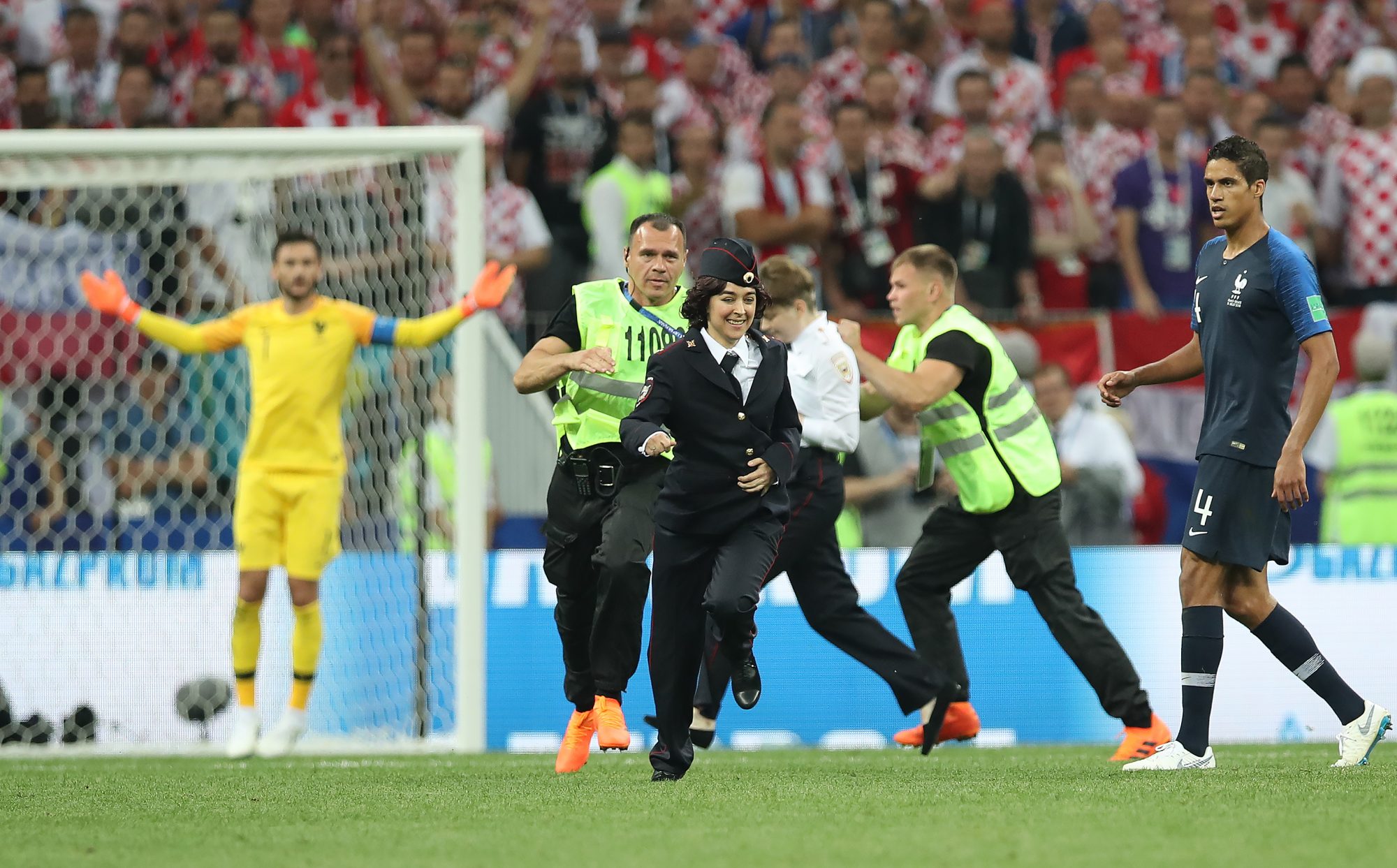 The four members were later identified as Veronika Nikulshina, Olga Pakhtusova, Olga Kurachyova, and Pyotr Verzilov. Verzilov is the husband of Nadezhda Tolokonnikova. Tolokonnikova was one of the three Pussy Riot members jailed in 2012, which brought the group to international attention.
On July 15th, a few minutes after the protest took place, Pussy Riot released their statement about the demonstration via social media.
The statement explained the significance of the fake police officer uniforms — it was a reference to the late Russian poet Dmitriy Prigov — and laid out their demands, including freeing all political prisoners, ending illegal arrests at rallies, allowing political competition in the country, and ceasing the fabrication of criminal charges to jail people "for no reason."
Pussy Riot's Twitter account continued updating followers on the situation, even sharing a video of one member's police interrogation during their detainment.
After spending the night at the police station, the four members were each brought in front of a judge on July 16th and sentenced to 15 days of "administrative arrest," which they'll spend incarcerated, and a three-year ban from attending sports events.
Speaking to reporters on July 16th, Kurachyova said that the demonstration was intended to promote freedom of speech and to condemn FIFA's policies.
"It is a pity that we disrupted the sportsmen," she said, according to Reuters. "FIFA is involved in unfair games unfortunately. FIFA is a friend of heads of states who carry out repression, who violate human rights."
Verzilov told reporters that the protest was also intended to show the way "the state, in the form of the police, intrudes into people's lives."
Hopefully, Pussy Riot's actions will lead to the changes they're hoping for in Russia.