This woman's gender reveal photo shoot is not what you expect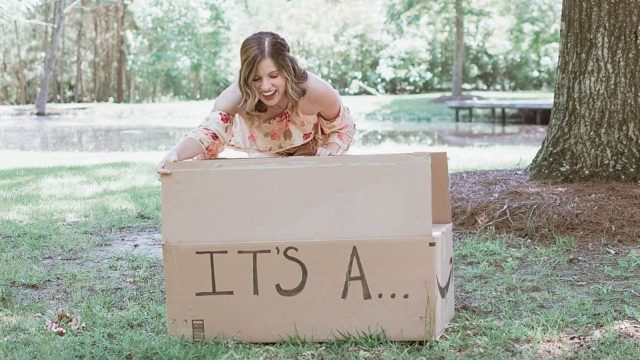 For those who are expecting, gender reveal photo shoots are becoming more popular — and more elaborate. Couples have used everything from cake to balloons to Rube Goldberg machines to announce the biological sex of their babies. But one woman, Joy Stone, surprised her husband when what he thought was a gender reveal turned out to be a "puppy reveal" instead.
The Stones had reportedly been looking to adopt a fur baby for a while, but they hadn't had any luck. That's when Carlyle Allen, a friend of the couple's who owns the photography studio Photographed by Carlyle Allen, saw a post about some puppies in need of homes. Allen immediately showed Stone, and before long, the two were on their way to pick up a golden retriever pup as a surprise for her husband, Brady. Once the puppy was en route to joining her new family, Allen suggested that they do a "puppy reveal" instead of a gender reveal, using a box filled with beige balloons.
"Joy and I are notorious for doing silly things together," Allen told Bored Panda. "I half-jokingly threw out the idea of having a puppy reveal photo shoot. Without hesitation, she replied with a 'Dude, let's do it.' Next thing I knew, we were in my yard trying to convince a five-pound fluffball to stay in a metal tub."
The result was absolutely priceless.
Stone showed the puppy reveal photos to her husband, who was initially shocked to see the "It's a…" album title. But once he saw the adorable puppy, he fell in love. The Stones named their new addition "Rey," as an homage to the Star Wars heroine.
Rey's photoshoot, which was posted to Allen's page on May 6th, soon went viral, with nearly 70,000 people sharing the album. On May 11th, Allen posted on Facebook that, in response to the positive reception, her company would be hosting "Doggie and Me" sessions in June, with proceeds benefiting a local animal shelter.
Allen's idea to photograph a "puppy reveal" is adorably creative, and we're taking notes for the next time we adopt a furry friend. Congratulations to the Stones on adding Rey to the family!