Animal Planet is doing "Puppy Bowl" and "Dog Bowl" this year, and really, who needs football?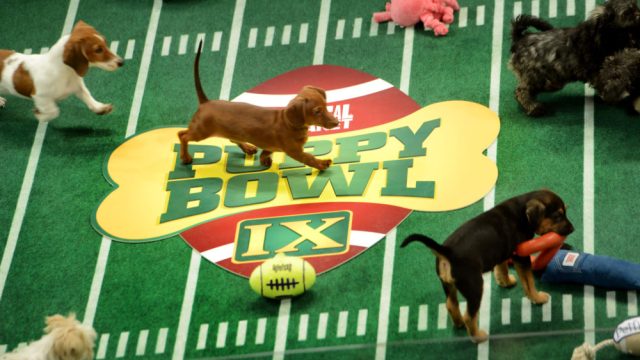 Field goals and blitzes surely require a lot of skill but honestly, it's tricks like sit and stay that we're looking forward to seeing most Super Bowl weekend. That's right, the storied Puppy Bowl is scampering back onto our TV screens in February — the same day as that human football game everybody always talks about. And this year, the event is getting twice the wagging tails.
Animal Planet will give older dogs a chance to shine this year with its first-ever Dog Bowl, set to air the day before the puppy-centric annual broadcast.
As USA Today reports, the more senior showcase will feature 50 mutts from 15 shelters across the country, ranging in age from 2 to 15. Like its less mature littermate, the Dog Bowl will let us watch in delight as a bunch of adorable, adoptable canines "play football" aka play tug-of-war with rope toys and sniff each other's butts and pee on the end zone. The new show will debut February 3rd, while Puppy Bowl XIV is scheduled to air Super Bowl Sunday, February 4th.
Aside from being beyond precious, the Dog Bowl aims to draw attention to the fact that older dogs typically have a harder time finding their fur-ever homes. Some might assume older dogs will be more expensive because of veterinary costs or don't want to commit when they won't have as many years with the animal. But in reality, a more senior pup can be a much better fit for a lot of pet-parents-to-be. They tend to be calmer, may not chew through your new pair of shoes, and are often already potty-trained.
And that will all be on display when the rookies hit the field on game day.
https://www.youtube.com/watch?v=1T5JSQOgKDU?feature=oembed
Whether you're on Team Dog or Team Puppy (or #TeamFluff or #TeamRuff, or you're more of a Kitten Halftime Show kind of person), there'll be plenty of boop-able athletes for you to admire. Of the 90 puppies playing this year, a handful came from natural-disaster-ravaged areas, like Houston and Puerto Rico, and others have special needs. No matter who takes home the "Lombarky" trophy, what's important is making sure the animal players score the ultimate touchdown: a loving new family.