You can now buy pumpkin spice butter at the grocery store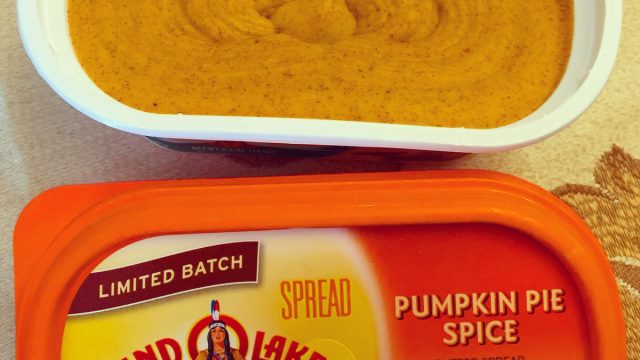 Riddle us this — what is the perfect snack to go with your pumpkin spice latte on a crisp autumn day? Anything with Land O'Lakes' Pumpkin Pie Spice Butter smeared on top of it, of course. No, you're not dreaming. You can now buy pumpkin spice butter at your local grocery store, thus proving the seasonal gods are looking out for us.
Land O'Lakes announced its release of the limited batch of Pumpkin Pie Spice-flavored spread at the beginning of the week, and the delicacy is now available in Foodtown, ShopRite, Wegman's, Market Basket, and other grocery stores across the country. The Land O'Lakes website writes that the spread contains brown sugar and spices — most likely cinnamon and cloves.
Not only would a solo scoop of pumpkin spice butter be absolutely divine on pumpkin pancakes —
— and super sweet spread onto warm, fresh-baked popovers —
— but Land O'Lakes also offers recipes via the company website, so at-home chefs can create pumpkin spice treats using their pumpkin spice butter.
For example, Land O'Lakes shares how to make your own coffee creamer, combining 1/2 cup Land O'Lakes Half & Half, 1 tbs. sugar, and 2 tsp. Land O'Lakes Pumpkin Pie Spice Butter Spread.
"Uh, come again?" you're saying. "That actually sounds too good to be true."
You can also go savory with the pumpkin spice flavor by mixing it into a cream sauce and serving the whole shebang over rigatoni. (We're serious.) Check out the recipe here.
If you're not already on your way to the grocery store to pick up a tub of Land O'Lakes Pumpkin Pie Spice Butter, what are you doing? Fall is only eight days away. Hurry!