You can now buy pumpkin pie Kit Kats, because sweater weather can't get here soon enough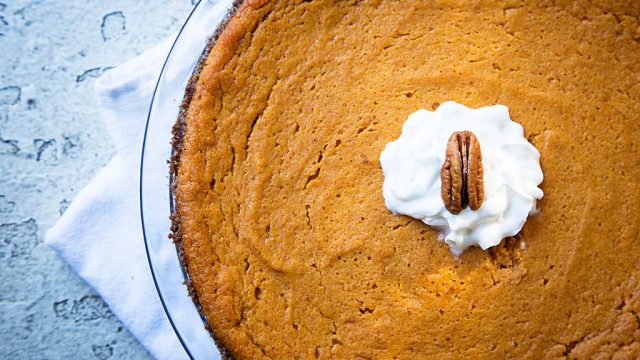 Fall is still a month away. But we're already excited for the upcoming season. Why? Because of pumpkin pie Kit Kats.
Okay, that's not all. Because we love fall. We're already imagining the leaves changing colors. And breathing in the crisp air. And switching from sundresses and shorts to comfy sweaters and wool socks. (Okay, maybe not the wool socks. Itchy.) Furthermore, with the change in weather coming up, we were excited to learn that Kit Kat is changing, too. Because the brand just released a pumpkin pie-flavored Kit Kat. Instagram is lighting up with these sumptuous candy delights. Consequently, our sweet tooth is getting even sweeter. So feast your eyes on the new flavor. And try not to drool.  
https://www.instagram.com/p/BYGxPP0hvdJ
How do we know pumpkin pie Kit Kats are here? First of all, @candyhunting found a bag at a Pick 'N Save in Wisconsin. In addition, www.junkbanter.com found a bag at a Dillons in Kansas. What do these two stores have in common? They are both owned by Kroger. And you know what that means. Chances are you'll find these pumpkin pie flavored Kit Kats at your local Kroger very soon.
You may be thinking: Interesting, wafers, and pumpkin pie-flavored creme? How original!
But this isn't the first time the company has put out interesting new flavors.
https://www.instagram.com/p/BX1aLRhBtFB
Because there are matcha-flavored Kit Kats. And red velvet-flavored Kit Kats. And hokkaido melon with mascarpone cheese-flavored Kit Kats.
Furthermore, there are even cough drop-flavored Kit Kats. Oh yes, you heard right. You can buy cough drop-flavored Kit Kats in Japan. In addition, they feature "real throat lozenge powder." (Mmm, we may have to pass on that one.)
Don't believe us? Feast your eyes on the candies.
And if you're feeling nostalgic for that good ol' Kit Kat jingle, then take a trip down memory lane with this little number. But be forewarned. Once you click play, we doubt you'll be able to shake it for a while.
https://www.youtube.com/watch?v=fRM8aoMXhh8?feature=oembed
And there you have it. Pumpkin pie. Kit Kats. Fall. What is there left to say except, "Break us off a piece of that Kit Kat bar?"