Puma's glittery new shoes are going to replace all your sparkly stilettos
Once upon a time, wearing sneakers to the office was a no-no. Now we're seeing high powered CEOs wearing a suit or dress with sneakers as they rule the boardroom. If sneakers are your go-to item, may we present Puma's new collection of sparkly, shiny shoes. We might even ditch the stilettos on New Year's Eve in favor of these glam bad boys.
Puma updated their timeless Basket sneaker with glitter, and all the new shoes range in price from $80 to $110. The Basket Strap Glitter Sneakers feature three velcro straps instead of laces because there's nothing worse than having a luxe glitter shoe with some dirty laces.  The Basket Heart Glitter Sneakers are both fully leather, which makes them the kind of shoes you wear to meetings and not the kind you walk the dog with. Whereas the Basket Platform Glitter Sneakers could easily replace your heels for a night on the town.
Sparkly sneakers seem to be en vogue at the moment. Miley Cyrus just launched a collaboration with Converse on some unicorn-inspired glitter sneakers, though the collection is not yet available to purchase. Keds currently has a collab with Kate Spade on some similarly shiny shoes if Keds is your kind of tennis shoe.
Bless the women in your life by placing these sparkly Puma gems under the Christmas tree later this month.
https://www.instagram.com/p/BbwjO7UgGRy
https://www.instagram.com/p/Bbmc215jclN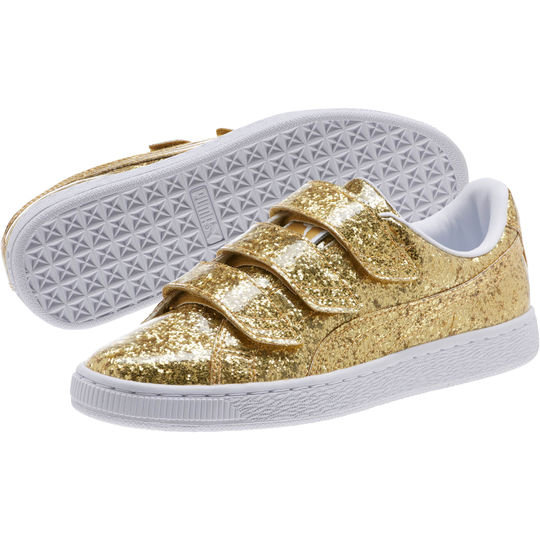 Our inner '00s kid is currently very jealous of this shoe drop, but our adult Millennium-selves are looking forward to pairing these sneakers with a black bodycon dress on December, 31. SLAY.