Victims of the Pulse shooting are suing the Orlando police over their response to the tragedy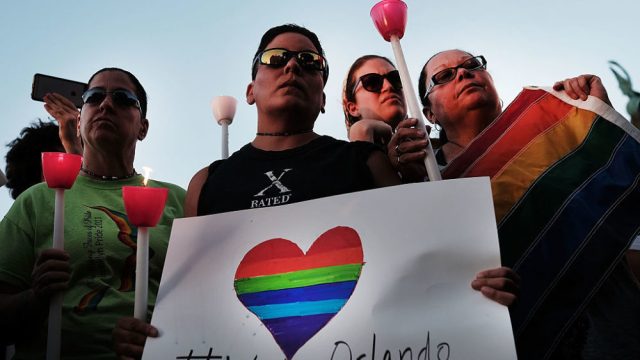 On June 12th, 2016, 49 people, most of whom were LGBTQ people of color, died in a shooting at Pulse nightclub in Orlando, Florida. Now, nearly two years later, the survivors of the Pulse shooting have filed a lawsuit against Orlando police officers for the way they responded to the tragedy.
In the suit, which was filed on June 7th in the U.S. District Court for the Middle District of Florida, 35 survivors and victims' family members claimed that the police response to the shooting violated victims' civil rights. All told, 31 officers and the city of Orlando are included in the suit. The only named officer is Adam Gruler, who was acting as security for Pulse that night and reportedly fled the scene after trading gunshots with the shooter.
The suit alleges that several officers remained outside the nightclub during the shooting, and that other officers detained survivors trying to flee the massacre, preventing them from using their phones. It also states that the city failed to adequately prepare police for the situation.
One victim of the plaintiffs, Keinon Carter, was pronounced dead before being revived at the hospital. He told the Orlando Sentinel that he didn't want to be "a lifelong victim," so he joined the suit.
"I believe victims of the Pulse shooting deserve better, Carter told the Sentinel. "We deserve better security protection than what was provided. We deserve to be rescued sooner by law enforcement officers who made strategic decisions to wait."
The Orlando Police Department released a statement to local news station WFTV stating that the city had not yet seen the suit but that on the night of the shooting, "federal, state, and local law enforcement officers and first responders put themselves in harm's way to save as many lives as possible."
According to USA Today, a Department of Justice review published in December found that officers responding to the massacre followed protocol, but the same report also stated that protocol needed to be updated.
Regardless of the outcome of this lawsuit, we hope that the Orlando police will reevaluate the way they respond to threats of this magnitude, which, sadly, are no longer an uncommon occurrence in this country. As the second anniversary of the Pulse shooting nears, our hearts are with all those affected by this tragedy.