Off-Broadway play "Puffs" is coming to movie theaters — so take THAT, everyone who underestimated Hufflepuffs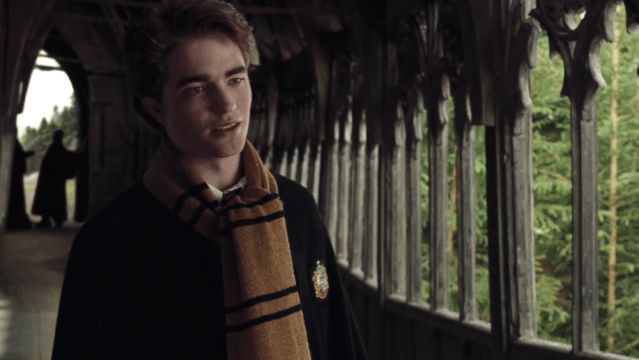 If there's one member of the Harry Potter universe that deserved his own spinoff, it's definitely Cedric Diggory. And in a way, he got one: The off-Broadway hit Puffs is coming to movie theaters, so proud Hufflepuffs everywhere can celebrate the kind, hunky, gone-too-soon house hero no matter where they live.
ICYMI, Puffs is an off-Broadway show that's gained a cult following, with good reason. Hufflepuff has long been an under-appreciated Hogwarts house, and it's about time proud Puffs got their due.
Time Out New York describes the show as: "What was happening behind the scenes at the school of witchcraft while Potter ran the show? This play tells you what was going on with the loyal and patient students, including the greatest Puff of all, Cedric Diggory."
"The greatest Puff of all" is a bold claim, but they're not wrong. And if you're not in the New York City area but still rock your yellow and black loudly, you might be able to celebrate the Puff king, Diggory, in theaters.
Puffs is coming to movie theaters for just *two days*, with Puffs: Filmed Live Off Broadway screening at over 600 theaters across the U.S.
Fans can catch Puffs on May 9th at 7:00 p.m. and May 12th at 12:55 p.m. — that's it! And while there are 600 locations showing it, those are the only two opportunities you'll have to see it anywhere. Puffs tickets go on sale on April 6th, so whip out your phones and send a quick owl to the group chat to coordinate ASAP.
The house's virtues of patience, hard work, and being a good, fair person might not be as overtly sexy as intelligence or ambition, but *Ted Mosby voice* Hufflepuff still matters, you guys. Even if — and this might be a controversial position — Cedric Diggory was a lot more Gryffindor than he was Hufflepuff.
Whether Harry Potter actor Robert Pattinson has been informed of Puffs making a movie theater debut remains unknown. But he probably loves it as much as you do.