Why has Puerto Rico, my home, been ignored after Hurricane María's destruction?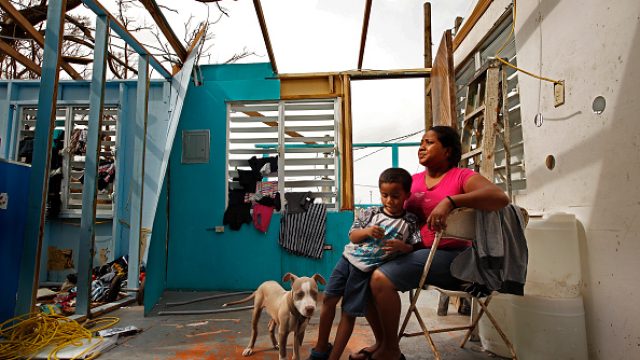 What do you do when your personal paradise crumbles to dust? The simple answer is you rebuild. But rebuilding won't be easy for the 3.4 million people living in Puerto Rico or the millions of boricuas on the mainland. 
Last week, Hurricane María wreaked total devastation on Puerto Rico, my home and a U.S. territory. And I fear that the worst is yet to come. For those like me who now live in the United States, these past few days have been agonizing. Whenever we speak with loved ones  — if we're lucky enough to reach them at all — we can't stop thinking about the next time we'll get to say "I love you."
The situation is shocking. Many have been left homeless. There's no electricity or drinking water in most of Puerto Rico. Cell towers and generators aren't in place, so people can't call for help or report crimes. Sewage systems and hospitals aren't operating. Lines for food, fuel, water, and cash are endless and borderline dangerous. The local government says supplies are arriving, but apparently, distribution is slow.
In short, help never comes as quickly as it's needed.    
Puerto Rico isn't  just a vacation spot or the land of "Despacito" — we aren't walking tourism ads.
I'm tired of needing to say that Puerto Ricans are Americans in desperate hopes of getting attention from the media and elected officials. I'm sick of people in the U.S. refusing to see how we're being mistreated as a colony.
Half of Americans don't even know that we're U.S. citizens. At home, we sing "The Star-Spangled Banner" after "La Borinqueña." The U.S. flag flies next to ours. We use the same postal service, the same currency. Our indoctrination begins as soon as we're in school; most of us learn to speak English in kindergarten and a year of high school education is devoted to U.S. history. 
Hurricane María isn't just a natural disaster; it's a humanitarian crisis that needs immediate attention. The economy has come to a nearly complete halt. There is very little communication between the island and its diaspora. The U.S. government once again treats us like second-class citizens when it comes to compassion and aid.
It took several days for the Trump administration to waive the Jones Act in order to help Puerto Rico receive desperately needed aid shipments.
We mustn't forget: not only did Trump not act, he initially refused to waive those shipping restrictions — but he immediately waived them for Texas and Florida. Not to mention, this waiver only lasts for 10 days. Puerto Rico will need help for a lot longer than 10 days.
Puerto Rico is more than 70 billion dollars in debt which stems from a decade-long economic recession, poor fiscal planning, and lack of accountability for bond holders and hedge fund owners. The Obama administration signed a bill called PROMESA to help Puerto Rico survive its massive debt. This relief wasn't just about food and rescue services — it was about helping students return to school and reestablishing medical care so people don't die. It's about a nation, your nation, being buried in endless debt. 
Instead of receiving disaster aid from Congress, the acting president blames us for our devastation amid our growing pleas for help.
https://twitter.com/udfredirect/status/912478274508423168
https://twitter.com/udfredirect/status/912479500511965184
https://twitter.com/udfredirect/status/912481556127780865
We pay taxes but have no representation. We're good enough for U.S. companies to profit off us, but our well-being isn't prioritized. I can't help but wonder if Puerto Rico will be able to rebuild at all. We have a long road ahead, and we must rebuild the island systematically, socially, and politically. We were already struggling, and in the aftermath of Hurricane María, our desperation only intensifies.
Sure, I'd miss a birthday, a graduation, or a Mother's Day, but the cure for my homesickness was just a FaceTime away. No one warned me of how impotent and broken I'd feel when I couldn't come to their rescue with D batteries, lamps, and portable fans because the United States Postal Service stopped shipping packages indefinitely. No one warned me that I'd cry when I took a hot shower without thought, while my people ration muddy water.
This is the first time I've felt guilt since leaving Puerto Rico six years ago. I've barely been able to make contact with my family and friends, but they are among the lucky ones. They are okay. But that doesn't mean it has been easy to be disconnected from them. I still wonder when I will be able to see them again. I still panic for everyone else who is suffering on the island.
My home is a fortress of culture, tradition, and perseverance. It is astounding because of its people. Its legacy is still being constructed, and this can only happen with your help and compassion.
Puerto Rico needs your help NOW.
Consider donating to the Hispanic Federation, which is one of the many organizations raising money. Can't donate? Tell Congress to provide federal aid for the island.
We matter. Don't give up on us.