A psychologist created a playlist that is scientifically proven to MAKE your morning
Waking up is hard, which is something all creatures know to be true, right? Yet, supposedly, it doesn't have to be that way—if you have the right playlist in your possession, of course, according to Ph.D. candidate David M. Greenberg and Spotify.
Fellow humans, listen up, we have your new waking-up soundtrack.
According to Greenberg, forcing yourself into an optimistic mood with excessively upbeat music is not the answer. "You're starting out in a tired, grumpy, cranky state," Greenberg told Mic. "For most of us it's a struggle, and you're trying to go from that state to a state where you're feeling alert, energetic and optimistic about the day at best. It's more about bringing you through multiple stages from that tiredness to being more alert and then getting the energy from there." (So it's all about taking things one step at a time.)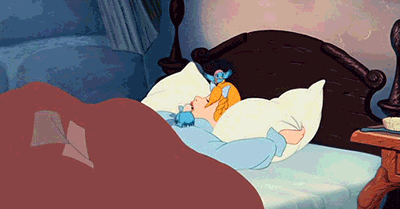 The key is to listen to songs that don't force you to wake up with a crazed look in your eyes.
To help with this, Greenberg chose "Viva La Vida" by Coldplay as the playlist opener because it exudes an uplifting feeling, which is helped along by the song's steady rhythm emphasizing beats two and four. Mic also noted that Greenberg was careful to keep the songs within a certain speed range, 100 to 130 beats per minute, to keep this energy buildup going.
Overall, what results is a pretty eclectic playlist, but we're loving it. The songs range from "Confident" by Demi Lovato to "Lovely Day" by Bill Withers to "Hit the Quan" by iLoveMemphis. This is definitely a playlist we'd be happy to wake up to (especially since it's been approved by science).
Check out the entire playlist below and get ready to wake up like a pro.