A platinum blond Zachary Levi is in "Psych: The Movie," because worlds collide in the best ways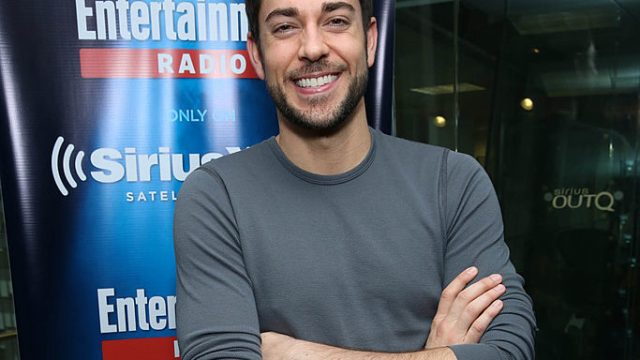 During the show's original run, Psyche fans were begging for Chuck star Zachary Levi to guest star on the equally campy USA Network show. Years later, it seems that wish is *finally* being granted, as it's just been announced that Levi will be joining the cast of Psych: The Movie, which will air on USA in December.
Levi stars as the film's main villain, Thin White Duke, a supremely evil guy who has the audacity to cross our favorite fake detective, Shawn Spencer (James Roday), his trusty sidekick Burton Guster (Dulé Hill), and the rest of the gang.
A very blonde Levi surprised fans in a video from Hill and Roday, posted to Hill's Twitter page.
Under the guise of a Psych pop quiz, Roday and Hill held up a pineapple and asked fans to guess what it is. Then, to the surprise of literally everyone on planet earth, Levi and his villainous hair waltzed onto the screen, stared directly into the camera and said, "I believe that's a pineapple. Isn't that right, Chucksters?"
Whaaaaaaaaaaaaaat, indeed.
Fans of Psych and Chuck alike know that pineapples are very important to both shows. In Chuck, pineapple was the codeword at Buy More to signify a *huge* emergency whereas in Psych, the tropical fruit was a running gag — featured in every episode in one way, shape, or form.
It's safe to say that Levi's appearance in Psych: The Movie has fans of both series *very* excited.
The upcoming TV movie sees the entire cast of the long-running psychic detective series returning — including Maggie Lawson (Detective Juliet O'Hara), Kirsten Nelson (Chief Karen Vick), Corbin Bernsen (Henry Spencer), and Timothy Omundson (Detective Carlton Lassiter), who is currently recovering from a recent stroke.
The film picks up three years after the Psych finale, which saw our favorite Santa Barbara residents go their separate ways. After Thin White Duke strikes, the gang will reunite over the holidays to take this big bad down. We can't wait to see the film on USA in December!